The 7-Inch NOOK Tablet Unveiled
Category
Business Strategy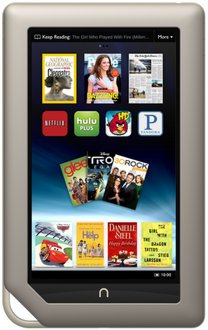 Barnes & Noble just announced their new tablet, the NOOK Tablet has a stunning 7-inch multi-touch screen that displays 16 million colors ultra-bright. The tablet sports a dual core 1 GHz processor, 1 GB of RAM and 16 GB of storage, expandable with an SD card for your reading, apps, videos & music.
The Nook Tablet comes pre-loaded with Netflix and Hulu Plus, along with apps like Pandora, Crossword, Sudoku, and Chess. Speaking of Netflix, the tablet also supports video playback in full 1080p HD. Users can also choose from 2.5 million books, various magazines and newspapers.
The battery holds for 11.5 hours or about 9 hours if you watch video. The NOOK Tablet is priced at $249 right between the Kindle Fire at $199 and the iPad at $499. At the same time Barnes & Noble also lowered the price of NOOK Color to $199 and NOOK Simple Touch to $99.
The diversification of the offers in the low priced tablet segment is good news for mobile app developers, since a lot of people that couldn't afford or didn't want to pay the iPad's price, will start now grabbing these low priced Android tablets. What do you think?

Mobiversal
, a mobile app development company working with startups and established brands like Forbes to create unique mobile experiences. Mobiversal is also the maker of
Appointfix
and
FieldVibe
. Connect with him on Twitter
@FlaviusSaracut
.