There Will be 90M Tablet Users In US by 2014
Published on
Nov 22, 2011
Category
Business Strategy
In a recent study eMarketer estimates that by the end of 2011, 33.7 million Americans will use a tablet device at least monthly – a rise of 158.6% over last year, the year the iPad was released.
eMarketer says the number of users will rise to nearly 90 million, or 35.6% of all internet users, by 2014. When it comes to sharing, tablets may become more like smartphones, which typically have a single user and less sharing.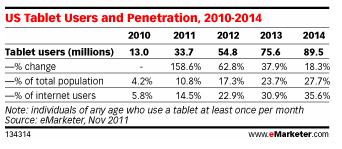 In regards to the current star in the tablet market, the number of US iPad users will more than double between this year and 2014, from 28 million to 60.8 million. By 2014 iPad users will be about 68% of the overall US tablet audience.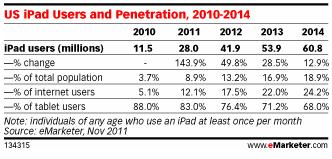 Mobiversal
, a mobile app development company working with startups and established brands like Forbes to create unique mobile experiences. Mobiversal is also the maker of
Appointfix
and
FieldVibe
. Connect with him on Twitter
@FlaviusSaracut
.