10 Apps To Make You Happy Today
Published on
Mar 20, 2014
There is scientific evidence now that apps can reduce anxiety in just 25 minutes, according to a research published in the journal Clinical Psychological Science. The study was done on 75 participants that played a mobile game based on an emerging cognitive treatment for anxiety called attention-bias modification training (ABMT).
Patients are ignoring any threatening stimulus by focusing on a non-threatening stimulus, like interacting with happy characters on the screen. "Even the 'short dosage' of the app – about 25 minutes – had potent effects on anxiety and stress measured in the lab," explained for Business Standard lead researcher Tracy Dennis of Hunter College of The City University of New York.
The level to which apps can help people with mood disorders still remains to be seen, however there are already on the market few apps that could make your days happier. And since today is also The International Day of Happiness, let's check them out:
Happify (iOS)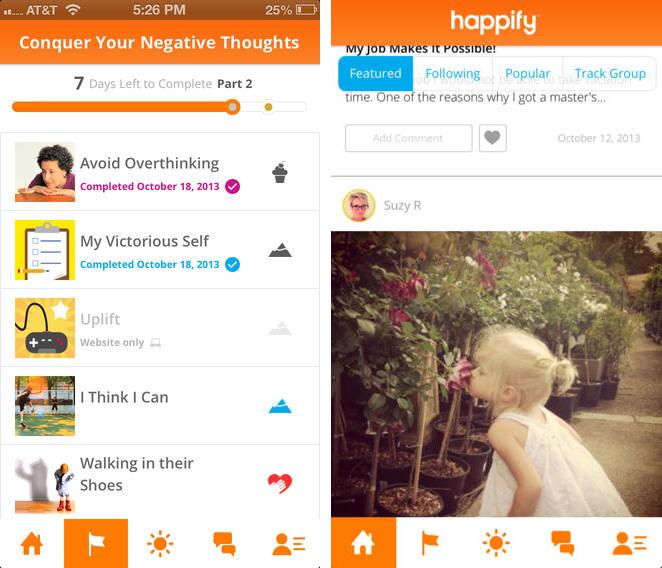 Happify provides a series of activities and games designed to help boost optimism, gain confidence, conquer negative thoughts and improve relationships. The app takes you through a survey and then it suggests certain "tracks" to follow. It also has a community and you can join groups or track other people on their journey to happiness.
Smiling Mind (iOS, Android)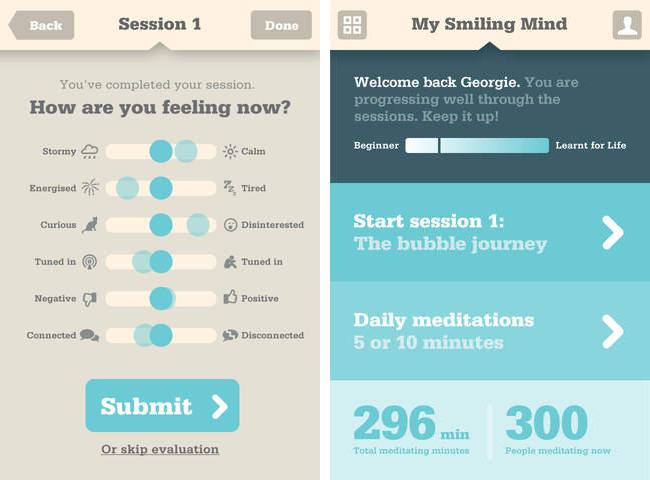 Smiling Mind is an app developed by a team of psychologists with expertise in youth and adolescent therapy. It employs Mindfulness Meditation, used in the treatment of stress and anxiety.
Happier (iOS)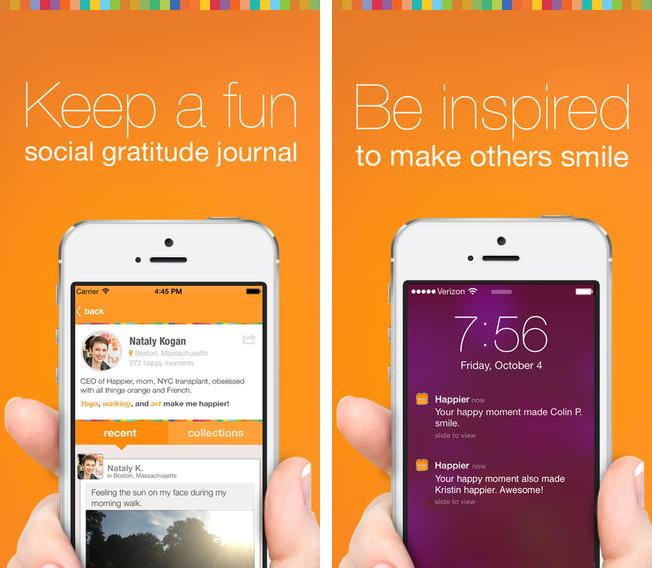 Happier is both an app and a community. It allows you to keep track of the small happy moments in your day and feel awesome when they help someone smile.
MoodKit (iOS)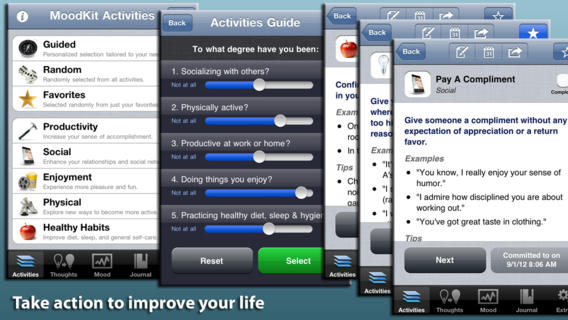 MoodKit helps you use effective strategies of professional psychology in your everyday life. MoodKit is based on Cognitive Behavior Therapy (CBT), one of the most effective and scientifically-supported methods of psychotherapy, and provides over 200 mood improvement activities. The app also acts as a Journal to let you easily keep track of your feelings.
urWell (iOS, Android beta)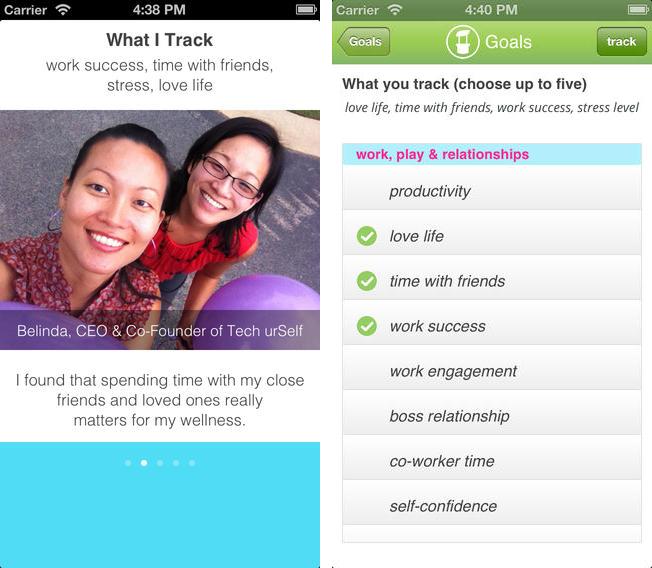 urWell is a lifestyle tracker app that wants to make you happier by helping you analyse your choices about work, play, relationships, personal growth, health, and other areas of your life. They provide different challenges like "Kindness Challenge" or "Nature Challenge" and you can easily track for example how kind were you with others throughout a certain period. You can get reminders and you can also invite your friends to track certain areas of your life.
Get Happy (iOS)
Get Happy offers tips on 4 domains in your life: relationships, leisure, personal growth and work & education. You will receive a tip every day as a notification, and based on a self-rating system that prioritizes daily tips, you can check which areas in your life are most in need of improvement.
Gratitude Journal (iOS)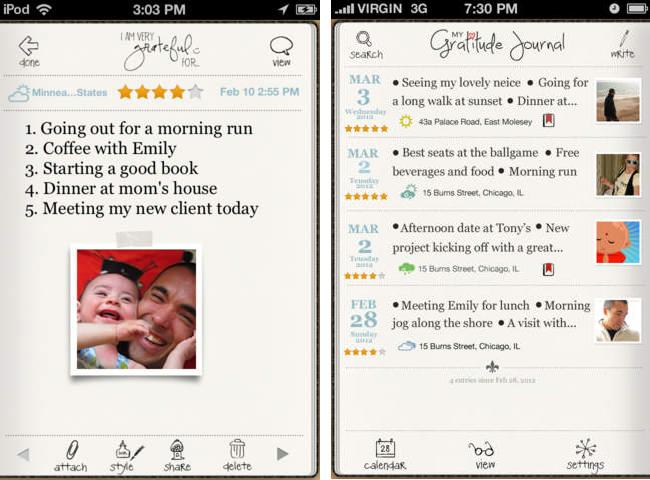 The name says it, it allows you to create a journal documenting anything you are thankful for that day. You can also add a photo to an entry.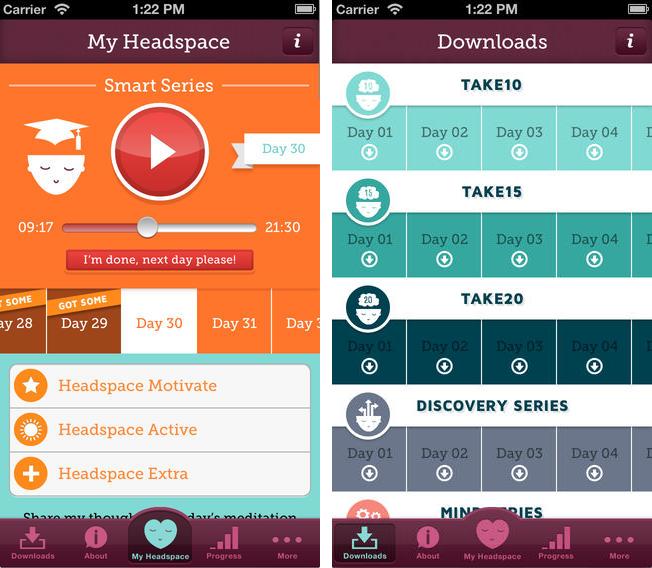 Headspace helps you with your meditation. It offer 10 free guided meditations focused on Sleep, Stress, Eating, Walking, Public Transport and Mindfulness. You can record your daily progress and set reminders to keep you on track with your practice.
Sleep Cycle (iOS)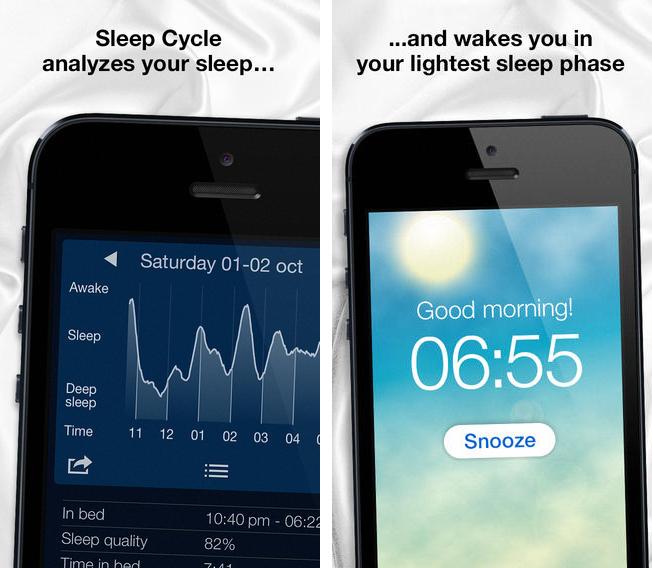 Sleep Cycle is an app that analyzes your sleep and wakes you at the best moment. Our sleep has different phases, from light to deep, so when we wake up in a light sleep phase, we feel more relaxed.This is what the app does, it detects using the accelerometer if you're moving and it wakes you app when you are in your lightest sleep phase.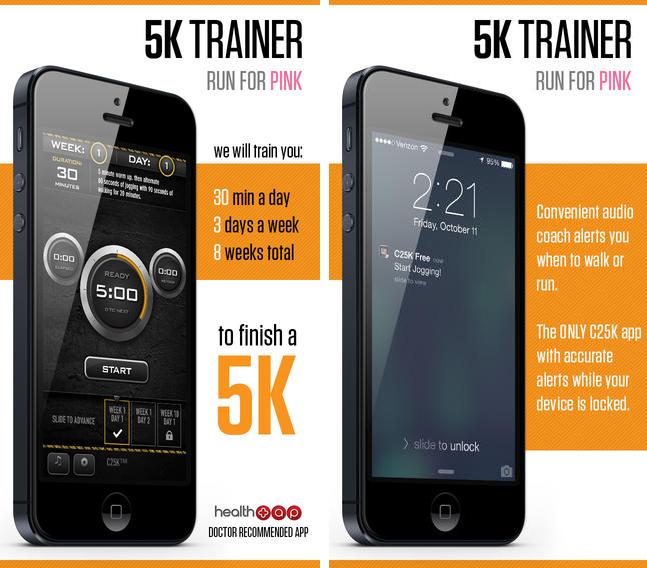 Have you ever noticed that you feel great after doing exercise or going for a run? C25K is an app that helps beginners start running and get them doing 5k sessions in just 8 weeks. After a while you will be fitter and you'll have a better state of mind.
These apps don't replace medications for any condition, but finding even a few minutes of high times can help you feel better and carry you through your most challenging days.
Are you using any other apps that make you feel happier? Let us know in comments.