FinTech app trends 2022
Published on
Dec 15, 2021
It is no secret that the world of fintech has changed dramatically over the last few years. And it will continue to change in 2022 and beyond. There are plenty of new trends, technologies, and innovations on their way, so how do you plan for what's coming? Estimating the costs of a fintech app can be a difficult task in such a fast-paced industry – this blog post discusses some fintech industry trends, practical tips and main features, and the average cost of a FinTech app.
The pandemic and the ongoing social distancing need had made the need for digital payments imperious for so many businesses. Therefore digital wallets are on the rise, and governments set rules and regulations. At the beginning of the pandemic, 85% of people were using digital wallets, and some experts are saying that the business could be worth more than $10 trillion by 2025 (TelecomTV, 2021).
The rise of fintech has revolutionized the way people manage their money. Financial institutions can now provide innovative products and services that help them save time, streamline transactions, reduce costs for customers in need throughout every stage on these processes with cutting-edge mobile apps.
According to Statista, 43.1% of smartphone users in the USA in the Q3 of 2020 used banking and financial apps. The figure will continue to rise as fintech app development starts a new phase, using the latest solutions and trends.
Fintech industry trends
Artificial intelligence
AI is used in every industry and finance is no exception. AI helps make smart business decisions, handle unstructured data, get access to advanced analytics as well as identify products more effectively than humans can, with its accuracy being improved by machine learning algorithms.
The use cases within financial services are numerous such as predicting customer propensity based on timely behavioral insights like purchase history. Another use case of AI is around NLP ( Natural Language Processing), where the AI can read the free text and detect noncompliance in the documentation.
Gamification
Gamification is a hot trend in the financial sector and it's taking over! This means incorporating gaming elements into your fintech application to boost customer engagement. These features may include quizzes, cashback rewards programs that are personalized for each individual user as well as more traditional activities like trading stocks or managing money accounts. The games enable clients to track their spending patterns by using events or progress bars while also delivering positive feedback for making wise financial decisions.
Chatbots
Chatbots are on top of the main fintech trends and this is a cost-effective solution that connects companies with their customers. Chatbot conversations act as 24/7 communication, helping to increase customer loyalty by providing information when needed without human intervention; additionally, it can help an organization improve its performance through effective responsiveness.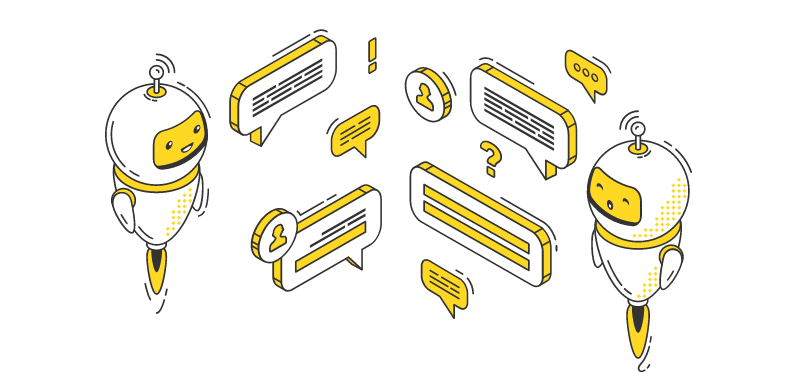 The chatbots in the financial field can be of three types:
informational (provides general information, news, or push notifications);
transactional (helps customers to complete transactions);
advisory (provides information on the next steps based on customer interactions).
Voice recognition
With the recent rise in the popularity of voice recognition technologies, more financial companies are starting to utilize them. Some popular choices include Siri and Alexa which can be used by customers for transactions or other operations like paying bills online.
Voice recognition is a subset of biometric technology, and uses the user's voice for authentication and to authorize transactions and other financial operations. Of course, using voice recognition in FinTech applications is in its early stages, the main concern is security, as the voice recognition technology is still not as secure as fingerprint and face identification. However, some financial institutions are experimenting or using voice recognition in their FinTech initiatives.
Blockchain technology
The rise in the popularity of blockchain is not just limited to cryptocurrency. The technology has a lot of potentials and offers benefits including in financial services, such as secure data sharing across industries.
Through blockchain technology, companies can share documents along with the trade flow on a trade finance blockchain network. In other words, all the needed documents with regards to a transaction will be hashed on the chain, no more duplicated orders, and no need to expose sensitive information or customer privacy.
Also, another benefit of the blockchain are smart contracts. A smart contract allows events to trigger payment transactions automatically.
Digital wallets
Digital wallets or e-wallets are software-based systems that securely store users' payment information and passwords for numerous different types of online purchases. By using near-field communications technology, users can make quick & easy transactions with one simple text message or tap on your phone screen.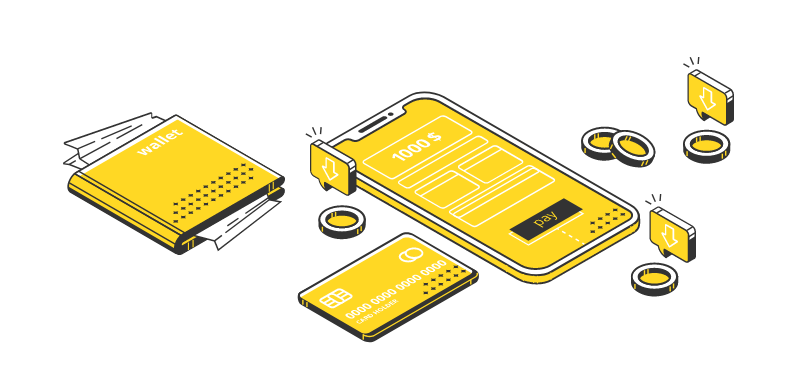 We are all familiar with Apple wallets, Samsung Pay, and Google Pay, however, the pandemic has caused the technology companies to increase their investment in e-wallets and mobile payments. The main driver for digital wallets is convenience.
It's expected that by 2023 nearly 50% or more mobile payments will come from China, which has some impressive contenders in AliPay (the country's leading e-wallet platform) as well as WeChat Pay—both owned by messaging app provider Tencent.
Robotic Process Automation (RPA)
We talked above about how AI is used to automate financial management for customers. The same technology can be applied to the operation and processes of banks and/or financial institutions, this is known as robotic process automation (RPA). In simple words, this technology automates or can automate a high volume of transactions, or repetitive, rule-based tasks.
Within the financial sector, these repetitive ruled-based processes include:
Opening accounts
KYC (Known Your Client verification )
Customer onboarding
Loan processing
For example, the Romcom app, developed by Mobiversal's team uses this technology. The app provides Romcom customers a platform where they can see relevant information on their loans and take action related to them.
Useful tips and main features
Before starting to think about what kind of features your FinTech app should have it's important to define the product and the type of FinTech Application you want to create.
Some of the most popular FinTech app types are:
Payment processing apps
Personal finance management apps
Crowdfunding apps
Digital banking apps
If you have defined the objectives of your app and you know exactly what type of FinTech app you'd like to build, the next step is to think about its main features. Some of the most important and popular features are:
Security: We cannot stress enough the importance of security when it comes to building an app that has access to users' funds and sensitive information. There are various solutions that can be implemented, such as two-factor authentication, face authentication, or fingerprint recognition.
Notifications: Most of the FinTech Apps use notifications to keep their customers updated about special promotions, news, and loyalty programs. Apart from the general use of notifications, this is also used to inform the user when the transaction had been made, or if there was any problem with it.
Ai-Chatbox: Customer support usually boosts user satisfaction level and, respectively, loyalty too.
Of course, each business will have its own goals and objectives, so there isn't a standard list of must-have features to rely on. However, here are some essential features that you might consider for your finance application:
Card details
Transaction history
Account setting
Sing-in and sign up screens
Bank details
Saving management
Cost to build FinTech app
A FinTech app with basic functionality and a simple user interface for a single platform will cost between $30,000 and $50,000.
However, the starting price for an average FinTech app that provides a more advanced solution with more functionalities and modern technologies is $50,000 and it can get up to $100,000.
If you are looking for a more complex FinTech app, you should expect the starting price of $80,000 depending on the complexity of the application, the experience of the company that will work on it.
These are rough estimates that can vary greatly depending on various aspects, such as platform specifics, functionality, and API integration, and complexity. Also, other variables include whether you're looking at a web app or a native one–the former will generally be more expensive than the latter since they require extra work to build from scratch!
Cost by type of apps
Bear in mind that these figures are rough estimates, if you want to enable advanced features of your app type, such as real-time credit rating tracking, EMI calculator, data analysis will require more budget than expected.

Cost by type of team
Another factor that will decide your app's price is whether or not you are choosing to develop the app with an in-house team, local agency, or freelancer. Of course, there are pros and cons, for each one of the choices mentioned above, and our advice is simple "HIRE THE BEST" after you made thorough research. If you decide to go with a freelancer, we'd strongly recommend signing an NDA, as there are numerous cases when sensitive information had been leaked to competition for the right amount of money.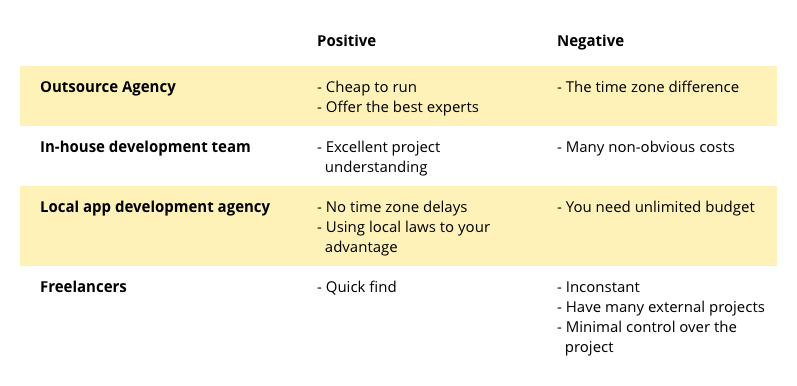 We believe that the middle ground between taking a risk with a freelancer, a local agency, and an in-house team is to outsource the project to a development company. This way, you have a third party that manages and employs the team and makes sure the product gets delivered. This method is one of the most prominent in this present day when it comes to developing FinTech Apps. It's a trend in the U.S., the UK, Germany, and other major markets.
Cost by location

It is already well known that location affects the price of a service, in other words, the same service will cost way more in the USA than in eastern Europe. This applies to FinTech Software development too. The table below shows a comparison of different apps based on the location: USA, Romania, and India.

Sure thing is important to take into consideration the quality-price rate, however, the general perception among startup founders is that the U.S.-built apps have better quality.
This is not true, and you might just be overpaying for what you can get cheaper. Moreover, there is an increased number of tech companies that choose to develop their apps in Europe, Romania, due to this particular reason, cheaper prices than use and incredibly good quality.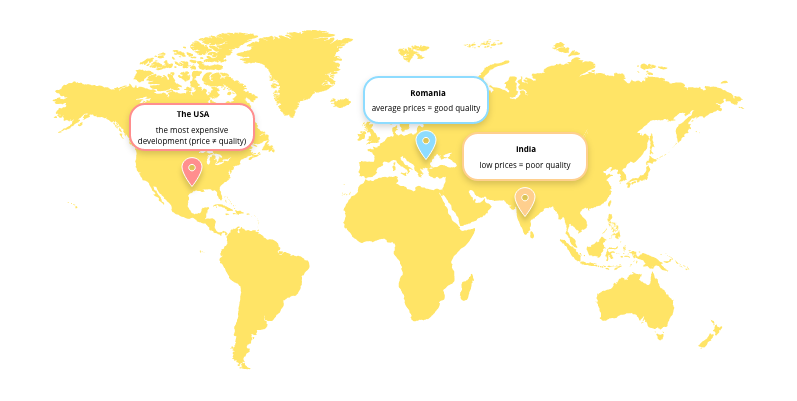 Tips for choosing the right team for your FinTech product
We believe that a product team, made of business analysts, designers, developers, plays a key role in the success of good FinTech Solutions.
So, here are our tips when it comes to choosing the right team for your product:
Expertise: Makes sure the team you'd like to hire has a strong understanding of app development and the market you'll enter. It is crucial, for the product's success, that you go for a team that has both: technical and business analyst
Portfolio: It's easy to say you're the best in the niche, so that let yourself be fooled by words. Check their portfolio, that is their evidence of knowledge and experience.
Social Media and reviews: Social media tend to reveal one's expertise. Check what people are saying and watch out for comments from past clients.
Conclusion
The finance industry is in the midst of a major shift, and it's time for you to take advantage. Whether building an app or just integrating with your current technology infrastructure make sure that any new project has cutting-edge features!
At Mobiversal, we'll help you end-to-end to deliver a FinTech app for your business in just a few months. We have over 11 years of experience in creating highly intuitive applications. Don't just take our word for it, check our portfolio page and our social media presence( Facebook and LinkedIn).