10 Things You Don't Know About mHealth
Published on
May 27, 2014
The number of mHealth apps that are created for the two leading platforms, iOS and Android, has more than doubled in only 2.5 years to reach more than 100,000 apps (Q1 2014). The market revenue reached USD 2.4bn in 2013 and is projected to grow to USD 26bn by the end of 2017. Research2guidance recently released a new report entitled "mHealth App Developer Economics", dive in below for some of the most important findings.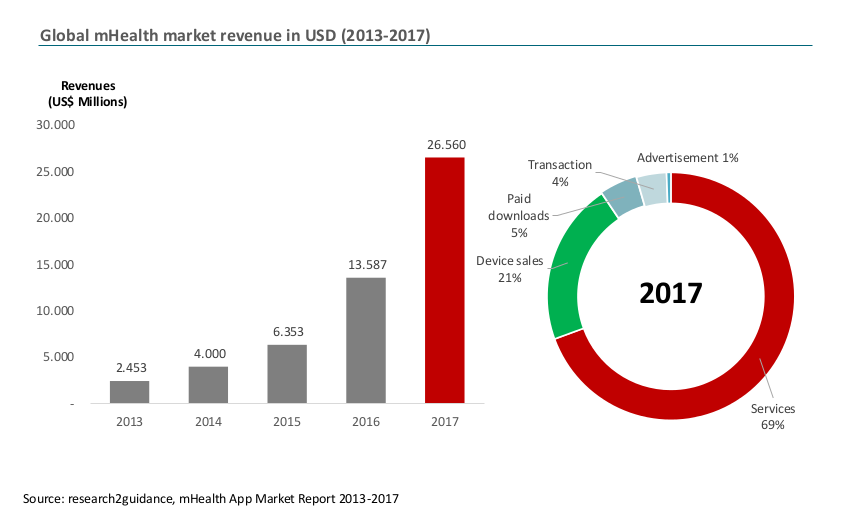 The major source of income for mHealth app publishers will come from services (69%). These services typically involve backend structures of servers and/or teams of medical staff which monitor and consult with doctors, patients and general healthcare – interested individuals.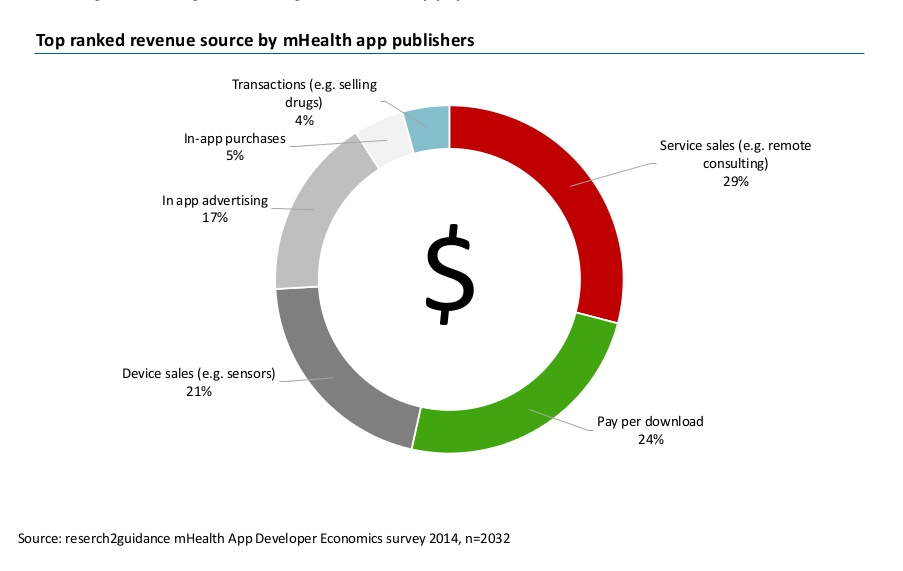 Today's mHealth app publishers and mostly target chronically ill patients (31%) and health and fitness-interested people (28%). As primary users, physicians are targeted by 14% of app developers.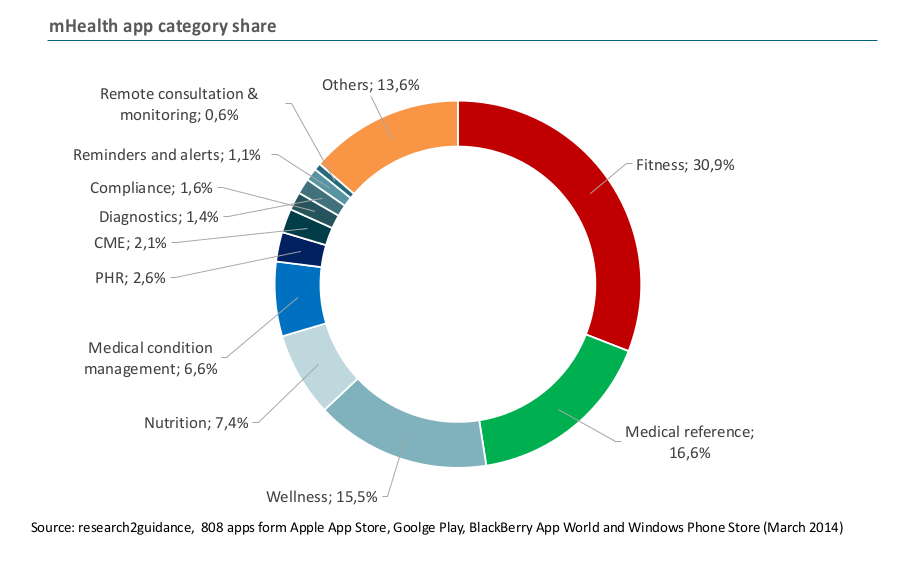 mHealth app publishers could be categorized into 6 main groups: traditional healthcare players, helpers, mobile app specialists, connectors, medical and fitness specialists.
mHealth app publishers have released an average of 7 mHealth apps and the majority (36%) have entered the market only recently (2013&2014). Looking at the size of these companies, the study revealed that an mHealth app publisher typically hires 3-10 (23%) or 11-100 (23%) employees.
The vast majority of mHealth app publishers (82%) generated less than 50,000 downloads with their mHealth app portfolio last year, whereas the top 5% reached more than 500,000 downloads.
When it comes to income generated, 68% of mHealth app publishers earn less than USD 10,000 or no revenue. The middle income group, which makes between USD 50,000 and USD 1m, represents 17% of the publishers. The top 5% makes more than USD 1m.
The most relevant revenue stream is linked to services which are offered via the apps. These services include e.g. remote diagnosis based on submitted photos (e.g. from skin abnormalities), managed company fitness monitoring programs or just the ability to share a scan of a foetus with friends.
Economically successful mHealth app publishers (>USD 1m revenue in 2013) stand out thanks to their relatively larger app portfolio, experience in the market, use of tools for the app development and monitoring process, connection to medical databases, apps and sensors. They also focus more on iOS as compared to commercially unsuccessful publishers.
mHealth app publishers who belong to the Connected Elite are role models for successful mHealth app publishing today and in the future. Publishers in the Connected Elite allow their app users to automatically sync an app with the data of, in some cases, more than 30 competitor apps and sensors.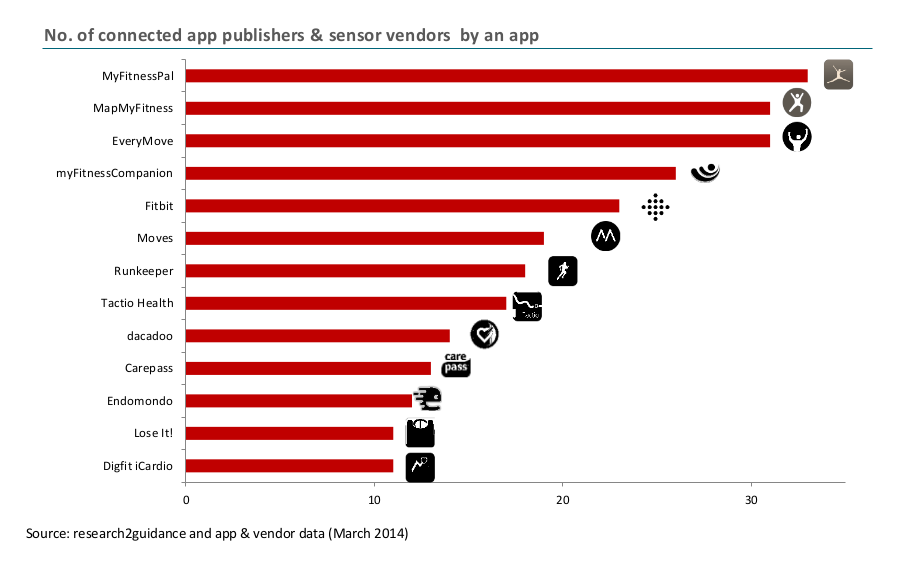 By opening up their APIs, such publishers can concentrate on delivering their core value propositions and outsource the rest. In such a way, Connected Elite publishers can create a greater value for the user and gain a substantial competitive advantage over rivals.
According to today's and future mHealth app publishers the main market drivers for the next five years are the increasing penetration of capable devices (58%) and user/patient demand (43%). The potential show-stoppers are lack of data security (34%) and standards (30%). Poor discoverability (29%) is another barrier which leaves much room for specialized mHealth app stores.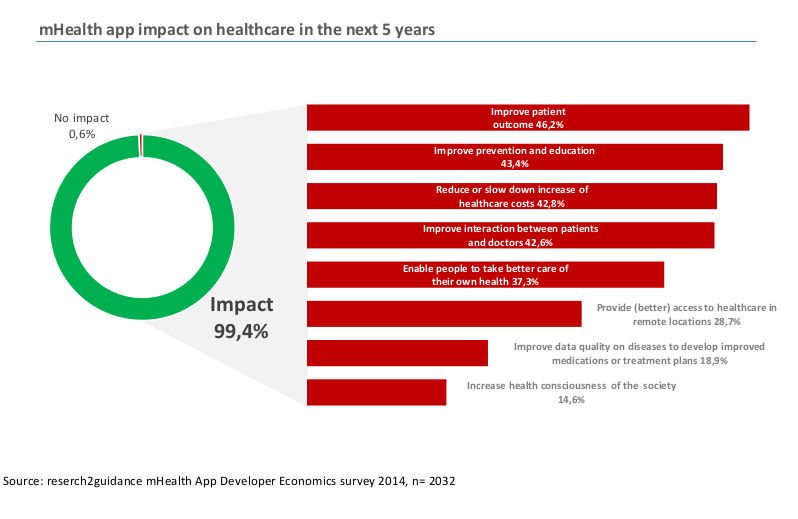 Android and iOS are the dominant mobile platforms for which mHealth app developers will continue developing their apps in the next 5 years.
Fitness apps, which today constitute the app category which offers the highest business potential for mHealth app publishers, are believed to diminish in their relative importance. In five-years time they are expected to no longer be the top app category and in terms of business potential are expected to be on the fifth position (22.9%). The app categories that have the highest expected market potential in the near future are remote monitoring (53%) and consultation apps (38%).
mHealth apps will have the biggest impact on healthcare system costs in two areas. They will help to reduce non-compliance and hospital readmission costs (55%). Traditional healthcare players like physicians and hospitals are the top ranked distribution channel for mHealth apps in the next five years. The underlying assumption is again that within this timeframe mHealth apps will have become well integrated into the healthcare processes.
The mHealth app market potential is the biggest in developed countries, although mHealth publishers from countries which belong to the developing and least developed regions rate the business potential of these regions as high as for countries like the USA, UK, Japan and Germany. Are you a mHealth app developer? What do you think about the findings of this report?