15 Top Mobile Apps for Realtors
Published on
May 15, 2012
Mobile apps are a perfect match for the real estate industry, helping both consumers easily find a home and real estate agents better serve their clients. Let's take a look at a few leading mobile apps and the key aspects where they are helping:
House searching
One of the most popular real estate app comes from Realtor.com. Immediately after starting the app, it asks for your location and then greets you with a quick menu where you may choose to view recently sold properties, foreclosures, price reduced or open house info. The app shows you homes for sale, for rent, or recently sold in any city or in your current location on a map instantly. If you create a free account, you'll also be able so save searches and homes you liked, or share them with friends or real estate agent. Realtor app also lets highlight on the map with your finger a specific area you are interested in, so you define exactly the neighborhood. (Realtor for iPhone, Android)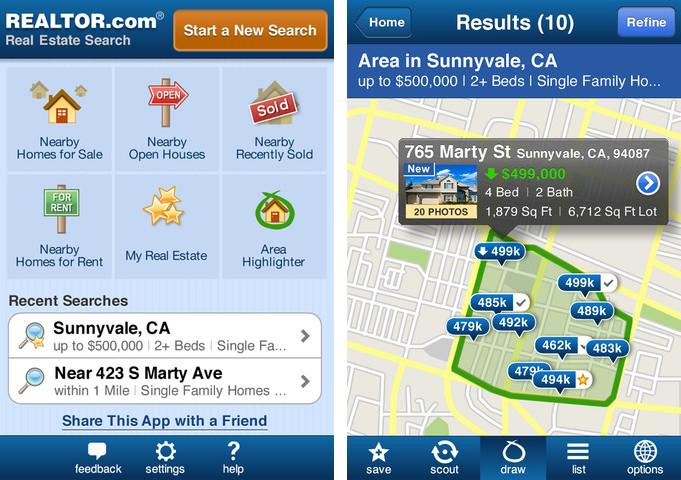 Zillow also offers a really nice app. You can search for homes or after getting your GPS position it can show you what's nearby. I really like that I can also see on the map sold houses, so you can make a good idea if a house for sale has an attractive price or not. Red icons will show you houses for sale, purple ones are for houses for rent, yellow ones for sold houses, and blue ones are for "Make me move" listings. These are listings from sellers who are not 100% decided to sell, but they are setting a price for which they'd be willing to move, kind of like a "dream price".
Zillow is aggregating information from the market and they are able to show you "Zestimate" values of any home in the U.S. and Rent Zestimates (estimated monthly rental price), on most homes
. I also like the ability to filter searches by price, beds, baths, keywords, monthly mortgage payment, and more
. As Realtor.com it also allows you to draw your own search area(s) with your finger.
Besides looking at houses you can also get real-time mortgage rates and personalized loan quotes. For more details checkout the Zillow iPhone app or the Android app.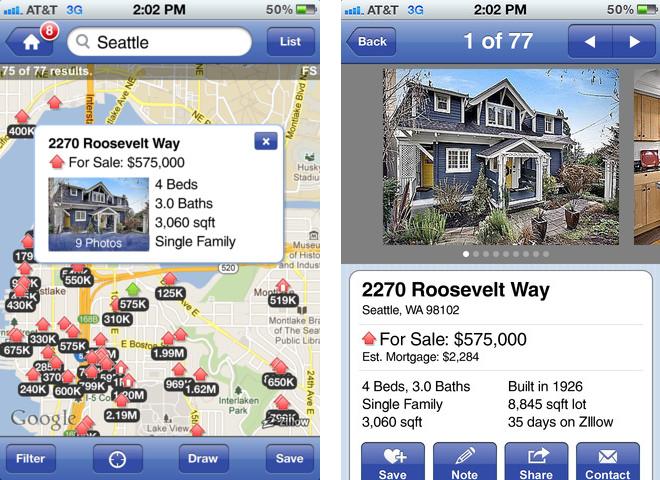 Other apps worth checking are Trulia, Hotpads, Redfin which features a scoring which helps identify houses that best match your requirements and even compare an unlimited number of homes.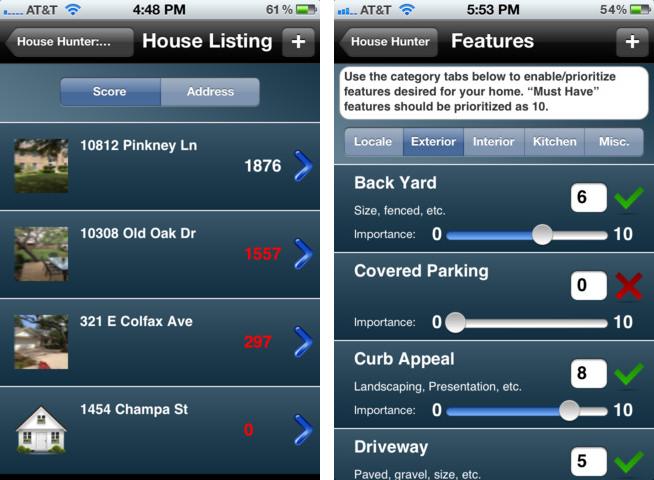 Search for foreclosures
There are apps specialized on foreclosures. For example Foreclosure Radar is such an app that helps investors, realtors, government agencies and other professionals check the freshest foreclosure information – including exclusive daily auction updates. You can monitor current foreclosure auction activity instantly and review details on each foreclosure including ownership, foreclosure details, value, equity or transaction history. Checkout the iPhone app.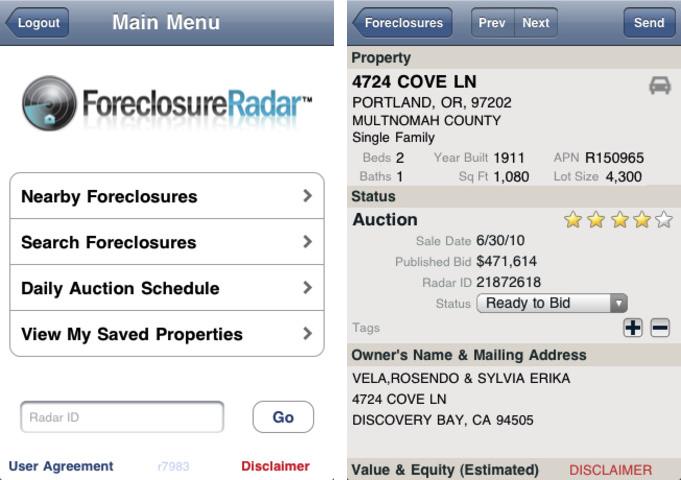 A similar app is Foreclosure Search by USHUD.com, using it you can take a look at a list of foreclosed properties owned by the government and all major banks. Download the iPhone app or the Android app.

Search for schools nearby
If you have kids, it's useful to see how good are the schools in a certain area. One app to help you with this task is GreatSchools Finder. The app lets you search the latest school information for more than 125,000 K-12 schools in the U.S., including public, public charter, and private schools. You'll be able to view and compare schools for any city, based on your current location. Checkout the iPhone app.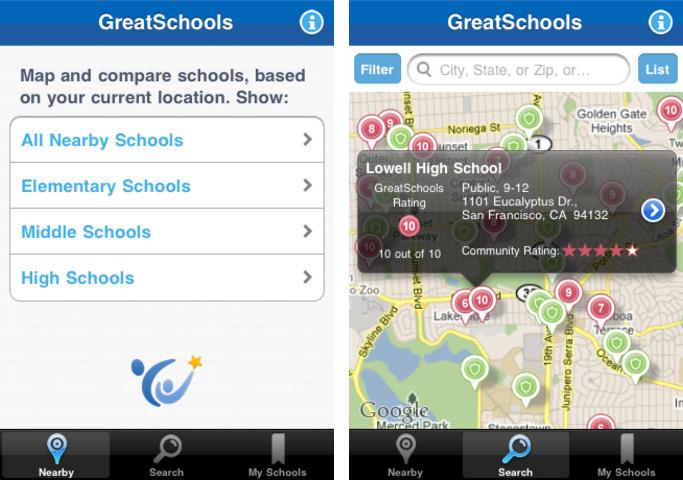 Mortgage calculator
Zillow app included a mortgage calculator but there are also apps specialized on this task. One example is RECalc – Real Estate Mortgage Loan Calculator, which allows to calculate the Monthly Payment, Term, Interest Rate or Loan Amount for a loan, as well as standard mathematical calculations as you would in any other calculator. RECalc supports semi-annual compounding (Canadian Amortization) in addition to normal monthly compounding. With a click, you can display the complete Loan Summary and Amortization Table for your calculation. Checkout the iPhone app.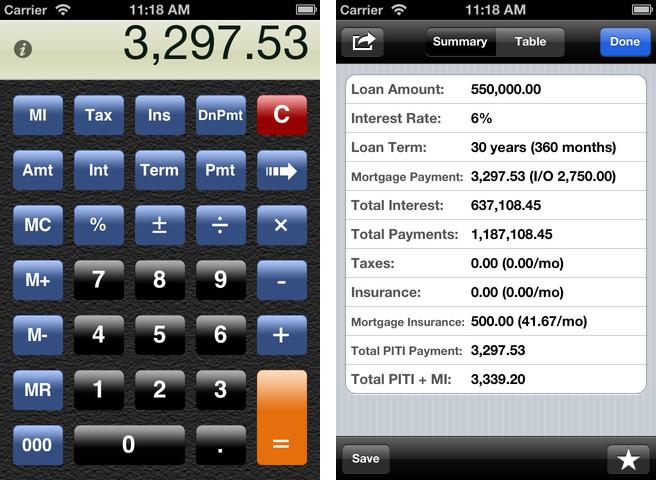 Are you a flipper?
If you're a dolphin please go back in the water, but if you're in the business of flipping houses then you'll want to check Property Fixer. After entering some information about the property, you can view a flip analysis that shows your profit and return on investment for the flip. The app costs $1.99 and there are also a premium at $9,99 and a pro version at $29.99. The premium versions allow you to save multiple properties or what-if scenarios, email the flip analysis to your clients, lenders, or investment partners as a PDF file and many more. Download the iPhone app.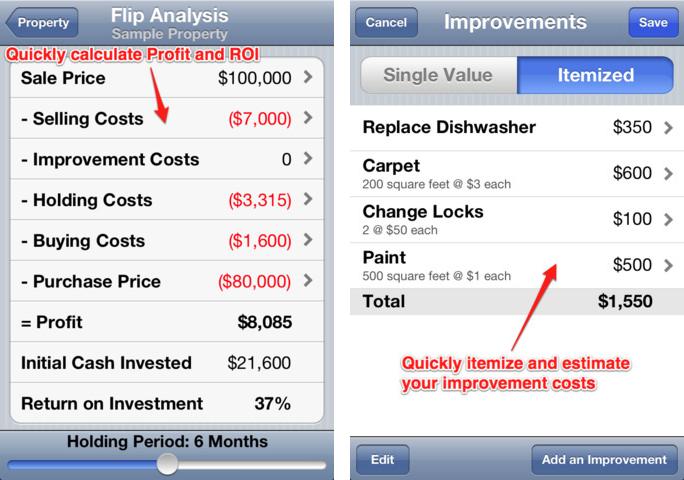 Design ideas
OK, so now that you bought your house maybe you'd like to find inspiration and check some design ideas. Houzz app offers just that, with over 400,000 high resolution photos. You can browse photos by style, room and location and save them to your virtual idea book — it's the equivalent of clipping design magazines to a scrapbook — making ideas easier to search, save, and share. Get the iPhone app.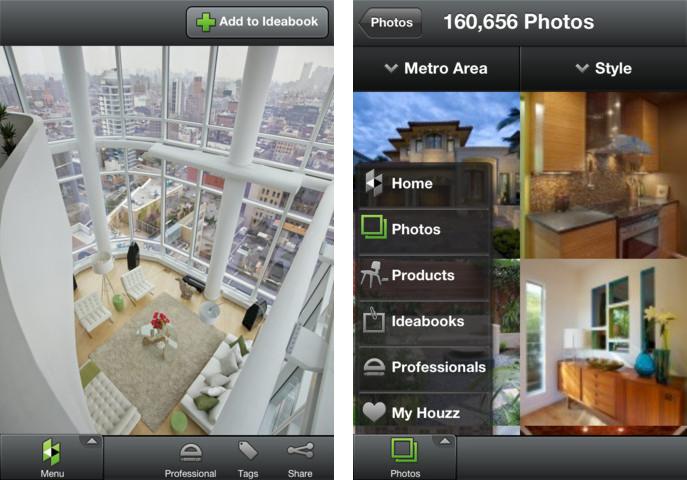 Safety apps for real estate agents

Real estate agents are facing risks so mobile apps can help them when in a hazardous situation. One such app is Guardly, it offers a fast way to contact family, friends & 911 when you're in danger, and help them to reach and locate you. It can reach 15+ people in one-tap by sending them phone call, email & SMS alerts. Checkout the iPhone app.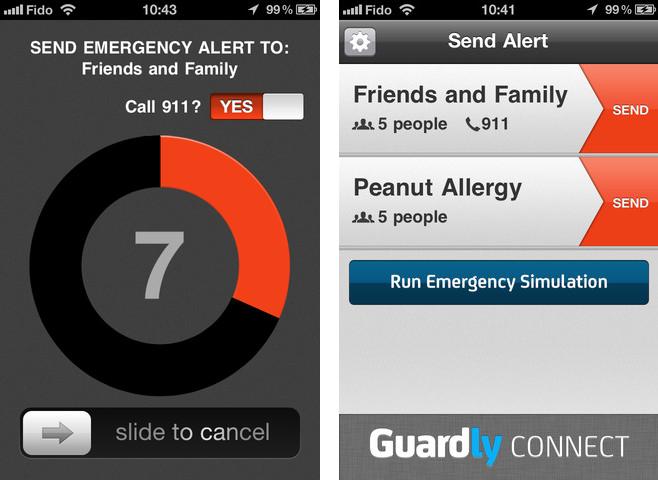 If you got any other useful real estate app that I might have missed, please let me know in comments.