How Apps Increase Field Workforce Productivity
Published on
Oct 23, 2014
Category
Business Strategy
We've released FieldVibe, our own field service management product. Check it out!
---
Organizations are in a constant battle to improve field productivity, efficiency or customer service, and one way they are trying to achieve this is by mobilizing their workforce. Apps can help companies manage workforce better in many ways:
Workers in the field can receive real-time, accurate information, apps being integrated with backend systems such as ERP, CRM, work order management, billing, transaction processing, etc. Timely and contextually relevant information can be made available to the field at all times – even when devices don't have an internet connection, thanks to caching and syncing.
Field workers can be dispatched using a responsive scheduling, based on location-based information and real-time work order status, this way resources could be better allocated.
Apps allow a realtime communication between the back office and the field workers, eliminating the delays of manual, paper-based processes and error-prone rekeying of data.
Optimized workflows – as conditions in the field are constantly changing, the ability to easily alter, update and improve workflows enables organizations to adapt and align their operations accordingly.
Companies can cut costs on infrastructure – cloud and SaaS delivery help organizations keep costs under control, as well as allowing on-demand scalability and agile updates.
According to a recent study by FeedHenry, a mobile application platform for enterprise, just by replacing the paper based paperwork with apps, companies can save 24 minutes/worker every which means a 5% boost in productivity.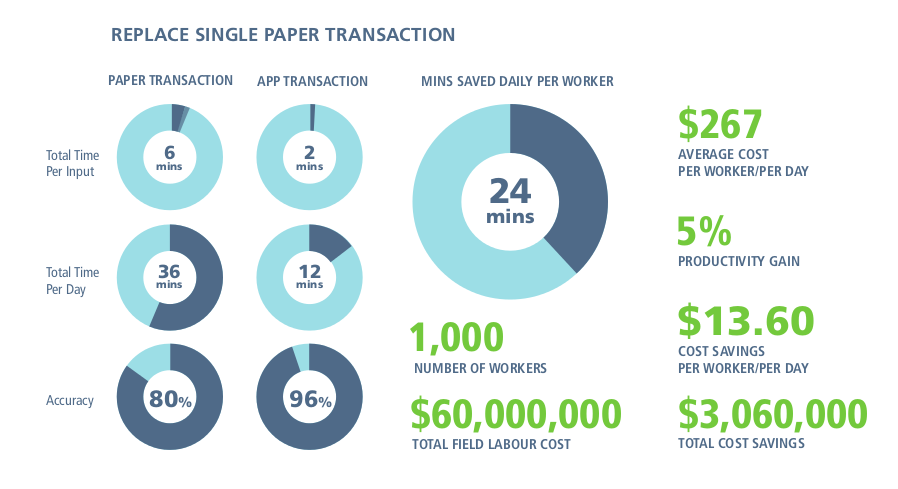 Companies should look carefully at field users profiles, such as sales, technician, manager, and prioritize which user group(s) to start with. Afterwards they need to get field users involved, in order to pick the features that would improve workflows and business outcomes. It's time for mobile workforce management.