Custom Android Application Development Company
Published on
Nov 16, 2011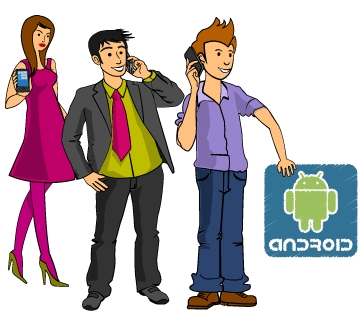 Smartphones account for about 40% from all phones, the rest of them being feature phones. Between May and July 2011, Android owned 40 percent of smartphone OS share in US, according to Nielsen. These numbers are huge considering that for example Apple iPhone OS owned just 28%.
A recent raport from Nielsen shows that Android users in the US spent an average of 56 minutes per day browsing the Web and using apps via their phones in June 2011 and of that time, two-thirds (67%) was spent using mobile applications while one-third (33%) was spent on the mobile Web.
There are over 500,000 Android applications in the Market however just a very small proportion of apps make up most of the time spent on Android devices. For example, the top 10 Android apps accounted for 43% of the total time spent by Android owners on mobile apps in June 2011. The top 50 applications accounted for 61% of all time spent using apps, leaving the rest of the applications with 39%.
This shows how big Android already is and how big is going to be, so for companies wanting a piece of the pie, Mobiversal is offering Android application development services.
Let's take a look at what Android users are doing on their smartphones: 56% are using apps, 19% email and messaging, 15% are using the phone feature, 9% web browsing, 1% camera.
Before developing an Android application, let's look at a survey from Hunch that revealed some interesting stuff:
– 10% of them are more likely to be men, between 18 and 34, and they are 20% more likely to be conservative
– when it comes to their personality they are slightly more likely to be pessimists, 29% more likely to be more tight on their budget
– in regards to technology, they are 31% more likely to be later adopters, 35% more likely to have just one email address, and 50% more likely to use Yahoo mail.
The Android application development cost shouldn't scary you, usually we do apps with a budget over $10000 but sometimes we take challenging projects for as low as $2000.
If we fall in love with your idea, we'll might even do it for FREE.
Got an app idea? Don't waste any time and let us know what you have in mind and we'll send you in 24 hours a free quote.