Expert Advice on Building Successful Apps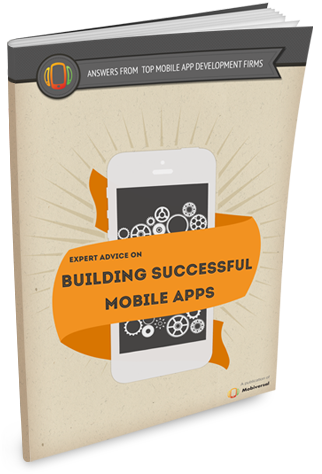 The app economy is thriving with an estimated annual revenue of $25 billion and over a million apps across app stores, however one of four downloaded mobile apps is never used, then discarded, according to a study by Localytics.
This eBook contains advice on building successful apps, from some of the most important app development companies out there. Please find below the list of participating firms (in alphabetical order) and some of their key clients:
Appetizer Mobile: Lady Gaga, Del Friscos Restaurant Group, Kim Kardashian, Interscope Records, NBA
Fueled: Ducati, Porsche, P&G, Hallmark, Fashism, Malibu, Bulova, Chicago Bulls, Effen Vodka, UrbanDaddy
Mobiers: Gushcloud, PinyPoint, Shoemocracy, BlueHaze House, Graham Group, CTS Capital Group, Bricks Mobile
Mobiversal: Forbes, Russmedia, PhantomALERT, Find a way, Jose!, Paymo, Let's do it!, CallFlakes, CraveEat, Shelfster
Lemberg: Parrot, PHM, P&O, V&A, EuroTalk, RKCR/Y&R, Woisio, Just.me, ADMERICA!
Raizlabs: Macy's, B&H Photo, Rue La La, Intuit, Bloomingdales, EMC, SolidWorks, MIT, RunKeeper, HubSpot
Savvy Apps: NFL, PBS, Foreign Policy Magazine, Homesnap, Speek, Network Solutions, BrainScope, CaptureAudio
In this eBook, you will discover:
How top experts work with their clients from the idea to launching an app
Insights on whether to build your app for Android or iOS first
Key industries or areas where mobile apps could have a big impact in the next period


Mobiversal
, a mobile app development company working with startups and established brands like Forbes to create unique mobile experiences. Mobiversal is also the maker of
Appointfix
and
FieldVibe
. Connect with him on Twitter
@FlaviusSaracut
.