The Average Conversion Rate On Mobile Devices
Published on
Aug 26, 2013
E-commerce managers and marketers are used with 2-5% conversion rates from the PC-based internet and they often expect to rely on these metrics when it comes to mobile too. However, when it comes to mobile visits, they see an increase but the conversion rates are typically lower.
The extra minutes that are spent on mobile devices is comprised by billions of "micro sessions" that take place throughout the day in places like bus stations, when waiting for the elevator, at restaurants, when walking in malls, on the train, at TV, in meeting rooms, and in a lot of other places that are encouraging short sessions.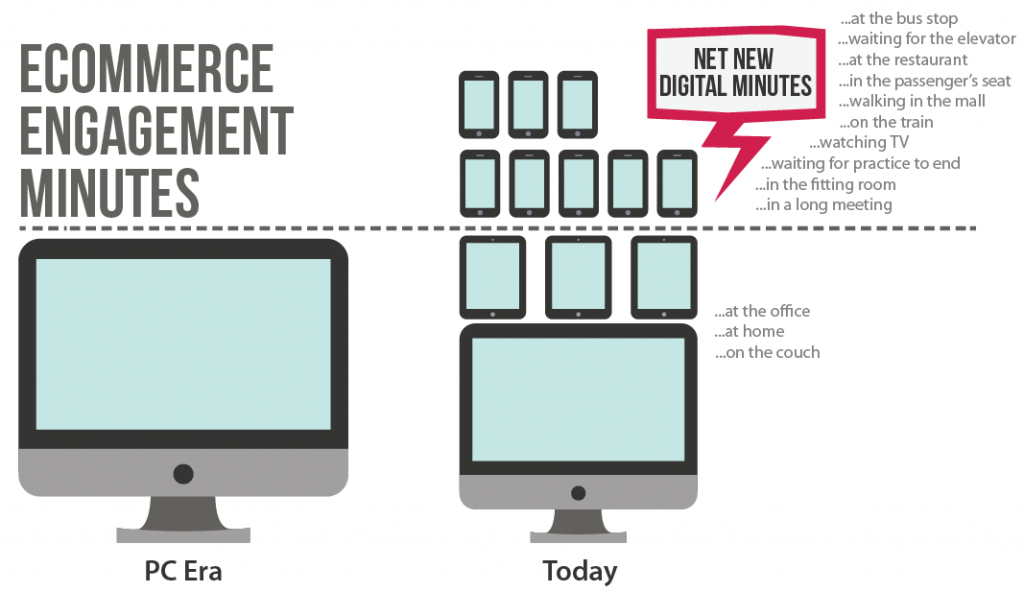 Alex Muller, Co-Founder at GPShopper did an analysis on this issue and came with the conclusion that is OK to have a lower conversion rate on mobile, because the visits on mobile devices shouldn't be judged using previously relied upon tools. The minutes themselves have already been paid for – they're not, for example, new visits acquired through Google AdWords, but they are instead visits initiated by direct consumer entry, so they come with no extra cost.
Mr Muller identified 3 reasons why users are initiating mobile sessions:
"1) Urgency – When a consumer requires a product or information immediately, they often turn to mobile. The consumer simply doesn't have the time to get to a PC for fear of missing out on a deal, so purchases are often made on mobile devices.
2) Information Seeking / Showrooming – Similar to urgency, in this situation context is paramount. The consumer is on the verge of purchasing an item in-store and wants final confirmation that the price is satisfactory, reviews are favorable, the product is worth buying, etc. . Another variation is that the product is not available in-store and the consumer is still intent on making the purchase immediately so they complete the purchase on their mobile device, often by scanning the product's barcode or hangtag.
3) Passing Time / Pre-Shopping – We all pass a great deal of time on our mobile devices. The odds are that the most loyal and passionate consumers do as well. This "time passing" is likely to account for the majority of new emerging mobile minutes – waiting for the bus, lounging in the backseat of a car, on break at a conference and even covertly at work. "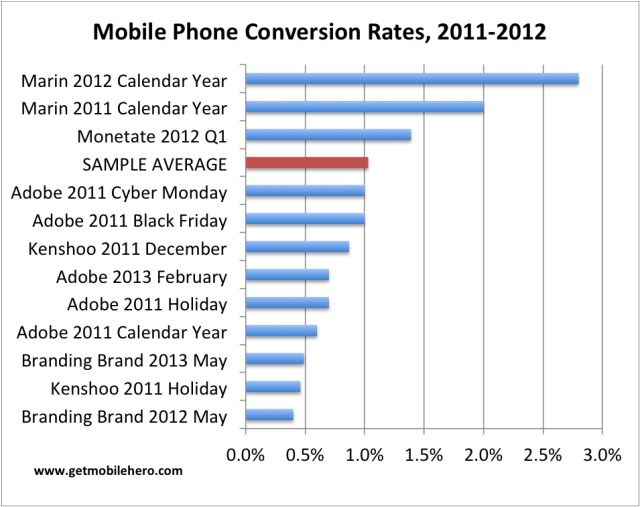 The industry studies tend to agree that conversion on tablets is bigger than on smartphones but still smaller than on PCs. Also iOS tends to convert better than Android and the average conversion rate seems to be around 1%, as seen in the graphic below from Getmobilehero.com.
Other studies can be checked at:
Adobe's 2013 State of Mobile Benchmark: 0.7%
Branding Brand May 2013 Mobile Commerce Index: 0.49%
Kenshoo's 2012 Global Online Retail Holiday Shopping Report: 0.46%
Marin Software's 2013 Mobile Search Advertising Around the Globe: 2.8%
Monetate Q1 2012 Ecommerce Quarterly: 1.39%