Drugstores are Using Apps To Drive Revenue
Published on
Mar 18, 2013
Why companies in general should consider mobile apps in the first place:
1. Ubiquity of smartphones: Smartphones will increasingly replace feature phones. A recent study from International Data Corporation (IDC) Worldwide Quarterly Mobile Phone Tracker, says vendors will ship 918.6 million smartphones this year, or 50.1%  from the total number of phones delivered worldwide. By the end of 2017, IDC estimates that 1.5 billion smartphones will be shipped worldwide.
2. Plethora of possibilities: Smartphones are pocket computers which are becoming more and more powerful. These devices are opening doors to a lot of opportunities and use-cases e.g. augmented reality related to certain products, entertainment, custom tailored experiences using geolocation and so on.
3. Constant growth of app stores: smartphones will always depend on the app stores, according to statistics from January 2013 there were 775,000 apps in Apple's App Store, and 700,000 on Google Pay, choice has never been greater.
4. Unmatched user-experience: apps still offer a user-experience superior to mobile websites.
5. Intimacy with customers: smartphones are intimate devices that we are carrying with us all day long and we're probably going to sleep and waking up with them.
6. Increased exposure: Even though there's a lot of competition in the app stores, things aren't that bad as on the web.
Mobile retail is growing at an enormous rate, being the second fastest-growing sector on mobile.
1. An estimated $689B will be generated by mobile-influenced retail sales in 2016.
2. 61% of people have a better opinion of brands that offer a compelling mobile experience (while 40% of customers turn to a competitor based on a bad mobile experience).
3. 58% of smartphone owners use mobile for store-related shopping (and are 14% more likely than non-smartphone shoppers to convert in-store).
Pharmacy/drugstore businesses didn't waste time and launched a number of initiatives.
One company that was an innovator in this space is Walgreens. "Mobile is an important channel for us and brings great opportunities for technology innovation and providing pharmacy features to millions of our mobile customers," said Sona Chawla, Walgreens president of E-commerce.
Walgreens mobile app (iPhone, iPad, Android) includes features that allow users to save money on purchases, really improve the way they manage their drug prescriptions and provide information on stock available at a certain store, maps and many more.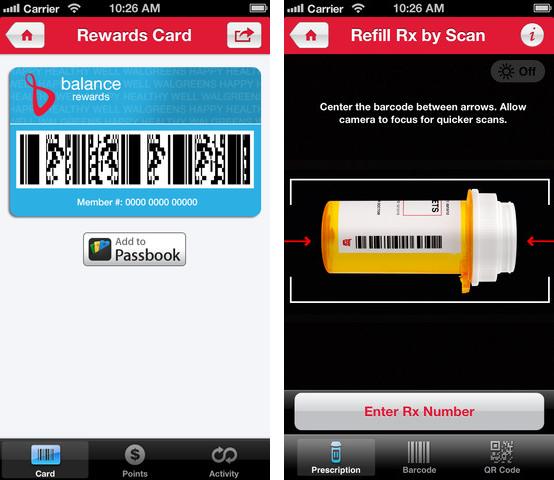 Pill Reminder allows Walgreens iPhone mobile app users to track medication schedules and receive alerts through nine different reminder options, such as daily, hourly, weekly and other adjustable selections. Reminders can be set up simply by scanning a prescription barcode and selecting alert preferences. Users can also add multiple prescriptions, vitamins and other supplements to a single reminder notification.
Transfer by Scan enables Walgreens mobile app users on iPhone and Android to transfer a prescription from another pharmacy to Walgreens with two easy steps. Patients can complete transfers simply by taking a picture of their prescription bottle and providing their name, date of birth and phone number, then sending to Walgreens with one quick click.
Refill by Scan, an industry first when it was launched in November 2010 that allows patients to order refills simply by scanning a prescription barcode with their smartphone, now generates more than 40 percent of all Walgreens online refills and accounts for more transactions than any other feature within the application. Refill reminder and prescription ready text alerts are utilized by more than 2 million Walgreens pharmacy customers by providing SMS messages to mobile users notifying them when prescriptions are due for refill and also when prescriptions are ready for pickup. Standard data and messaging rates apply with use and download of all applications.
Another new and enhanced feature to the app is QuickPrints, which allows mobile customers to order prints directly from an iPhone or Android with no log-in necessary and pick up available in as little as an hour at any Walgreens.  Users are allowed to select photos from Facebook or Instagram to print and pick up at local Walgreens in about an hour.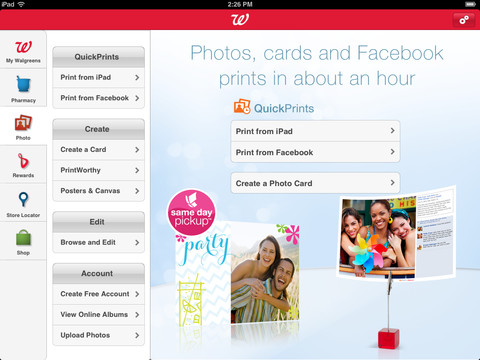 Additional features allow users to access multiple offers with Mobile Coupons and view local weekly offers, use a Shopping List to map and find items on a Walgreens store map, scan product barcodes or QR codes, set a preferred store and search store's inventory.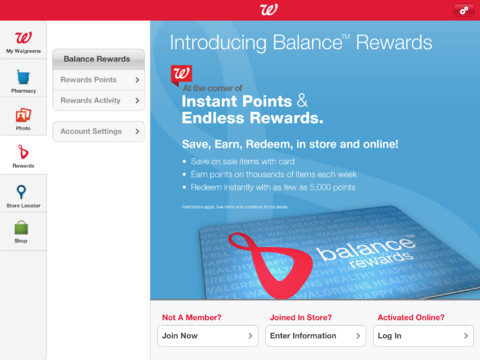 Walgreens is not alone in this space, other companies like CVS & Rite Aid, Walmart or Costco are also trying to improve their drugstore business using mobile apps. It seems that people really want to refill their meds without waiting in line so other players in the market should work on their mobile strategy in other to stay relevant in the game.