How Retailers Use Mobile Advertising
Published on
Aug 12, 2013
Retail m-commerce sales currently are making about 11% of total digital retail spend. Retail m-commerce sales in the US and UK are projected to grow 176% from $49 billion in 2013 to $135 billion in 2017, according to eMarketer.
The recent guide released by Millennial Media in collaboration with mobile measurement firm comScore, revealed info on who mobile retail consumers are, how they use their mobile devices to shop, what mobile shopping behaviors they exhibit and how retail brands can use mobile to reach and engage consumers.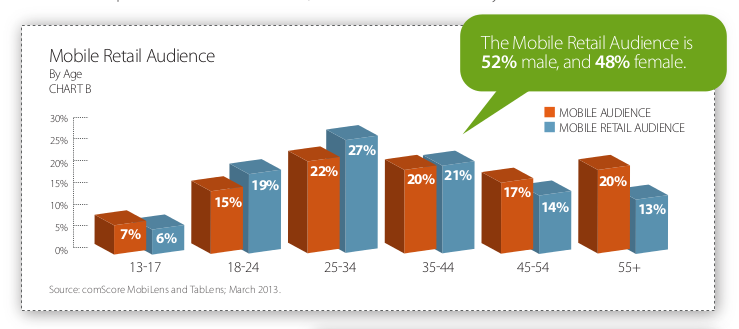 Most of the Mobile Retail Audience accessing retail content are male between 18-44. In the U.S., male smartphone owners are 5% more likely to access mobile retail content than female smartphone owners. In the EU-5, males are 16% more likely. Compared to smartphones, 47% of tablet owners access retail content, and over 50% of this audience has a household income greater than $75,000 a year.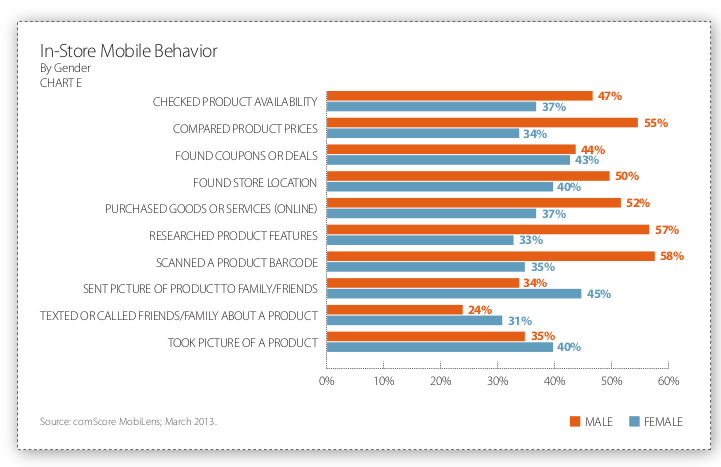 The mobile retail audience is comfortable using their mobile devices at all stages of the purchase funnel. Not only does this audience use their devices for pre-purchase activities, such as researching product features and availability, but they also use them in-store for a different set of behaviors.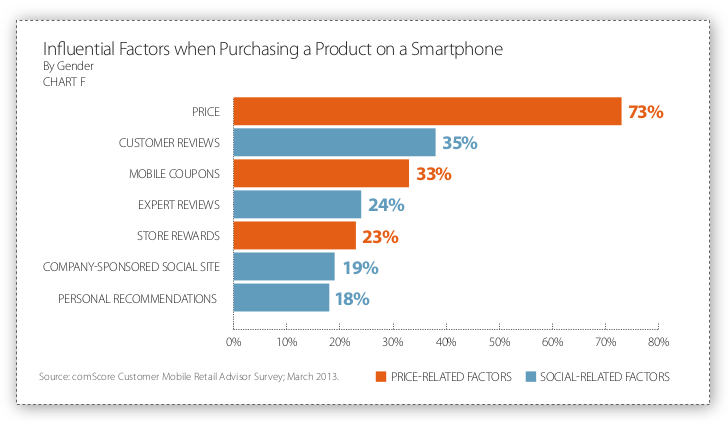 The most important factors that are influencing the purchasing behavior in mobile are the price and customer reviews. Discounts are also important, so coupons come on third place.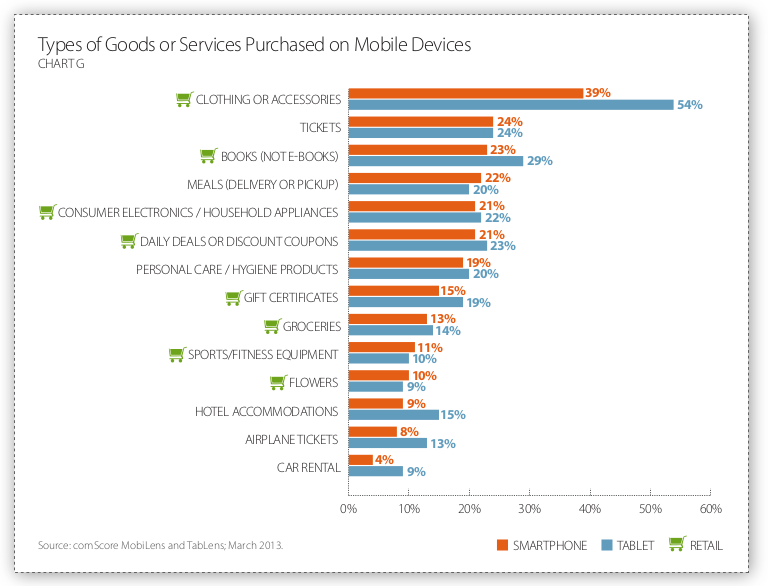 Of the top goods or services purchased on a mobile device, eight of these product categories fall into the retail vertical. Overall, Clothing or Accessories were the top items purchased by both smartphone and tablet shoppers, while Books and Consumer Electronics rounded out the top three retail categories. For all three of these top retail categories, consumers were more likely to purchase these products on their tablets, rather than on their smartphones. According to comScore data, 37% of smartphone and tablet owners who made purchases on their device spent between $50 and $200 during this period.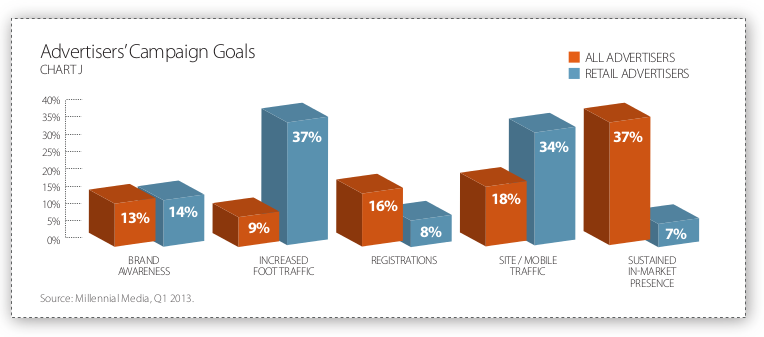 When it comes to the goals retailers have for their mobile campaigns: Increased Foot Traffic and Site/Mobile Traffic are dominating. Retail advertisers used mobile advertising to ultimately drive consumers to these end goals. Increased Foot Traffic (37%)  campaigns help retail advertisers drive consumers into their stores, mainly physical locations. Many brands with this campaign goal layered a Store Locator or View Map action into multiple types of creatives in order to help consumers find the closest location.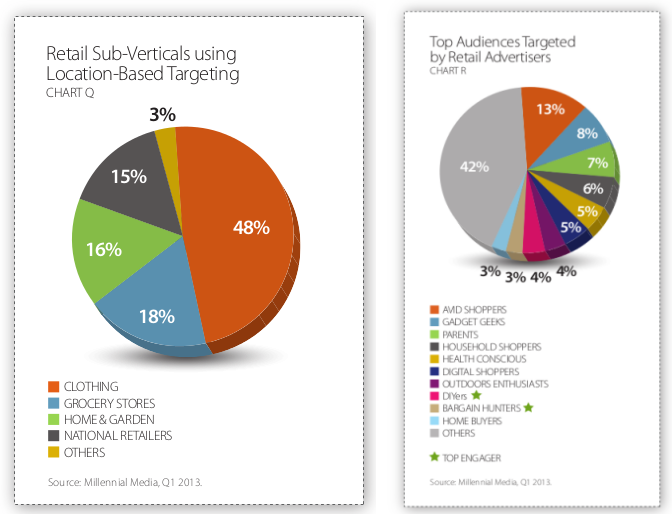 On Millenial Media's platform, 20% of retail campaign spend was attributed to at least one of the many forms of real-time location-based targeting. National Retailers and Clothing brands were two of the largest sub-verticals to use this mobile feature. Among all advertisers on our platform, the retail vertical was the sixth largest to leverage location-based targeting methods in Q1 2013. Retail advertisers utilized innovative types of mobile advertising, such as location-aware banners, a form of rich media expandable banners, which use a device's location to show nearby store locations where a product could be purchased.
The ultimate goal for retail advertisers is to move consumers through the purchase funnel to buy their products or services, growing brand loyalty. Mobile advertising is another tool retailers can leverage to help extend the in-store and digital shopping experiences.