Vibendo: Social Meets Music
Published on
Jun 25, 2019
Recently we put the final touches on Vibendo, the first app we built in the music space. Our client already had a web app for the music platform, and our job was to develop a mobile app for Android users. Vibendo was largely promoted by various Balkan artists when it was officially launched and it rapidly skyrocketed in Google Play to over 10k downloads.
About Vibendo: engaging with artists and labels
Vibendo is an application that targets music aficionados from all over the world. The main purpose of Vibendo is to make the perfect combination between the social and music aspect of our daily lives. Moreover, the app acts as a digital platform that promotes emerging or already well known artists from the Balkan area. On the platform, regular users can get in touch with their favourite artists, and experiment both the social and music side of the artists.
One of the main reasons why Vibendo was developed as an Android app is that the current market is in great demand for such platforms where users can interact and listen to their favourite singers. Vibendo enables users to interact more naturally with their music idols.
On a more social note, Vibendo is offering to users a music library of well known Balkan artists, as well as new coming stars. Moreover, a key feature of Vibendo is the social media app integration like the chronographic timeline that allows artists and labels to engage more and build a real relationship with their fanbase. For the user experience, Vibendo is a completely new app: it integrates two of the most beautiful activities in one place: listening to music and socializing with friends, families and favorite stars.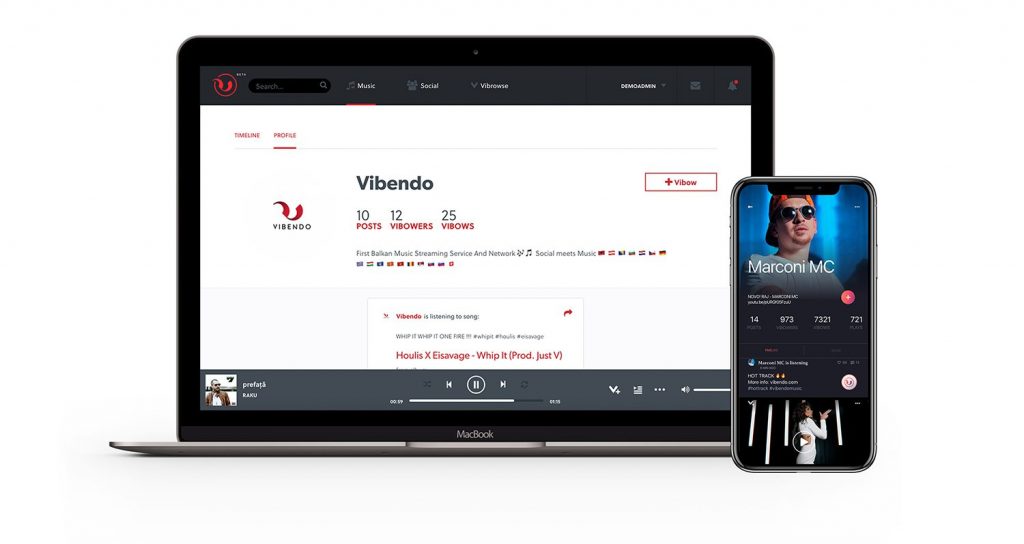 Architecture: how did we build it?
The architecture of Vibendo comprised both functional and nonfunctional requirements project wise. The set of requirements possess the following qualities: correctness, unambiguousness, completeness, consistency, verifiability, modifiability and traceability. For the moment, only Android devices will benefit from the Vibendo app. For developing Vibendo, our Android programmers used new and modern features from the Google navigation library. Dependency injection was used for the first time in a project and the code was written entirely in Kotlin.
The whole project is very round structured on clean architecture, by implementing it in a short period of time. UI was very challenging because of the many customized elements. Vibendo is different from other music apps out there because it incorporates a chat option and a timeline where you can share songs and ideas. The user can also be part of the music industry by connecting with artists and socializing with them.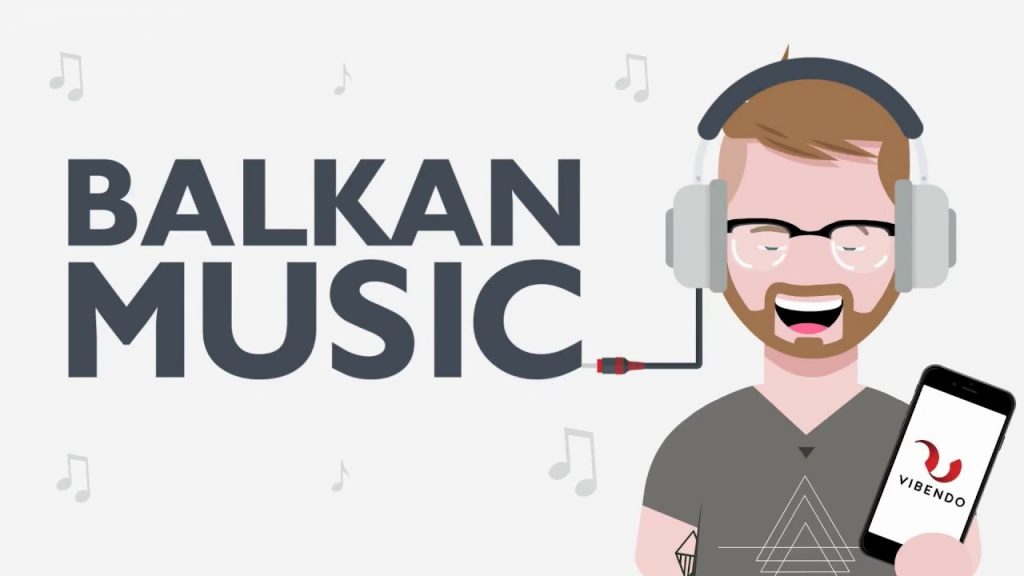 A music app: combining Deezer, Facebook and SoundCloud
Vibendo is a social media distribution platform dedicated especially to music from the Balkan area. The app is a combination between Deezer, Facebook, and SoundCloud, and as we mentioned already it focuses exclusively on Balkan music. The reason for this is that neither users nor music artists, have a real alternative to YouTube to listen to their music or be available on the mainstreaming platforms. Vibendo is online at www.vibendo.com and is accessible over all known browsers from laptops and smartphones, therefore all compatible devices. Additionally, an Android app is available in Google Play. For the moment, Vibendo is a small platform but the app owners are in negotiations with independent Balkan labels to agree on possible collaborations in the near future.
Because the user community has the highest priority, artists can get in touch with fans on a daily basis. Vibendo uses different terms that came naturally for the platform. Here are some of them: vibowing (following), unvibow (unfollow), vibowed (followed), vibower (follower) and vibrowse (browse).
There isn't anything special with these terms according to the founder of the platform, except that he simply wanted to create a product that was different and this difference is reflected in small details as these terms.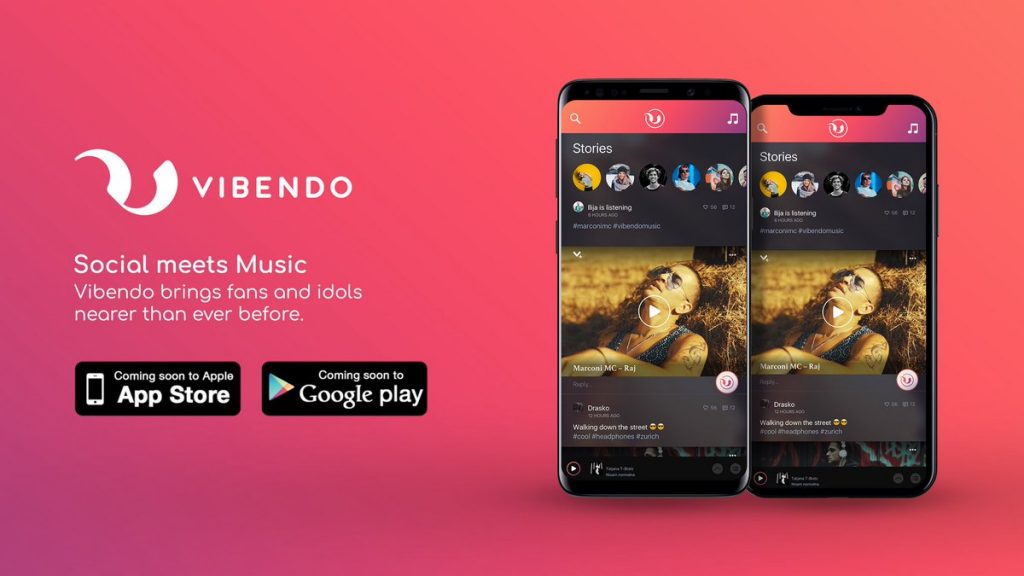 Offering benefits for everyone involved
Vibendo music platform is offering various benefits for all the parties involved in the ecosystem, both for users as for artists. For users, they benefit from using a social timeline which is known from other platforms just like Instagram or Facebook, where the update is done progressively: newest posts (called vibes) from friends and artists users follow (vibowers). In the music section, users can listen to albums, playlists, and artists they love. Also, all users have the option to create their own playlists and decide if they want to keep them private or share them publicly. An important benefit for all Premium users is that by sharing the playlists publicly, they can earn revenue if their playlists are streamed the most.
On the other hand, for independent users and major artists, Vibendo offers an up-and-coming and growing platform to build relationships with fans. Both parties will get a reporting section where they can track actual listeners, most streamed songs and so on. Especially for independent artists, Vibendo offers an uploading section where they can upload personal tracks for the community and monetize them directly.
Vibendo Freemium or Premium?
Vibendo Freemium enables both the listener and the artist to create a win-win situation, so that you can listen to free music and the artist is compensated. Efforts are being made to find new ways every day to improve this balance. For the moment, free music is financed by advertising and certain restrictions. Vibendo Premium Model, enables the user to access unlimited music library by paying a Premium subscription. The ownership of the music remains with the label of the artist himself.
If you are interested in using Vibendo for the pure joy of listening to great music and engaging by chat with your favorite artists, you just need the latest browser version and the latest Flash Player. You can also download Vibendo on your phone from Google Play and become an instant vibower. Enjoy it!