Latest Trends in Enterprise App Development
Published on
Jul 30, 2013
Consumers are already hooked on apps but enterprises are also running in this mobile race. Mobile enterprise app demand contributed to a 3.3% year over year growth in the applications market.
Enterprise mobility is a driver for businesses to move to newer and more mobile device agnostic enterprise software, IDC observed. Customer relationship management software and collaborative applications posted close to 7 percent year-over-year growth last year. IDC said that the CRM software demand is being driven by  the move to cloud technologies, while collaborative apps are being driven by the enterprise social software market, which grew 24.8 percent year over year. Following the enterprise mobility trend, CRM software is going mobile. Gartner predicted that the number of mobile CRM apps that would be downloadable on app stores would increase 1,200 percent by next year.
By 2017, 25 percent of enterprises will have an enterprise app store for managing corporate-sanctioned apps on PCs and mobile devices, according to Gartner, Inc. Enterprise app stores will come with control over the apps used by employees, greater control over software budgets and greater negotiating leverage with app vendors, but this greater control is only possible if the enterprise app store will be adopted across the board.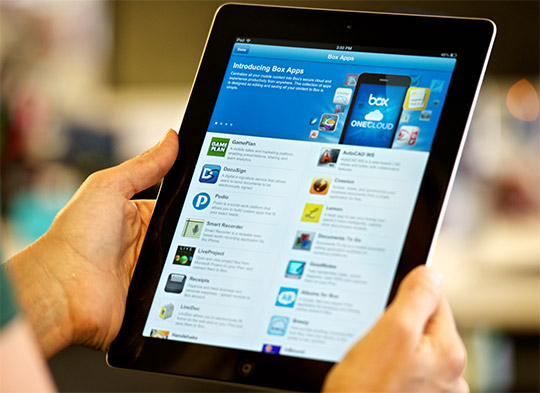 "Apps downloaded from public app stores for mobile devices disrupt IT security, application and procurement strategies," said Ian Finley, research vice president at Gartner. "Bring your own application (BYOA) has become as important as bring your own device (BYOD) in the development of a comprehensive mobile strategy, and the trend toward BYOA has begun to affect desktop and Web applications as well. Enterprise app stores promise at least a partial solution but only if IT security, application, procurement and sourcing professionals can work together to successfully apply the app store concept to their enterprises. When successful, they can increase the value delivered by the application portfolio and reduce the associated risks, license fees and administration expenses."
With enterprises under extreme pressure from management and employees to develop and deploy mobile applications to accommodate mobile work styles and increase customer engagement, Gartner, Inc. predicts that more than 50 percent of mobile apps deployed by 2016 will be hybrid.
"Mobility has always been a separate topic for IT professionals, but it is now influencing mainstream strategies and tactics in the wider areas of technology enablement and enterprise architectures," said Ken Dulaney, vice president and distinguished analyst at Gartner. "Increasingly, enterprises are finding that they need to support multiple platforms, especially as the [bring your own device] BYOD trend gains momentum."
To address the need for mobile applications, enterprises are looking to leverage applications across multiple platforms. The advantages of the hybrid architecture, which combines the portability of HTML5 Web apps with a native container that facilitates access to native device features, will appeal to many enterprises. The need for context awareness in mobile applications has increased with the capabilities of mobile devices, causing developers to consider both hybrid and native architectures. For applications to leverage location information, notification systems, mapping capabilities and even on-device hardware such as the camera, the applications need to be developed using either hybrid or native architectures. This has caused enterprise developers to consider alternatives to Web application development.
"Our advice would be to assume the enterprise will have to manage a large and diverse set of mobile applications that will span all major architectures," said Van Baker, research vice president at Gartner." Enterprises should consider how applications can be enriched or improved by the addition of native device capabilities and evaluate development frameworks that offer the ability to develop native, hybrid and Web applications using the same code base. Where possible, development activities should be consolidated via cross-platform frameworks."
A last trend spotted by Gartner on the enterprise mobility is that by 2014, Apple will be as accepted by enterprise IT as Microsoft is today. "Although Apple's mobile iPhone and iPads are already as accepted by enterprise IT as is Microsoft, Apple's Mac systems for laptops/notebooks and desktops remain not commonly accepted by IT," said David Mitchell Smith, vice president at Gartner.
Also checkout this infographic from CMS WIRE: