Hotel Execs On Most Used Features in Hotel Apps
Published on
Sep 24, 2014
Three months ago we saw the results of a survey ran by Software Advice on 2,126 randomly selected U.S. travelers to find the most wanted features in a hotel's mobile app. Travelers were highly interested in using interactive maps to help them find the hotel and other points of interest (36%), coupons and discounts (27%), features related to room service (23%), and a loyalty program dashboard (14%).
In order to have more light on this issue, I also wanted to hear what hoteliers have to say about the most used features in their mobile apps. So I reached out to some of the biggest innovators in the industry, such as Marriott, Choice Hotels or Hilton. Please dive in below to see what they had to say.

"We see our guests using our iPhone, Android, and iPad apps throughout the planning, shopping and booking phase of the travel experience.
Verified Reviews on our mobile app have really enhanced our customers' ability to search and plan their purchase based on user reviews from guests who have actually stayed at Choice properties. Verified reviews allows our customers to book Choice properties with even more confidence than ever before by reading reviews from guests that have stayed at our hotels.
Rapidbook is another feature that has really enhanced the ability for our Choice Privileges members to book a stay on our mobile app in 3 easy steps – search, select and book. Rapidbook eliminates the need for CP members to enter name, address and personal information by linking directly to their Choice Privileges information. Choice has seen a significant increase in conversion since the launch of both Verified Reviews and Raidbook."

"The most used feature for the Marriott App is booking hotel rooms. In terms of mobile, it is one of the fastest growing channels for the company. Mobile bookings have accelerated from $38M in gross room bookings that first year (2009) to $1.26 billion last year. In 2009, one percent of our Marriott.com traffic was from mobile; today it's 40 percent – an unprecedentedly rapid shift in consumer behavior.
Our mobile strategy has been to identify what is most important for our guests and where we could have the greatest impact, and to do so at scale at hundreds or thousands of hotels at one time and our app is at the core of our efforts. After researching and surveying thousands of guests, we created a list of high-impact mobile products and services that we have been and are continuing to rollout, such as mobile check-in and checkout, two-way texting between guests and hotel staff for service requests (e.g., pillows, towels, valet, etc.) and Marriott Rewards became the first hotel loyalty program to push geo-targeted offers using beacon technology to members on property. These are a few examples of how we are using the mobile app to meet the needs of our guests who are increasingly reliant on their mobile devices."
Hilton kindly denied to disclose usage data tied to their apps, but according to a press release from July, their focus will be on giving guests new ways to choose their room and to enable checkin/checkout without wasting time at the frontdesk.
"We analyzed data and feedback from more than 40 million HHonors members, as well as guest surveys, social media posts and review sites, and it's clear that guests want greater choice and control," said Geraldine Calpin, senior vice president at Hilton Worldwide. "In fact, in a recent study, 84 percent of business travelers surveyed said they wanted the ability to choose their own room. We are giving our guests the ability to do just that by enabling them to select not just their room type, but the exact location in the hotel, all the way down to their room number."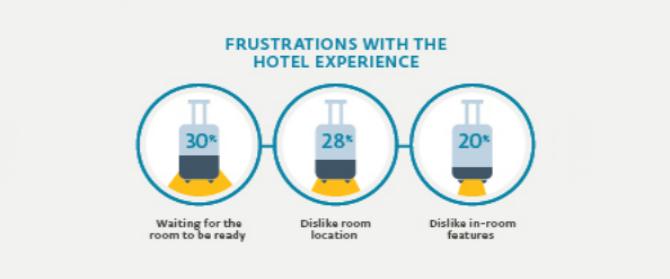 By the end of 2014, room selection, either from digital floor plans or lists, will be available globally for over 650,000 rooms at more than 4,000 hotels across Hilton's portfolio of 11 brands. Digital check-out, currently available at all U.S. hotels, will be rolled out globally by the end of 2016.
As time passes we see that mobile technology becomes embedded in the hotel experience, with the vast majority of players striving to innovate the booking process and the way people are checking in and out.