Mcommerce Sales Will Reach $100B by 2017
Published on
Sep 11, 2013
US retail ecommerce sales for the holiday season will grow from $53.7 billion last year to $61.8 billion, a 15% increase, the same as last year. eMarketer's latest projections say that mobile's share will reach 16% in 2013, up from our previous prediction of a 15% mcommerce share this year. The total mcommerce sales will reach $41.68 billion this year and by 2017 they'll get to over $100 billion.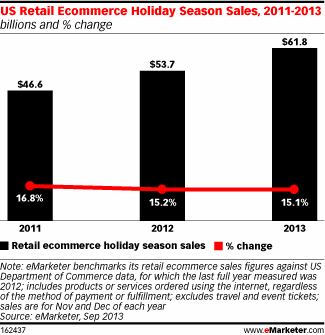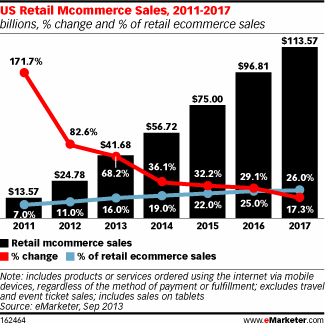 eMarketer believes mobile devices contribute to overall commerce sales growth in two ways, both as a driver of total sales, as more consumers make purchases on their smartphones and tablets, and, increasingly, as a shopping research tool, driving consumers into stores or back to desktops where they complete transactions.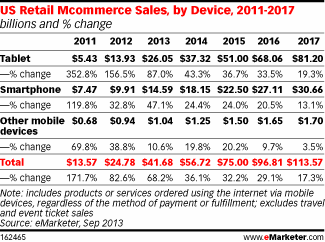 Tablets are the devices that will fuel most of mcommerce sales growth so retailers have put a lot of effort into optimizing their websites and apps for these devices. eMarketer predicts tablet retail mcommerce sales will hit $26.05 billion, or 62.5% of US retail mcommerce sales overall. Smartphones will hold 35.0% of mcommerce sales, a percentage that will continue shrinking throughout the forecast period as sales on tablets maintain far higher growth rates. This year, retail sales made on smartphones will total $14.59 billion, and that figure will more than double to $30.66 billion by 2017.