Mobile app for HoReCa businesses
We're starting this new year on the right foot with the launch of an app for our client Wings management & consulting. HAPP is a mobile app that helps you find hotels, restaurants and cafés that offer promotions, in a radius up to 10 km of your current location. The app currently supports offers from Belgium, being already populated with a list of places that offer discounts like "free4kids", "two4one" and in addition, each restaurant owner can add his custom promotion.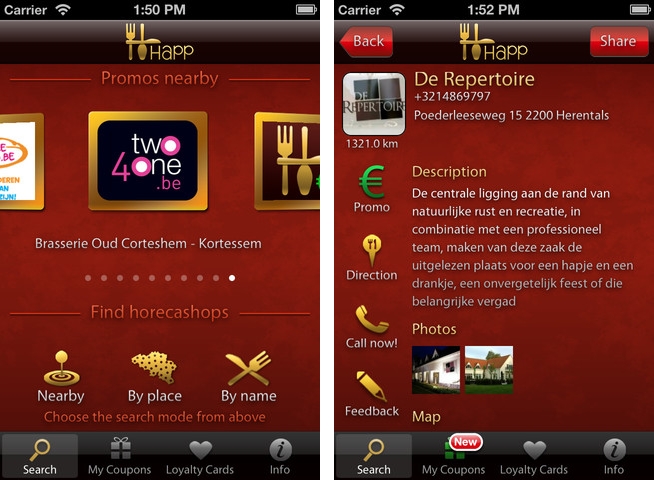 Once you start the app you'll immediately see a carousel with promos nearby and right below you can use the Search in 3 ways: Nearby (in a 10 km radius), By place (let's say in a city) or By name, if you're looking for a freebie in a place you already know. Once you choose a specific restaurant, you are presented with a description, photos, location on the map and of course with all promo details. You can make a reservation right within the app, call them or get directions to the location using the integrated Google Maps. You can also share the promo with a friend by email.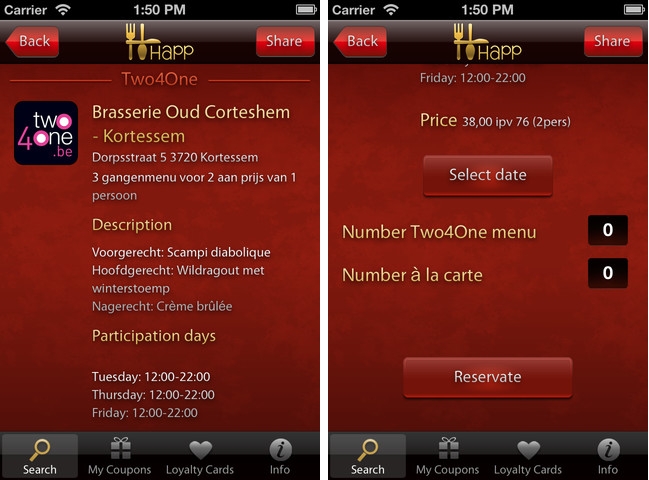 Besides the Search tab, the app holds a "My Coupons" and a "Loyalty Cards" tab, to let you easy access all you coupon codes or scan with your smartphone and activate a promotion on the spot. You can also customize your HAPP account to receive promotions by email or by SMS. We've built the app for both iOS and Android platform, feel free to try it.
HAPP is an app that is useful both from client's perspective in the sense that it helps save money, but also for the restaurant's owner who is able to gain new customers that are on-the-go. Mobile apps come with lots of opportunities for HORECA businesses and at the same time cost for creating them has decreased a lot. If you are a business owner and you have an idea for a mobile app, don't hesitate to get it in touch with us, we accept sometimes payments in coffee!