Apps for Insurers Boost Customer Satisfaction
The wheels were already on the move back in 2011 when executives in tier one companies from property and casualty (P&C) insurance industry realized the opportunities mobile can bring. The insurance industry is characterized by increased competition and the products themselves are becoming commodities, so players can't rely that much on pricing but they can instead focus on providing personalized offerings and stand-out services.
Mobile apps can be used for different purposes, from improving the claim management system by allowing customers to initiate a claim from the accident site, to smartphones and tablets that connect on-the-go adjusters with back-office systems. Mobile solutions are beginning to play a key role in improving all aspects of customer service.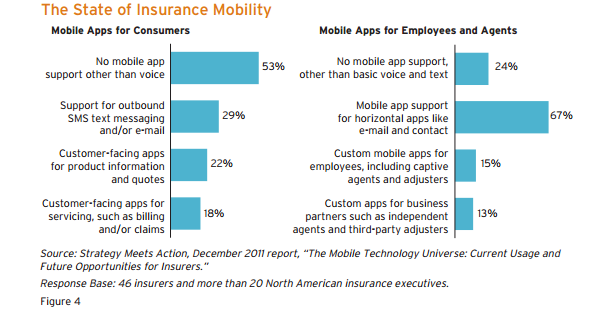 Some key areas where mobile apps can create advantages are:
– Sales: With the use of tablets, salespeople can demonstrate how a product actually works and present policy options. Mobile apps can also reduce paperwork, contracts can be signed on touchscreens, increasing convenience for customers, while enhancing the salesperson's chances of closing the deal.
– Insurance underwriting: Underwriters typically work indoors, but mobile apps allow them to connect with field sales personnel, agents and customers to boost the property evaluation process. Underwriters can make use of mobile real-time videos and guide new sales personnel or the insured on evaluating a subject property more accurately. This improved communication has the potential to reduce fraud associated with property evaluation and improve customer relationships through a more transparent underwriting process.
– Claims management: Claims account for about 80% of insurers' costs so even a small improvement in the process can result in significant savings, as well as an increase in customer satisfaction. Mobile apps can help customers, claims adjusters and back-office employees through improved connectivity and collaboration, thus reducing the overall cost of serving customers.
– Enhanced agent capabilities: By providing tools such as video and live chat, as well as sales and quote generation apps on their mobile devices, agents can connect with prospective customers on the go, understand their needs better and tailor the products accordingly. Further, a self-service portal for agents that can be accessed via mobile device reduces costs and process complexity for insurers.
Let's take a look at what are insurers looking to spend money for: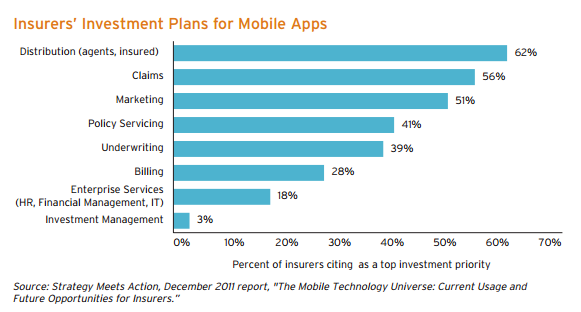 Companies that already have a history deploying mobile app strategies are: GEICO, Nationwide, Progressive or Allstate. GEICO has a series of apps, some of them with the purpose of improving the way people interact with the company's services, some with educational purposes and some just for plain fun.
The GEICO app (for iPhone and Android) has a voice-enabled virtual assistant that will guide you through making payments or will answer insurance-related questions. GEICO app users can pay bills, change their payment plan, view discounts and coverage detail. Additionally they can also do claim related activities like: view claims, claim photos, and reschedule claim appointments receive notifications for recent claim activity, view driver and vehicle information.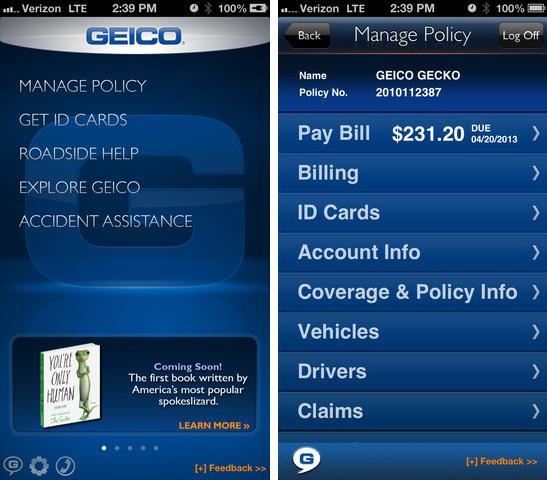 GEICO Tricky Traffic (for iPhone and Android) is an educational game that challenges players' reaction time and knowledge of road safety rules. Your job is to avoid accidents and congestions whyle guiding every citizen safely to their destination while minimizing traffic congestions and accidents. The game offers multiple levels of challenges and players can progress in the game by obtaining badges.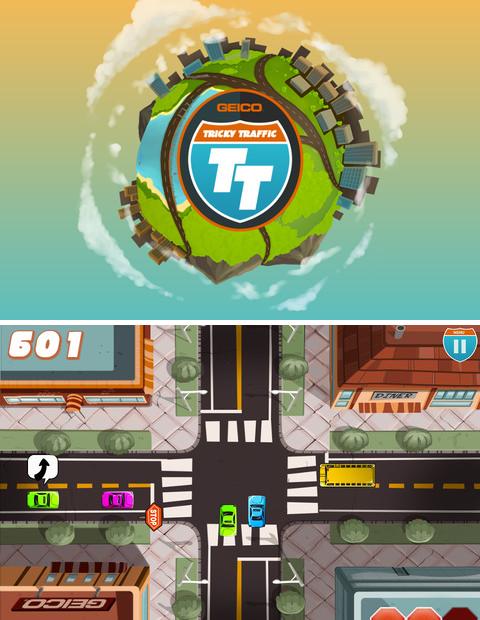 GEICO Piggy's Pin-Wheeels (for iPhone) is a mobile app that takes the user in an adventure with the daring, risk-taking GEICO spokespig, Maxwell. Get the app to join Maxwell's zip line thrill ride, street luge adventure, or carpool from school.
To be able to implement an effective mobile strategy, insurers must consider entering into strategic partnerships with lead technology providers who offer guidance and expertise in this sector that faces such rapid advancements.