Apps For Sales Teams Increase Productivity
Published on
Apr 16, 2014
The majority of a sales rep's time isn't actually spent selling (as little as 30% according to SEC Solutions). Instead, salespeople spend most of their time preparing for meetings and following up with prospects. Sales mobile apps are coming to help them increase productivity and agility while decreasing operational costs.
Most common uses cases for sales mobile apps are:
Order taking – Sales representative usually go on the field to customers to take orders, so these apps are integrated with an existing ERP system and are optimized for quick order taking and invoicing.
One such example comes from Handshake, who provides iPad & iPhone apps to write orders and send them instantly to the back office.
You can access your product catalog, customer list, sales history and reports. The apps are also tied to an "Order management central", where managers will review and confirm orders, update your product and customer information, and assign customers to reps. Handshake is also integrated with accounting and other management tools, prices starting from $30/user/month.
Presentations – Some products have extremely detailed information, coupled with presentation videos or pdfs. In this case, apps can help sales representatives quickly navigate through a large amount of data and present the products in a way that would increase sales. Showpad is a good example, they are providing tools to increase the efficiency of a sales rep in every stage: preparation, conversation and follow up. Another product you could take a look at is iPresent.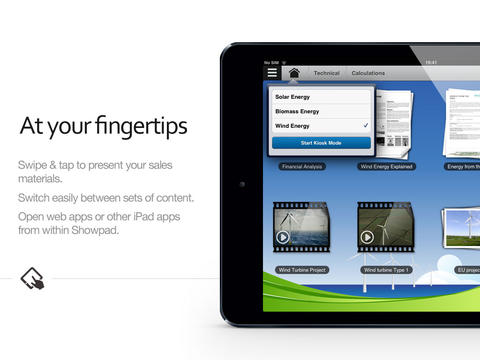 Most of these apps are run on tablets, and according to a Forrester Research forecast, almost 1 in 5 global tablet purchases in 2017 will be made directly by enterprises. Related to this trend, Corporate Visions did a survey on 700 salespeople and marketers and found that almost a quarter of companies have purchased tablets for their employees.
Those who are using tablets report that the devices are most often used exclusively for the following tasks:
– Walk through a sales presentation live in front of customers (60%);
– Demo a solution live in front of customers (56%);
– Perform various CRM activities (45%);
– Customize or edit a sales presentation before customer meetings (39%); and
– Whiteboard messages (39%).
Whether companies decide to buy off-the-shelf solutions or to build a custom app designed specifically for their needs, it's sure that those who will deploy mobile solutions will have a competitive advantage over competitors.