Mobiversal – Top App Developer!
Published on
Aug 30, 2018
If you and your business want to make a difference, Mobiversal is your partner to do so. As a full-service mobile agency that specializes in UI/UX design, mobile app development, and strategy consulting, Mobiversal has the experience and knowledge to help clients succeed. Our team is passionate about creating apps that positively impact others, and it is this focus of ours that has allowed Mobiversal to become one of the top app development companies in Romania.
Business research and review firm Clutch, located in Washington, D.C., named Mobiversal the no. 4 Top App Developer in the industry within Romania, which is a great achievement for our team as a validation of the quality of our performance and products. We also made the list for IT Outsourcing Companies in Romania. These accolades comes from Clutch's scoring of different companies based on market presence, prior experience, customer feedback, reviews, and more; after such an extensive evaluation, Mobiversal greatly appreciates being featured as an industry leader and having our proven ability to deliver high quality highlighted.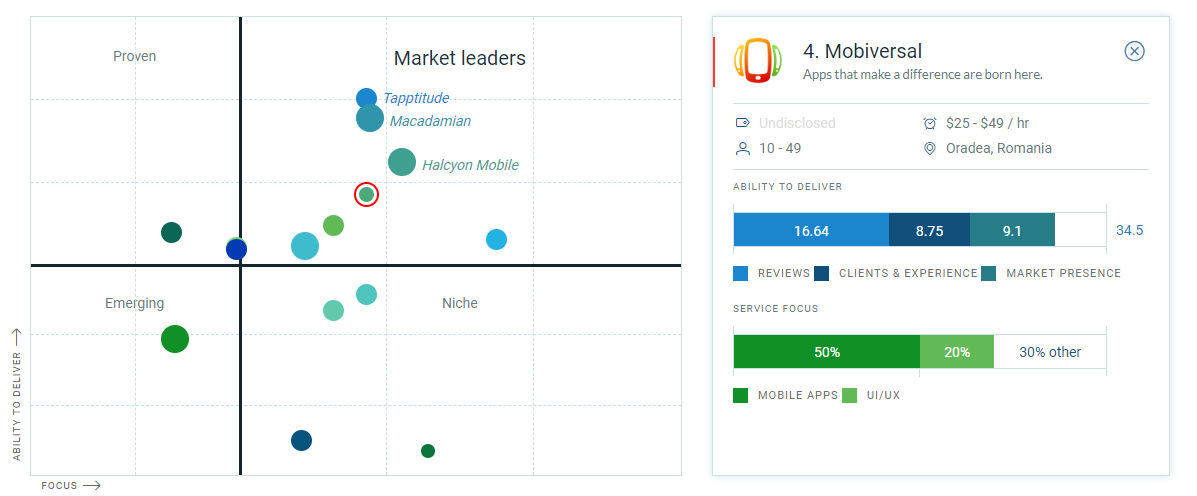 Top App Developers in Romania Leaders Matrix
In addition to the acclaim from Clutch, Mobiversal wants to acknowledge the positive feedback from our clients. We pride ourselves on the potential positive value that our team, clients, and products add to businesses and communities around the world, so we thank our previous clients for their affirmations on our profile regarding the influence and results of our work.
"The most important thing is that they deliver. Secondly, they know what they're doing. The third thing is that they will work with you, understand your mission, and they have enough people there who are business developers, programmers, and debuggers. They have the whole team in-house to work on your project," raved one client. "That's what Mobiversal does; they make sure it works."
When asked if our team had any weaknesses in our work or service to improve upon, the client replied, "Yes, I wish they'd stop taking other clients. I would like to have them for myself. Whoever is going to hire them, is going to be very happy. These are qualified people, and they'll tell you the truth. They won't promise you everything and then nickel and dime you to death. They know how to manage expectations; they know how to write up the project, and they know how to stick with it."
Another client echoed these thoughts succinctly: "We have a great app that looks good and simply works. Working with them is easy. We communicate over the phone and through email. They've delivered on time and within budget. They provide great service and end results."
For your UI/UX, app development needs, Mobiversal would be more than happy to partner with you in making a real, positive difference for your company and our collective impact. We would love to share details about our experience or how we've launched and grew our own product if you are interested in hearing more, and we welcome you to connect if you have a project of your own in mind. Thank you to Clutch and our clients for their support, and we look forward to collaborating soon!