The Right Monetization For Your Mobile Game
Published on
Mar 19, 2014
Mobile analytics platform Flurry did an analysis on the mobile gaming market and revealed that over 70% of all Android devices engage in at least one gaming app per month, that's 525 million Android devices on their platform alone.
On the X-axis you'll be able to see a 30-day Static Retention, as defined as the percentage of new users who opened the app 30 days after install and on the Y-axis is the average sessions per week for that genre. Depending on the retention rate and frequency of use for each, it is recommended to use different monetization strategies.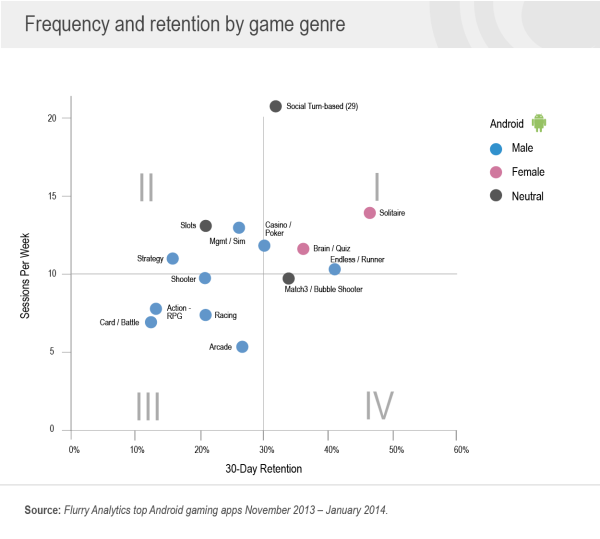 Quadrant I includes games that keep their users highly engaged for long periods of time and are typically dominated by advertising. Publishers from this quadrant have developed appointment mechanics, the player needs to return to the game in a certain time period to gain a reward, this leading to high frequency and return metrics. Genres in Quadrant I include Solitaire, Brain/Quiz, Social-Turn based, Casino and it is recommended for these publishers to use ads, oftentimes these seeing 90% of the revenue generated through advertising.
Quadrant II includes games that are used often but for limited time periods. For this kind of games publishers should use offers and content early after the initial push. Genres in Quadrant II include Slots, Strategy, Simulation and for these is recommended to use IAPs while also stimulating non-payers using video ads.
Quadrant III includes games that have relatively low retention and frequency. For these low-retention genres, it can be difficult to find the right kind of user. Developers have to maximize revenue early in the lifecycle of game. Genres in Quadrant II include Shooter, Racing, Arcade, Action RPG, Card and they should be monetized through IAPs, video ads and interstitials that are not too disruptive.
Quadrant IV includes games with extremely high retention, that get played at least once a day on average. Genres in Quadrant IV include Match 3/Bubble shooter, Endless Runner and the monetization strategy leans toward advertising given the high number of impressions. Here's how things are looking on the iOS ecosystem: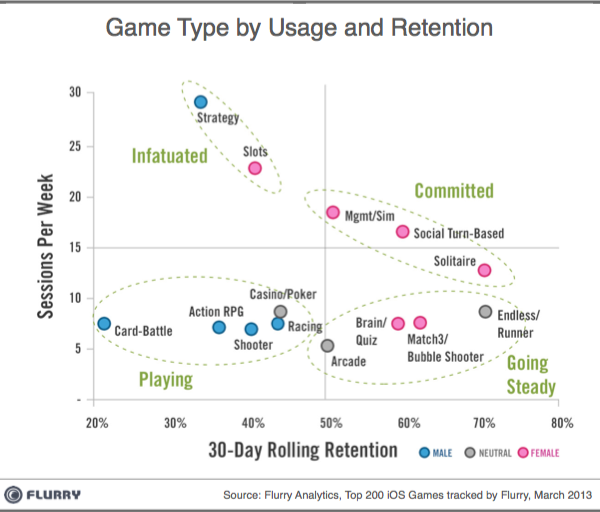 In order to make money with your game you need to know your gamer's profile, so depending on what type or gaming are you working on, take a look if it will be played by men or women.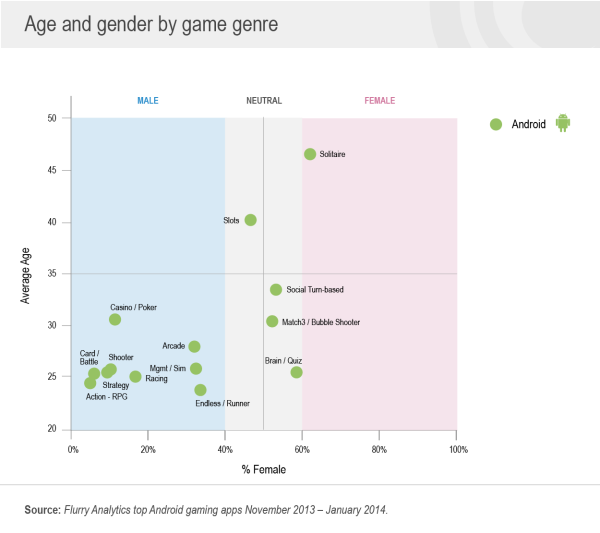 Most Android genres appeal to males under 35, so there's room for Android games that appeal to older males. Also if your game is targeted at women it is more likely you'll be able to monetize it through advertising, while for men IAPs work better. Here's how it looks on iOS: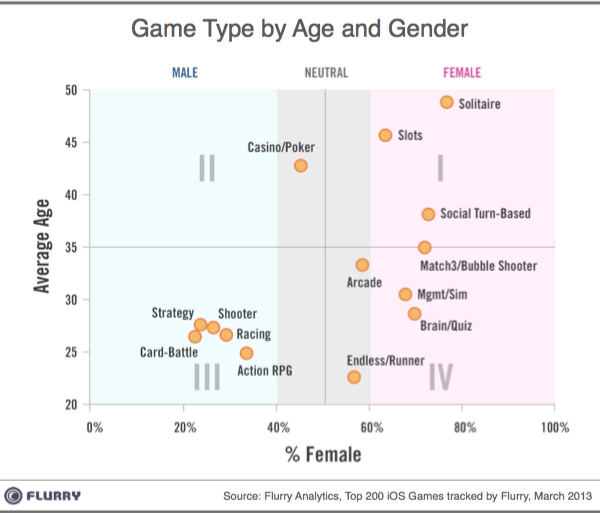 There are now over 1 billion active smartphones and tablets using apps around the world every month, games commanding over 40% of all time spent on them. Gamers display very different usage patterns, so game companies have to really know these patterns, as they have direct implications on monetization strategies.
Are you a game developer? Which strategy works best for your game? Let us know in comments.