Ski resorts bring people on slopes with apps
Published on
Oct 14, 2013
There are 1823 ski resorts in the world, the most famous ones being located in Banff (Canada), Aspen (USA), Alps (Europe), Kashmir (India) and Sapporo (Japan). To put things in perspective and see how many people are interacting with ski resorts, I'll just give the numbers for the top 3 destinations in US: Vail Mountain and Breckenridge Ski Resor (Colorado Rockies) get more than 1.6 million annual visits each, and number 3 – Keystone Resort (California) also receives over 1 million visits.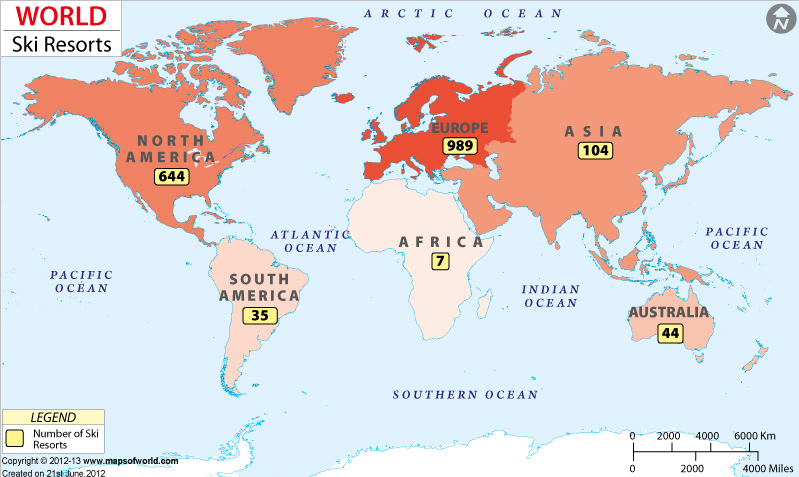 Like other companies in different industries, ski resorts throughout the world have realized that mobile apps can help them provide an improved experience for their customers. Obergurgl-Hochgurgl, an internationally renowned winter sports resort located in the Austrian Alps launched 2 apps.
iObergurgl‐Hochgurgl is basically the resort's guide on your smartphone. The app (iOS, Android) provides useful information on: available rooms, open ski lifts and slopes, scheduled events, leisure offers, restaurants and places worth seeing, up-to-date weather and snow reports.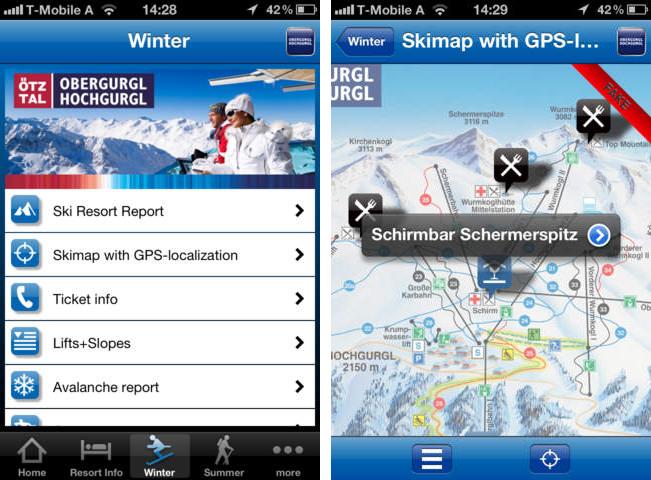 iObergurgl‐Hochgurgl doesn't offer anything spectacular, however a second app from them introduces a gaming experience. The app allows skiers to track activity data like speeds, altitude meters, ski slope or beeline kilometers and you are rewarded with pins. You receive a 10,000 m altitude gain pin if you have conquered 10,000 meters of difference in altitude, for example.
Players can collect 130 pins that are spread all over Obergurgl-Hochgurgl. Pins can also be unlocked based on location, so if you're a heavy drinker, you might win the "Apres Ski Star" badge.

Pins are collected with a purpose, as app users are competing with their friends and other riders in Sölden to win attractive prizes like sports equipment, shopping vouchers or holidays. Besides the gaming aspect, the app uses push notifications to send deals and offers. Get it for iPhone or Android.
Homewood Mountain (for iPhone) also has a nice feature that allows you to view where your friends are on a visual trail map.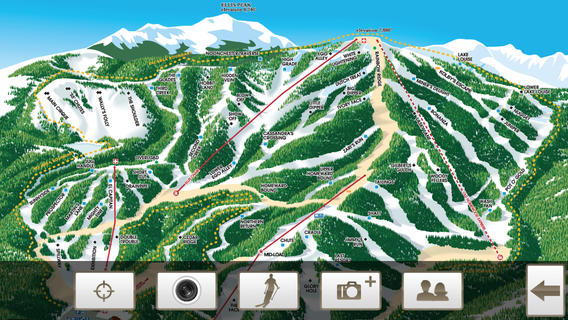 Ski resorts can certainly be inspired by successful apps that appeal to skiers, we'll be mentioning below two of them.
EpicMix (iOS, Android) works at Vail, Beaver Creek, Breckenridge, Keystone, Heavenly, Northstar and Kirkwood. The app let's you track your activity, race against your friends and earn digital pins/points for your activity. The app is integrated with Facebook and you can check them out where they are skying and how many points they've got.
REALSKI is an augmented reality (AR) trail map application that utilizes the compass, camera, and GPS features to overlay ski runs and key points of interest for some of the most popular mountain resorts across North America. Just point your phone like a camera and you'll get the name of the slope, skill designation, restaurants, restrooms etc.
Liftopia (for iPhone) let's you get discount lift tickets at hundreds of ski areas throughout US, discover nearby resorts, and find the latest snow conditions and ski reports.