The Global Smartphone To Reach 1.75b in 2014
Published on
Jan 16, 2014
Smartphones and tablets are turning into personal computers so utilities and productivity apps posted 150% growth in the past year. All app categories have shown growth during 2013, general app use posted a 115% year-over-year growth, according to statistics from Flurry. Gaming was expected to reach saturation levels in 2013, but registered a 66% year-over-year growth in use. However, the category that broke the charts was Messaging (Social and Photo sharing included). The growth is fueled by apps such as WhatsApp, WeChat, Facebook Messenger and SnapChat.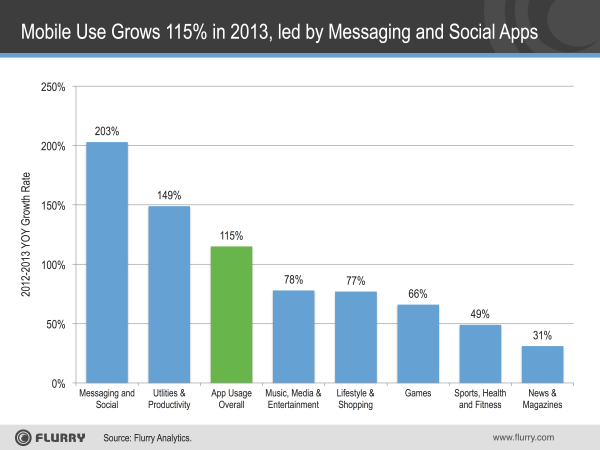 App usage will also be driven by the increasing smartphone audience, which will grow to 1.75 billion in 2014, from just 1 billion in 2012. According to an eMarketer study nearly two-fifths of all mobile phone users – close to one-quarter of the worldwide population – will use a smartphone at least monthly in 2014.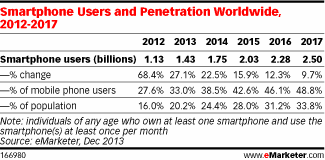 By 2017 smartphone penetration among mobile phone users globally will reach 50%, mobile is continuing to eat the world.