Mobile Health App Development Market in Numbers
Published on
Aug 14, 2014
The mobile health app market grew significantly in the last two years, reaching more than 100,000 apps (Q1 2014) on iOS and Android platforms. According to a study by research2guidance, the market generated USD 2.4bn in 2013 and is projected to reach USD 26bn by the end of 2017, fitness apps counting for almost a third of all apps.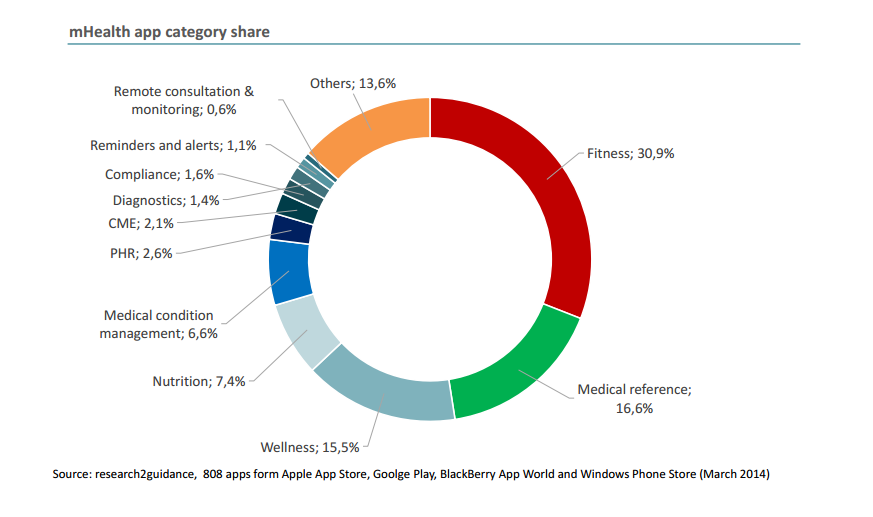 The major source of money for mHealth app developers is services (69%), which typically involve backend structures of servers and/or teams of medical staff which monitor and consult with doctors, patients and general healthcare-interested individuals. Service revenue plans are usually subscription-based, but could also be structured as pay-per-use.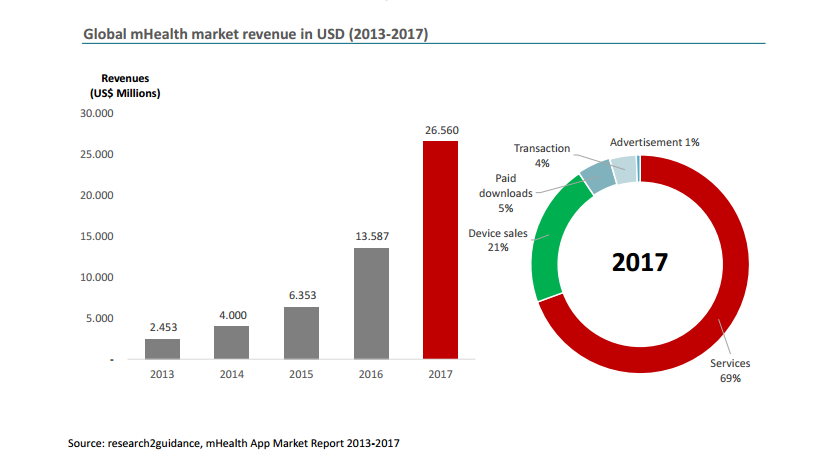 The most relevant revenue stream is linked to services offered through the apps. When it comes to how much money mHealth app developers are making, 68% of them earn under USD 10,000 or no revenue, 17% between USD 50,000 and USD 1m, and the top 5% makes more than USD 1m. The most relevant revenue stream is linked to services which are offered via the apps.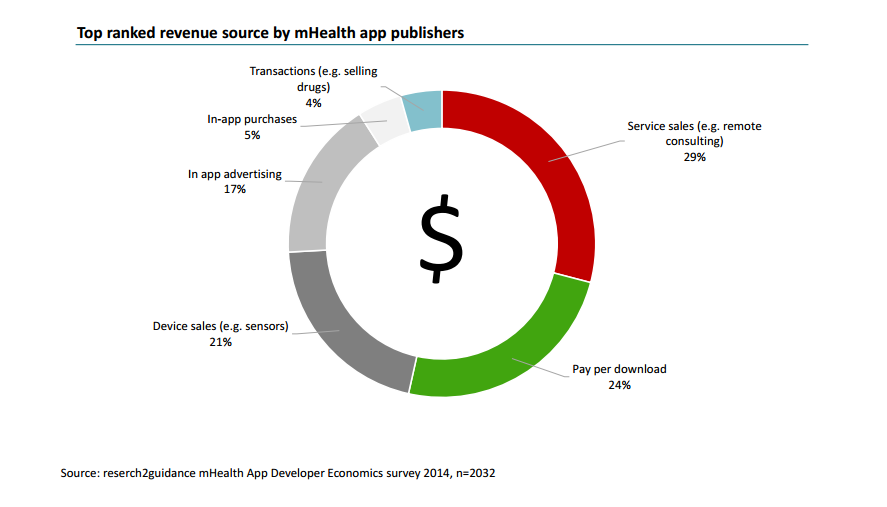 Economically successful mHealth app publishers (>USD 1m revenue in 2013) stand out thanks to their relatively larger app portfolio, experience in the market, use of tools for the app development and monitoring process, connection to medical databases, apps and sensors. They also focus more on iOS as compared to commercially unsuccessful publishers.
The most successful mHealth app publishers are those who allow their app users to automatically sync an app with the data of, in some cases, more than 30 competitor apps and sensors. These guys are focused on their core value propositions and outsource the rest, this way creating greater value for the user and gaining a substantial competitive advantage over rivals.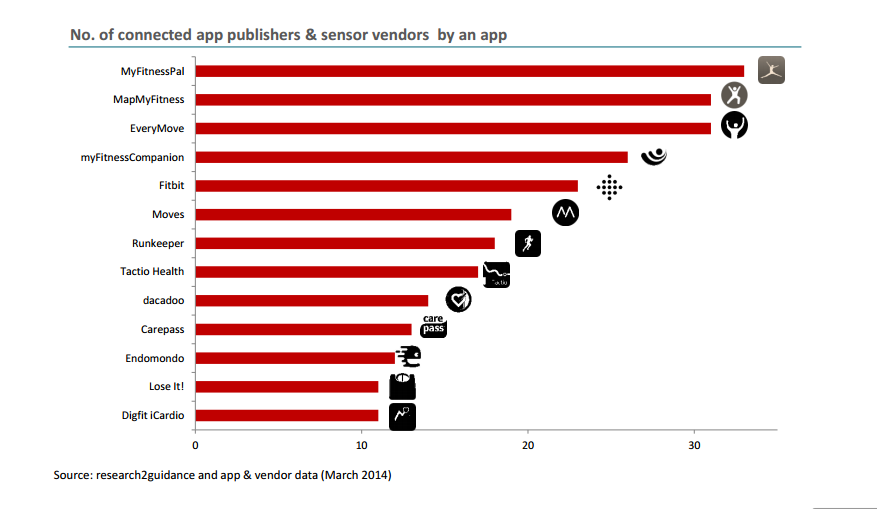 Fitness apps will become less important as time passes and in 5 years they are expected to be on the 5th position (22.9%). Their place will be taken by remote monitoring (58.2%) and consultation (38.2%) apps which have the biggest cost benefit on non-adherence and hospital readmission.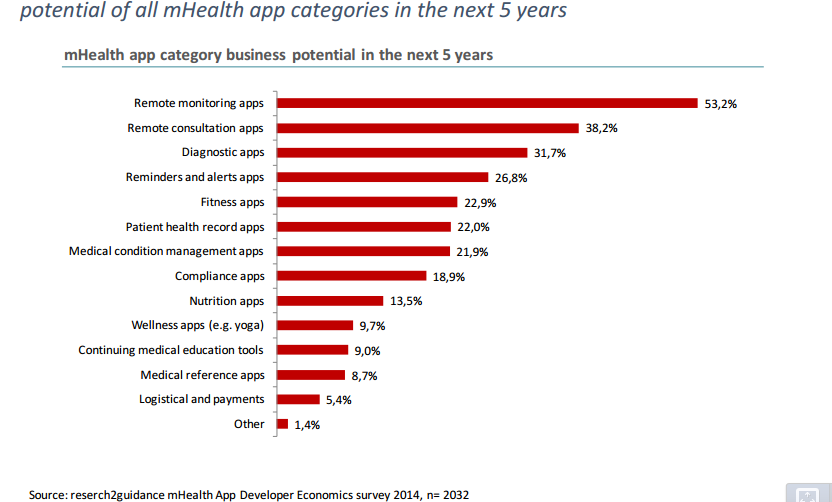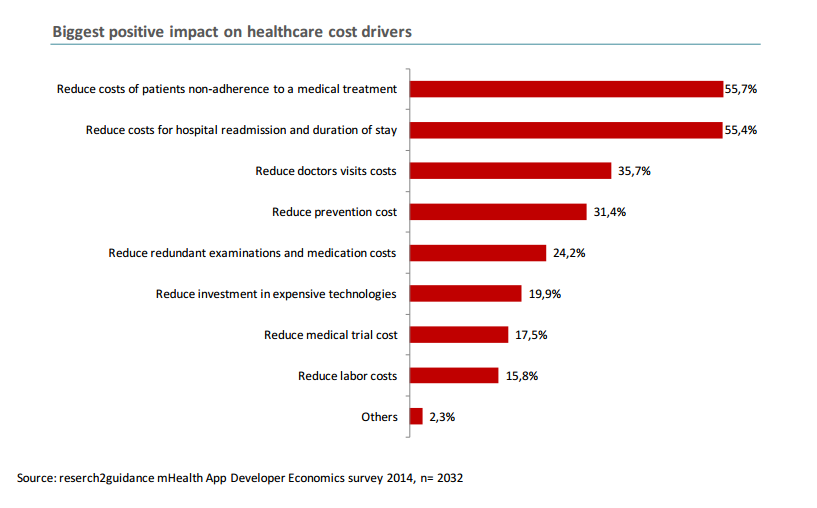 The mHealth market grew a lot however the hesitant activities of traditional payers like health insurers and companies, still slow down the overall development of the market.