Daniel and His Experience and Journey as a Marketer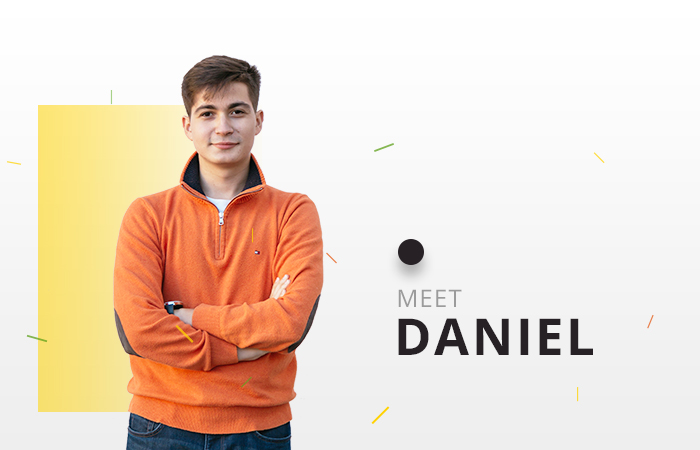 Daniel, please tell us about yourself.
Hi Alex, thank you for this interview! Well, I love French fries, driving on long distances, watching the sunrise and the sunset. I love taking nature and macro photography. I am an enthusiast, full of joy and happiness. 😊
Most probably you are more interested in the professional career and I'll tell you about this.
I consider myself an Entrepreneur and a Marketer. I started my very first business in high school. It was all about photography. In the senior year of high school, I made my first money and I bought a professional camera and equipment.
In university, I started the second business in Marketing. I love being surrounded by people and sharing ideas, promoting businesses, and this drove me to this idea that I can start a business in Marketing. I opened a small agency for SMEs called Start Image. Yeah, I know, the name wasn't awesome and I have to admit that I failed with this business, but not because I wasn't good at Marketing at that time, but because I haven't had an action plan. I thought I had everything in my mind and that's enough.
Being successful in what you are doing, requires two major things: a purpose – why am I doing this and an action plan – how am I going to do this.
After failing my second business I have worked as a marketer for clients like FasttrackIT, Scoala Informala de IT, Academia Digitala, Da Vinci Construct&Proiect, and many others.
In that role, I was focused on B2C marketing, although I have done B2B work in the past. I was truly passionate about my work.
Like many of us, I had my ups and downs and after a while, I had my downs and didn't have a job. I was collaborating with a small business in town, but it wasn't something serious. I was so upset and almost blaming God for what was happening in my life. I prayed and God answered after a few weeks.
I was at the end of my second year at the university when I received an email from my mentor and best friend, now one of my managers, that Mobiversal is hiring a marketer. I was so happy about that email. I heard about Alin (CEO) and I knew him from university and I have collaborated with him when I organized a business conference. I applied for that job and I have been accepted for an internship of three months. Yep, you read well – 3 months of an internship sounds like a loooong time. Finally, I was hired as a marketer.
What about your work in Mobiversal? What are you doing exactly?
I was hired as a marketer and my job was writing blog posts. I never wrote a blog post in my life and my manager challenged me really hard back then. He said, "here is an IT report for 2016, write something about it". I was completely overwhelmed and I was so scared because the report was so long and there were so many graphics and statistics. It took me a week to write the blog post, but I did it – you can find it here
I started practicing my writing skills and English grammar as well. After a while, I started writing blog posts for HoteloPro. HoteloPro is an awesome app for small hotels and B&Bs. Again, I was afraid because I had to change the industry suddenly. I was not writing about tech and IT which I enjoyed, instead, I had to write about hotels, time management, hotel management, marketing for hotels and basically, I had to convince clients to stop using pen and paper and start using our software.
In this period, I missed talking a lot with people. What I have done when I had my second business. So, I've seen my manager, Flavius, talking all day long with the Appointfix clients and I wanted to help him with this but I was involved in HoteloPro, so… you know it.
I really wanted to help people and talk with them (without knowing what I was supposed to do and how it's working). After a period, he let me do it but not with all of the clients. I have started slowly doing Customer Support at Appointfix and I learned a lot of things in that period. It was easy in the beginning until I had more and more responsibilities. The responsibilities weren't an issue for me, but the first complaints from users were a big tragedy for me. I wasn't ready for that. It was a direct hit in my face because I took everything personally.
Now after 2 years of doing this, I am getting better and better and I became the Customer Support Manager or as my colleagues are teasing me – Customer Happiness Hero.
You have mentioned about Appointfix. Can you please let us know what is Appointfix and how you started in this app project?
Basically, Appointfix is the app calendar in which you are able to create and manage your appointments, and the app is automatically sending reminders to your clients reminding them about their appointments.
I have started working on this project by testing the app. I had an iPhone 5C or as the iOS Dev called it – "coajă de telefon" ("dumb phone") and I was testing the app for bugs and glitches. It was so easy because my dumb phone was freezing on any app so just imagine how it was.
I remember a funny story about this. Our iOS Dev is a young adult but he has some gray hair and beard. The first time, I thought he has around 40 years. I found a bug on the app and I didn't know how to talk to him so I asked him so politely – "Nenea Costi, imi cer iertare ca va deranjez, dar am gasit un bug in aplicatie" – "Sir, I am sorry for disturbing you, but I have found a bug in the app". Everybody started laughing because I was calling him "nenea" – "sir". He replied: "I am 28 years old, dude!" :))
Yeah, so first I was testing the app, after that, I was working as the support guy. I had to answer each email and to each Appointfix review on PlayStore and AppStore.
After getting more responsibilities in this support area I became the Customer Support Manager and I was doing my work more diligently and carefully.
*If you want to have long-time customers – make them happy and offer them not only a great product or service but a great experience working with you. They will buy the experience they had with you and your company.
Due to the fact I have the tech and IT skills, I started doing the technical investigations. So basically I started helping the developers finding the issue and they fixed it. I was reducing their time on investigating and I was increasing their productivity.
Now, I am a shareholder of Appointfix and I am preparing myself switching from Customer Support to Sales. My heart is close to sales. I love so much building relationships with clients.
What is the main thing you like about Mobiversal?
What do I like about Mobiversal? Mobiversal gives you the opportunity to grow, whether is professionally or socially. Until I got here, I thought I was really good at what I was doing, but when I got in the company, I realized that I have a lot to learn and that I have so many opportunities surrounding me. I have learned to become a good blogger, whose publications are read by thousands of people around the world. I have learned to write articles about diverse industries such as IT, mobile, productivity, articles related to the hotel industry, and so on. I've learned to relate to clients that are different from me. I have learned that little things are so important.
I strongly believe that Mobiversal is not just a place where you can grow your career. Mobiversal for me is like a school I do not want to drop out of!
You haven't told us what have you studied.
I have graduated from the Emanuel High School of Oradea with a theological degree and I have graduated Griffiths School of Management which is the Business Faculty of Emanuel University from Oradea.
What inspires you to succeed every day?
That's a tough one. Hmmm, I guess it's a combination of multiple things. It's perseverance, motivation, having a purpose, an action plan, being devoted to an industry or a specific work. The most important thing is to be patient with yourself. Aim on the good target, for the good result and shoot your skills there. You may miss sometimes, but keep trying and be patient with yourself and sooner or later you will hit the jackpot.
Daniel, thank you for sharing your thoughts about your work and for inspiring us. We wish you best of luck in your career.
Thank you so much, Alex!