What If You'd Get Featured In The App Store?
Published on
Apr 25, 2014
Ever wondered what effect would have on your app if it would get featured on the App Store? Distimo tries to clear things out on this subject in their latest report. But if we talk about getting featured we gotta know what types of feature categories are out there.
In the Apple App Store there can be identified permanent feature categories and feature categories for a special occasion.
Permanent categories are always available or at least available for a long time and some examples would be 'Best New Apps', 'Best New Games' and 'Editors' Choice'. The report reveals that the rotation speed of feature categories differs between categories and countries. As you can see bellow, in US there are more apps featured than in Japan. Another interesting finding is that in categories like 'being new' are present apps that were launched long time ago, like Evernote, Shazam, or Subway Surfers.

Special occasion feature categories are created around a specific event or for a certain genre type. Examples include 'Back to School', 'Microsoft Office' (a special category for the new Office apps on iPad) or 'If You Like… Badland'. The longevity and number of apps for each of these, differ a lot.
In the case of Google Play, there are the 'New' categories, the 'Starterkit', and for all-time favorite apps there's the 'Editor's Choice. The 'Trending Apps' is a feature category that changes every day and here get featured apps that are already doing well.
To see how being featured changes the number of downloads, Distimo looked at the the average downloads in the featured period compared to the average downloads in the week before. Out of all feature categories the ones that brought the best results were: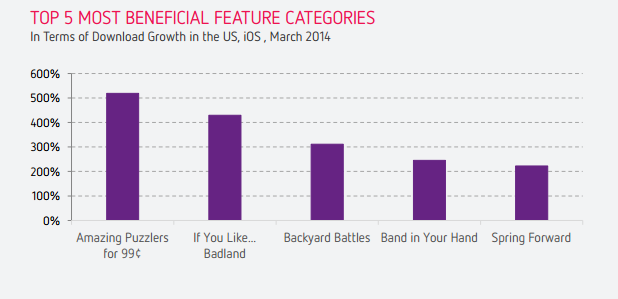 'Backyard Monsters: Unleashed' by KIXEYE, a free Action game that was picked in the 'Backyard Battles' saw a 742% increase in downloads during the feature period, followed by a 53% boost after the feature period ended.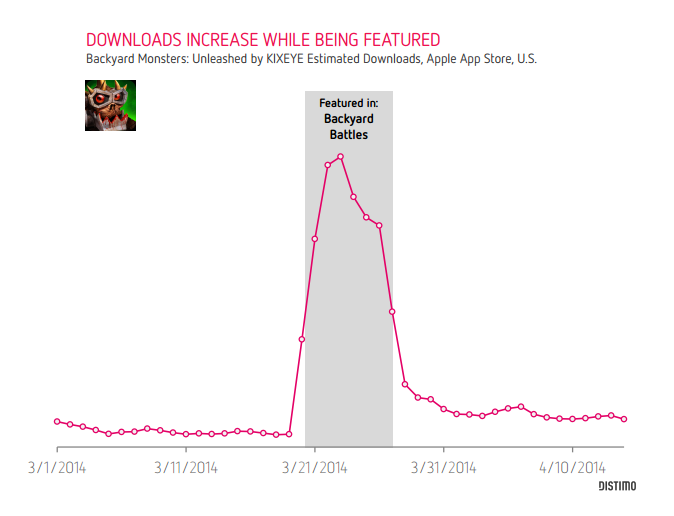 'If you like… Badland' is part of a feature series that had beneficial effects on all apps that were featured. Puzzle Craft saw a 1326% increase in downloads, Tiny Tower 77%, The Silent Age's 488% , and Sea Stars almost 1,000%. So it seems that for action games, being featured gets the best results.
Downloads are good but money in the bank is better, so let's look next at the impact of being featured on revenue.
The revenue of the featured apps in 'Amazing Puzzlers for 99¢' increased the most in March in the U.S. followed by Badland & Co. 'Burly Brawlers', 'Band in Your Hand' and 'Interactive Stories for Kids'.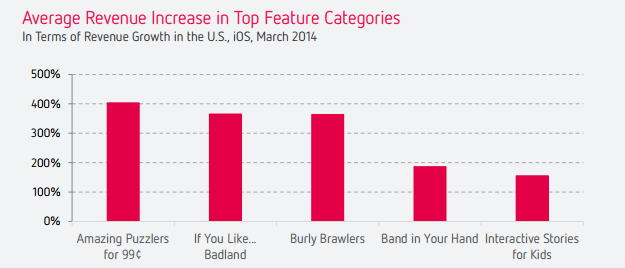 Distimo looked at Shark Dash by Gameloft in the 'Amazing Puzzlers, that saw a 9 times higher revenue during the featured period compared to the 7 days before this. Even though we'd hope apps will produce a higher revenue level after the featured period, Distimo found just a few apps that support this hypothesis. Smash Bandits Racing by Hutch Games Ltd. is one example, seeing revenue 2.5 times higher than in the week before this app was featured.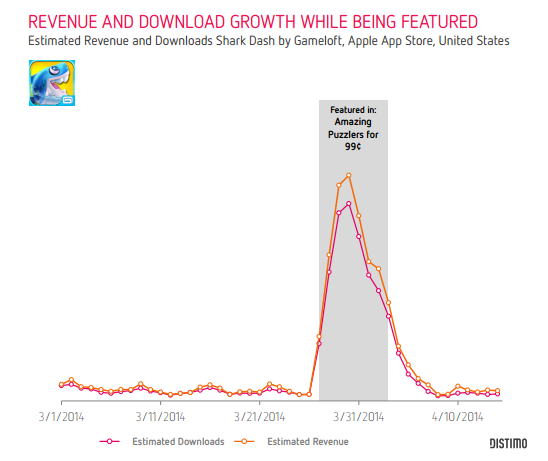 We don't know exactly how an app gets picked up, but when it does, we saw that it has a bigger effect on downloads than on revenue, so getting featured would generate better results for free apps than for paid apps. Your app's category will also have a big influence on the results. Did you ever got your app featured? How did it work?