Apps World North America – The conference you shouldn't miss
Published on
Sep 30, 2011
The number of smartphones and tablets are growing as I write these words, we've just seen the launch of Amazon's Kindle Fire. If you're in the mobile sector you should totally checkout 
Apps World North America
conference that is being held on 1-2 November 2011 at the Javits Convention Centre, New York.
Disclosure: Mobiversal is a media partner for Apps World North America. 
Let me tell you 10 reasons why you should not miss it and at the bottom you'll find a 15% Discount:
1. Two days of action packed engaging content within 30+ sessions, across three tracks covering all aspects of the social media & apps ecosystem.
2. 100+ speakers from top names in the industry including Twitter, AT+T, Radian6, Google TV, Yahoo and Bing
3. Unique opportunity to network with 2500+ attendees made up from leading industry representatives
4. Free to attend developers zone – two day showcase of technical presentations from leading developers, handset operators & apps stores covering a myriad of opportunities and challenges faced when developing apps
5. Free to attend social media hub – two day showcase from leading social media networks & service providers providing an insight into the basics of successfully adopting SM, practical tips & tricks, budding start-ups & a look into social TV
6. Free to attend exhibition, with 50+ exhibitor we will be creating a arena of buzz from service & tool providers from across the sectors
7. One pass provides access to two shows – Apps World & SMWF  – proving a rounded insight into these rapidly developing digital sectors
8. Discover how global brands and corporations are adopting social media & apps and why these tools are the ideal platforms to build you brand
9. Hear how advertisers and marketers are approaching these tools and their strategies for achieving ROI
10. A chance to discuss & debate the current industry conditions and the predictions for their future
Save 15% with APPS15 register here now:
https://www.apps-world.net/northamerica/register/workshop-registration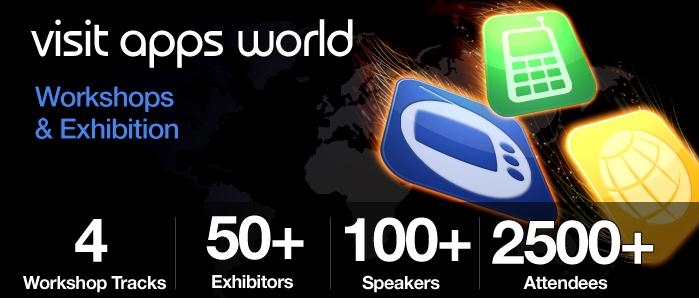 Mobiversal
, a mobile app development company working with startups and established brands like Forbes to create unique mobile experiences. Mobiversal is also the maker of
Appointfix
and
FieldVibe
. Connect with him on Twitter
@FlaviusSaracut
.