How to choose the best mobile app development company
Category
Business Strategy
Business mobile app development is an art and at Mobiversal, we built over 70 mobile applications. We can say that it takes more than just an idea to have real success. Based on research, in 2020, consumers downloaded a total of 218 billion mobile apps. You need to stand out in this situation and develop an innovative idea that will keep your end-users connected with you as a team/entrepreneur and your app.
Nowadays, it's not just the app or the idea that will stand out in your client's eyes. The user will download an experience. It's called User Experience for a reason. Your mobile app needs to be user-friendly, engaging, and simple. The real question is how to hire someone to make an app? What are the steps you need to follow?
Unfortunately, 90% of mobile apps do not live up to their expectations. This article will address a few hints that will help you in the process of how to choose an app development agency. In fact, I will share with you 10 key factors that can help you hire an app development company good enough to deliver custom mobile apps that can impress users and, lastly, bring revenue.
1. Reviews from the agency clients
Before purchasing a costly service, you want to make sure that you read a few reviews and that they are genuine and honest. You want to see what experience they had and how a business mobile app development can handle heavy requests.
For some, it may look like a lost time speaking with the agency clients and asking them about their experience, but it is worth the shot.
Another way to find feedback about a mobile app agency is to check reviews platforms like Clutch, G2, or Capterra. They can provide authentic and unfiltered feedback.
Here's what Mobiversal's clients say about working with them.
,,The collaboration with Mobiversal was great, we had all the support we needed from the team in creating this app, in order to make it useful to the patients. Mobiversal provided us the disponibility to create the app as per our needs and wishes.''

Daina Lucia Georgeta, MD – Medical Director at SCJUO

You can read more about the app we developed for SCJOU in this article about the process of developing a hospital app.
Jan Lukacs, was yet another happy client. Paymoapp came to us after having a few tried with other companies.

You don't need to research clients in the same industry as you, but you need to see apps that impress you. A good start will be to review their work by testing some of their apps in this situation.
A vital part of the early contact is looking through their app development portfolio. Basically, the company you will work with must show a track record of their skills in developing iOS apps and Android. This will tell you more about how the mobile app development agency will work with you to address your needs.
2. Security and Transparency
Most of the creative folks out there are not fulfilling their dreams because they are afraid. Afraid that their idea can be leaked or that the agency may turn their back on them. It is a problem that needs to be addressed right from the beginning when you are thinking about how to choose a mobile app development company.
Don't lose hope. I'm sure your idea is excellent and in the right hands can make you rich. Leaking the app idea and concept is the biggest threat to companies and entrepreneurs today.
Now, some of the old peeps from the industry will say – Why do we even bother with this issue? Unfortunately, the problem is real, and many poor-quality replicas are uploaded in app stores before the original one. This is happening because of the poor security measures taken by mobile app development companies.
Entrepreneurs must ensure that the mobile app agency they choose for their mobile app development follows security measures. The app idea and the development process must remain confidential before it finally reaches the app stores.
When you are thinking about how to hire someone to make an app, transparency is critical, especially when working with a remote mobile app development company. Both you and the agency must communicate consistently. You will need to share documents such as designs, product documents for them to understand your vision and explain how they can help. In this situation, signing an NDA will get you that protection.
3. Time Management – in simple English: Deliver Management.
As entrepreneurs, we want our products to be released on time. Therefore, we want to collaborate with an agency that respects our time and their promises, am I right?
I heard entrepreneurs complaining that the mobile app agency company they chose to work with didn't keep them posted on the progress of the mobile app development cycle. It's your product, first of all. You can't be left behind. The agency must keep its clients posted with every detail related to the progress of the product.
Here's an example of Mobiversal's approach. We offer each client a timeframe like the one in the image, which gets updated every time there's a change that affects the delivery time. This way the client can have an eye where we are at and how long till it's finsihed.
Having regular conversations with the project manager – on the app development progress ensures timely delivery of the final product.
When you look to hire someone to make an app, make sure you ask the mobile app agency about their releasing policy. They should have policies regarding submitting the apps to Apple or Google and how they handle releases.
Ideally, a respected company will submit the app for you. In some cases, they will guide you through the submission process. You need partners that will stick with you through the submission and the app lifecycle.
4. UX Designing Standards
Designing custom apps is not an easy task for designers. First, they need to think about the app's interface; second, they think and work on the user experience your clients will get.
An important thing in finding the right development agency is to make sure they have their designers. They must have great UI/UX designers capable enough of delivering world-class custom app designs to the clients.
In this process, as an entrepreneur, you must check out the design portfolio of the mobile app development company to make sure that their app designing standards are globally accepted. Mobiversal develops pixel-perfect apps. In fact, we built our own applications, Appointfix and FieldVibe, that are downloaded by over 500.000 users. We believe in developing native apps for our clients that are reliable in the long term and easy to maintain.
5. Maintenance and Testing Measures
The most common issue seen in mobile app agencies is that they are a small team doing everything. Basically, they don't have a specialized team for testing, maintenance, support, etc. In this situation, the project manager or the developer is doing all these things.
All applications have technical errors and bugs. That is why great app design and development methodologies are not enough. Best mobile app agencies must follow some manual and automation testing measures to ensure that the final product doesn't have any major technical errors or bugs by the time it's released in Google or Apple Store.
Therefore, you should look for a company interested in your business and not just app development.
6. Calculate Your Budget
The sixth step in the process of hiring an app development company is to analyze your budget knowingly how much does an app costs these days. One of the first questions that all agencies will ask is how much you expect to spend. Now it's like buying a car that doesn't exist yet. You can choose to use cheap labor and cheap components or expensive ones. It's the same in mobile app development. I'm not going to lie… money is an essential part of the development regardless of how fantastic your idea is or how great an opportunity this seems to be. At the end of the day, you will get what you paid for.
Be honest with your budget, as honesty is the best way to begin any partnership. Also, understand the agency pricing structure. Some app developers only build apps for a fixed price, while others will bill their clients per hour.
For example, if an agency charges a fixed rate, you will need to know a bit more about the rounds of revisions (how many they will be during the design process) and whether they will offer maintenance of the app at the time of launch.
If an agency charges an hourly rate, you will need to ask what happens when changes interfere due to technical issues, bug fixing, or even due to wrong specifications.
Finally, an agency that respects itself and you as well will deliver a unique quote that contains structured pricing. This lets you look at where the most expensive features are, allowing you to take the final decision.
7. Ask about the technology they are using.
No offense to my Indian friends, but they can build an app pretty fast with old tech. Of course, this doesn't mean it will work in the long run. Over the last ten years, we've worked on tons of different apps. This aspect kept us constantly up to date with the latest coding technology.
It matters if they are using Android Studio or Kotlin or using XCODE instead of Swift. It matters if they are working with nodejs or C#. At Mobiversal we are using the latest coding technologies and we are constantly training our developers to offer quality mobile applications.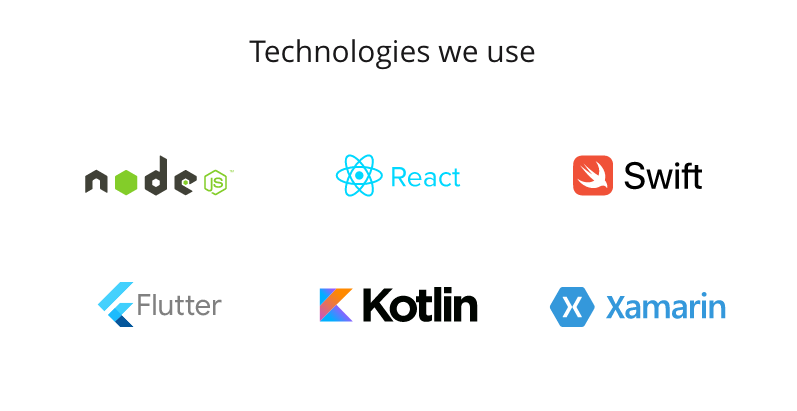 8. Understand what the agency stands for
The company's vision is relevant for you. Their vision and your vision must match at some point if you want to have chemistry in this project. From my perspective, getting to know a future partner is always a smart move, regardless of your industry. Picking the right mobile app development company to help you build your product is no exception.
My suggestion is to jump on a video call early in the process. Chat with the people from the agency. Moreover, if you have the possibility, visit their office. By doing this, you'll see the environment the team is working in. Is it nice? Is it the right vibe? Are they relaxed or wearing sad faces all the time? Answering those questions can tell a lot about the people you will work with.
The greatest danger you want to avoid is talking with charming salespeople who will try to upsell every time, and then you're thrown into a team that you can hardly communicate with and who struggle to deliver.
At Mobiversal, we believe that communication is the key in every aspect of our life. Building a custom product will require work and decisions that are taken together with you as a client.
9. Check if the agency has its own products.
How to hire someone to make an app? Make sure they have their own apps. The best way of ensuring the quality of their work and ethics is to check if they are building their own apps. Check if their app is successful and if it's working properly. Unfortunately, most of the agencies will just create custom apps and work by inertia. You don't need that.
Take a good look at the core of their products and see how they promote. What do they feel they're best at? If they are confident with their products, they will be confident in making your product successful.
It's important to see if the team can understand the challenges you and your business face. If they don't have that experience, my question is how they can teach you about that?
Appointfix is Mobiversal's first own project, originally launched in December 2014. Then it went through a major upgrade in 2017. The app helps professionals to easily schedule appointments and reduce client no-shows using automated text message reminders.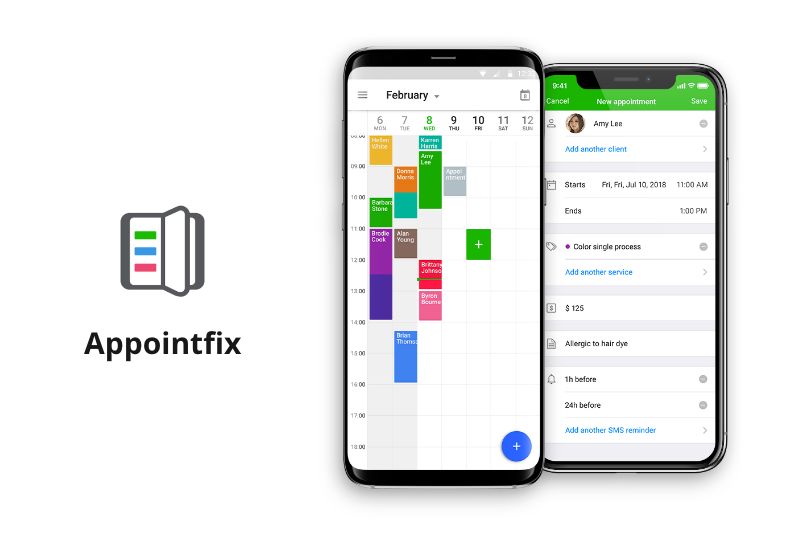 A word from Flavius Saracut, Product owner & Co-founder Appointfix – "The MVP was built in 2014 and was a free Android app that relied heavily on Google Calendar, but with version 2.0 launched in March 2017, the app received a major update. We created our own calendar and all data is now saved and synchronized with our servers. We also launched it on the App Store and introduced paid plans for premium features, which were well received by users. We are growing strong each month, aiming to become a global brand known as a lifesaver for professionals. Appointfix is an app loved by professionals, ranking 4.8 stars with over 3000 ratings in the App Store and Google Play."
Launched in July 2019, FieldVibe is Mobiversal's second own project. The field service management app makes scheduling & dispatching more simple for field service companies, increasing productivity and customer satisfaction.
Adrian Cucerzan, Product manager & Co-founder Fieldvibe – "After successfully launching and developing our first big personal project, Appointfix, in 2018 we embarked on a second mission, this time developing a simpler and better mobile solution for the Field Service market. At FieldVibe we make field service business management easier by providing the HVAC, Plumbing, Electrical, Cleaning, Lawncare, and other types of field service companies with the right tools to schedule, assign, remind clients and track jobs in real-time. We are also supporting small businesses by implementing a pay-as-you-grow pricing strategy, the first 2 users being free for every company account."
Check out our services and product capabilities here.
10. Recognize their value on expertise
When finding the best mobile app development agency to bring your idea to life, you want to hire a team with expertise, and the potential to scale your product. Building and launching an app it's not it. An agency must help you develop an app that can be scalable. If not, they added another fish to the pond.
Make sure they are experts in this field and allow them to share their opinion even if they might disagree with you. The people working on your app have their best interest in making your idea successful.
Reasons to choose Mobiversal for your next mobile product.
We're a team of people passionate about building apps that have a positive impact on people's lives. Mobiversal was founded in 2011 and has a healthy mix of business, technical, design, and marketing expertise. Even though we can't say for sure if your app hits the jackpot, what we can promise you is that we'll use everything we learned in this lifetime to help you succeed.
Actually, we stand of 4 core values:
We earn the trust of our clients by being responsive, reliable, and proactive from the first discussions to the delivery of the app and even further.
Whether it's between team members or with our clients, we believe in building long-lasting relationships based on honesty and continuous support.
We're not building rockets, but we do believe that apps have the potential to add significant value to people's lives. So that's what we're here for.
None of us is perfect, but each of us has the potential to grow. We believe in creating a friendly environment where, as a team, we can strive for excellence.
Back to you
Hiring a mobile app development company is a complex deal altogether. You may think that just reaching out to a random name from Google is easy, but the fact is it isn't. You've seen in this article that there are many things that you need to take care of when searching for the right partner.
You can choose between freelance vs. a mobile app development agency. Hence, it is always better to prefer a professional agency. In small mobile app development businesses, they can opt for hybrid app development (one code base, multiple platforms), however, you would prefer an agency that builds native apps. It offers a better user experience, access to device hardware/software, is easy to discover in app stores, and Native UI allows users to quickly learn the app. 
If you are considering externalizing your idea with a mobile app agency, Mobiversal would be a great fit to help you out through their over ten years of experience with mobile apps.