Consumer Goods Marketers Spend On Mobile Ads
Published on
Apr 17, 2013
Along with the rise of smartphones and tablets number, advertisers have seen the benefits and subsequently increased their mobile spending. Mobile internet advertising spending worldwide – on all forms like display, search and others – reached $8.4 billion in 2012, according to eMarketer, and will rise to $13.58 billion in 2013 and eventually top $36.87 billion in 2016.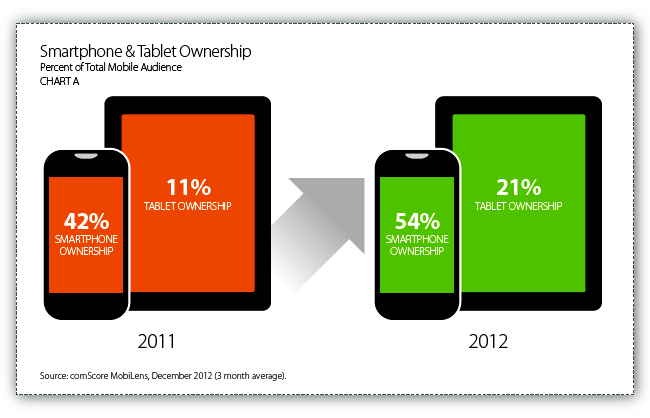 Millenial Media recently released a report designed to help Consumer Goods marketers – in different industries like food, beverage, beauty & cosmetics, and home products – prepare their advertising strategy. comScore estimates the Consumer Goods mobile audience at around 85 million people in the U.S., and the number is still growing, smartphone ownership grew 129% year-over-year and tablet ownership grew 194% year-over-year.
There's a cross-visitation behavior for consumer goods users so advertising campaigns are served through a variety of applications, shown below.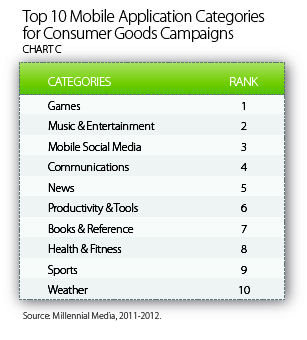 Consumer Goods products like food, drinks, household products and supplies, are most often purchased in-store, often from grocery stores but they can be influenced by online and offline campaigns. Of the total mobile audience, men are responsible for 54% of mobile grocery shopping, and are the majority of shoppers in the 18-24 and 55-64 age demographic.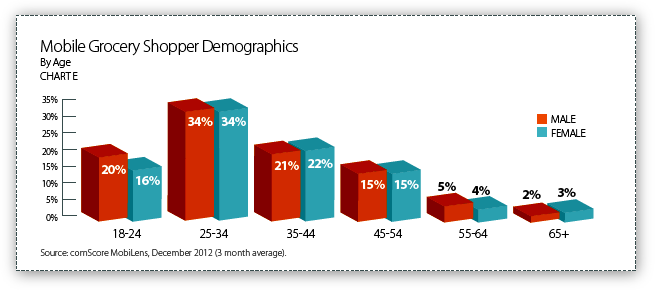 When looking at consumer behavior, the research suggests that most consumer pre-purchase behavior is done on tablet devices, as for in-store behavior, the majority of consumers are using their smartphones. Men are usually comparing prices and checking availability, while women engage in social activities like asking a friend's opinion on a product.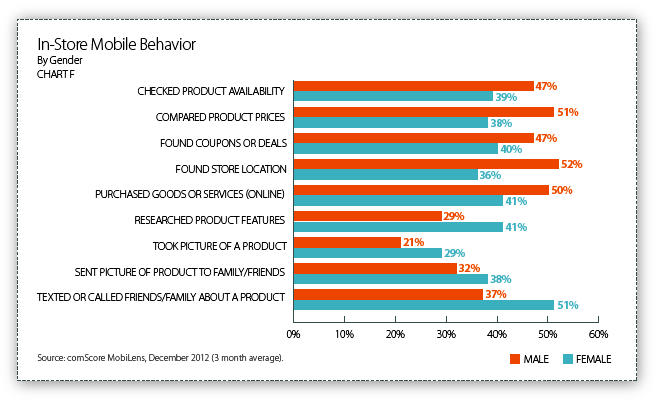 Consumer Goods brands are big spenders on mobile advertising campaigns, from 2011 to 2012, global spending in the Consumer Goods vertical grew 235%.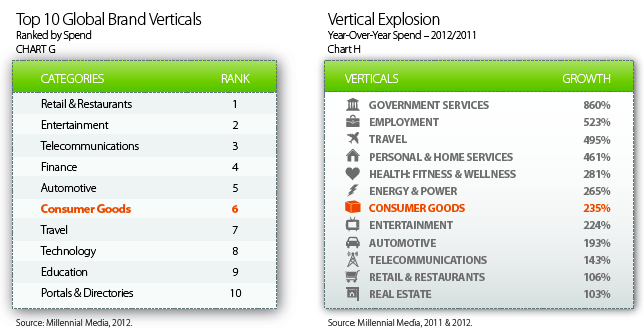 When looking at the purpose of mobile campaigns for consumer goods advertisers, brand awareness ranked at the top with 46%, followed by site traffic with 29%.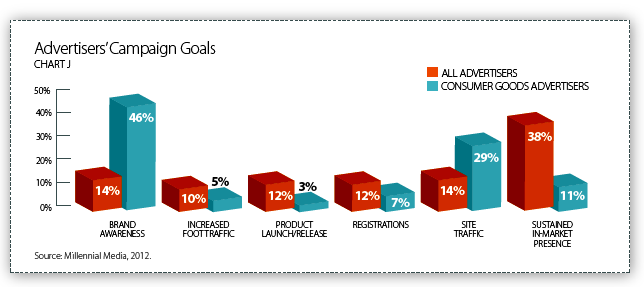 In regards to targeting strategies in 2012, 40% of Consumer Goods campaign spend was connected to at least one of the many forms of real-time location-based targeting, especially by beverage and beauty brands.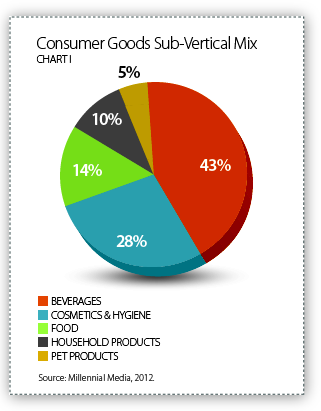 The research also details the post-click actions, the most important actions being to watch a video or interact with mobile social media.