Everything you need to know about a UX audit
Published on
Jan 19, 2022
Before reading this article you should know what user experience is. User experience (UX) deals with the overall experience users have when interacting with a product. UX has to do with the emotional experience a user has with a product so the products created with user experience in mind will be easy to use and will provide a positive experience.
User experience is a vital aspect of any digital product. If your product fails to please the end-users, you definitely cannot expect your business to shine. Many businesses start building digital products based solely on their stakeholders' instincts and feeling, instead of allocating resources to actual user research and product strategy.
What is a UX Audit?
The user experience audit is a complex process that allows you to perform an expert analysis of your digital product based on how the user interacts with it. It is used to identify potential usability issues based on established heuristics and user research.
An effective UX audit targets issues to ultimately create an easier and more seamless user journey.
A proper UX audit helps in several areas:
Finding a product's bottlenecks
Identify potential usability issues
Building a more seamless user journey
Defining (new) opportunities and improvements
Building a (better) product strategy
If done in the right way, this process increases retention, customer engagement, satisfaction, and conversions.
Why and when should a UX Audit be performed?
A UX audit is typically conducted once a product has been in the market for a while. Of course, both businesses and digital trends change and evolve, and sometimes this can result in a product that no longer meets business goals the way it used to, even if the product worked perfectly when it was initially built. This can lead to a lot of issues, including sales dropping, failure to retain users, or users who overlook key pieces of information. Often it's difficult to find out the reason for these issues, which is why a UX audit is necessary.
A UX audit will uncover the parts of the existing user experience that are and aren't working. At the same time, it will provide the business with information that will enable making informed decisions about what to do to fix the products' issues.
While not being a magic wand designed to heal all UX issues, the UX audit does help to answer vital questions like:
Why aren't people signing up?
What's stopping users from converting?
What difficulties do they face interacting with the product?
Do they have a hard time with functionality or navigation?
What do they not understand?
Where is that point in customers' journey when users abandon the product?
What do metrics say about users' behavior?
Why aren't they using that awesome new feature?
Who should perform a UX Audit?
First of all, NEVER be your own UX auditor! The human mind is prone to bias. After interacting with a product for some time, it learns its ways around even the most difficult or unintuitive things. Then, you tend to put your focus on fixing very complex issues, while failing to see the obvious ones your average user is most likely to have a problem with. This is why you need a fresh pair of eyes for your audit. You need someone to look at your product holistically, without prejudice or sentiment, while being able to draw relevant conclusions, based on both research and existing data.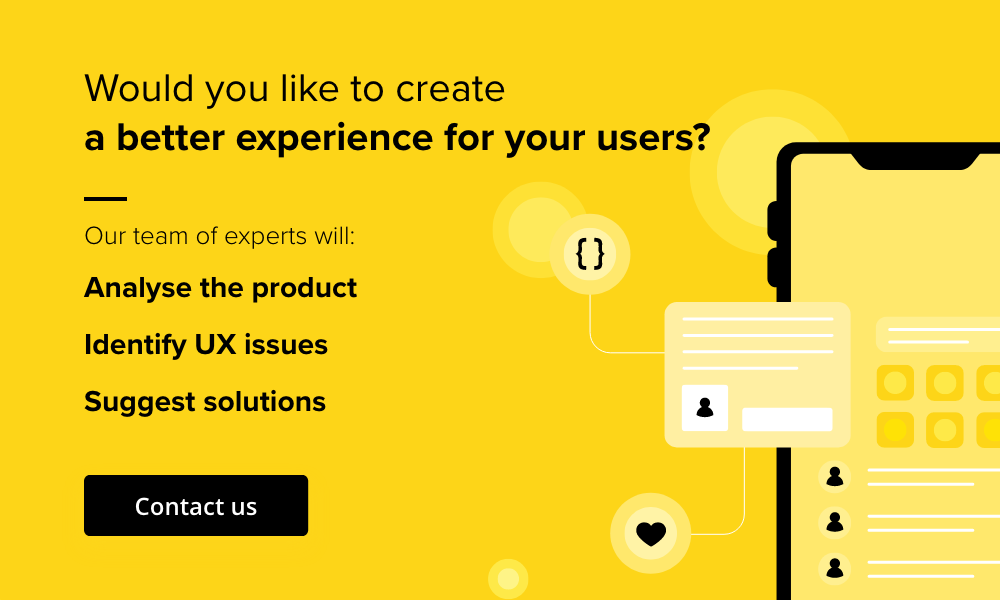 How should a UX Audit be performed?
The tools and methods used in a UX Audit may vary significantly, and they should always be chosen individually, case by case, depending on the objectives you want to achieve and your product's issues. Whatever the case may be, there are still a few general steps that must be taken in order to perform an efficient UX audit.
Define the object and subject of the audit.
Simply put, what entity do you have to analyze and who will conduct the audit. Whether it will be your internal team or a third-party consultant, this step should obviously be decided beforehand.
Stakeholder interviews
At the earliest stages of the audit, interviews with stakeholders should be conducted so the UX specialist can understand the stakeholders' business goals for the audited product and what they see as the product's current issues. It's wise to use a wider approach with the stakeholder interviews so a number of insights can be gathered from those at the business who use the product, starting with the CEO to customer service representatives. These insights should help generate a list of goals for the audit that reflect stakeholders' priorities.
User interviews and surveys
Some companies collect user opinions about the user experience of their digital products. This is very valuable information to use and analyze during a UX audit. If the company doesn't collect this kind of information from their customers, user interviews should be conducted in which users provide their thoughts about different parts of the experience and the product as a whole.
User analytics
Many companies use tracking tools to evaluate the traffic to their digital products. These analytics provide valuable quantitative data about how many users are visiting a product over time and where they're going while they're there. The key to using analytics is to make sure the data is available from far enough back that a trend can become obvious, otherwise the value of the information will be limited.
Usability heuristic evaluation
There are a number of established usability heuristics that make a digital product work for users. If the product being audited doesn't follow these heuristics, the user experience will suffer. A heuristic evaluation identifies where these kinds of usability problems exist. The evaluation should be based on a pre-established set of heuristics like the popular usability heuristics defined by Jakob Nielsen.
Visibility of system status
The design should always keep users informed about what is going on, through appropriate feedback within a reasonable amount of time.
When users know the current system status, they learn the outcome of their prior interactions and determine next steps. Predictable interactions create trust in the product as well as the brand.
Match between system and the real world
The design should speak the users' language. Use words, phrases, and concepts familiar to the user, rather than internal jargon. Follow real-world conventions, making information appear in a natural and logical order. Terms, concepts, icons, and images that seem perfectly clear to you and your colleagues may be unfamiliar or confusing to your users.
Consistency and standards
Users should not have to wonder whether different words, situations, or actions mean the same thing. Follow platform and industry conventions.
Error prevention
Good error messages are important, but the best designs carefully prevent problems from occurring in the first place. Either eliminate error-prone conditions or check for them and present users with a confirmation option before they commit to the action.
User control and freedom
Users often perform actions by mistake. They need a clearly marked "emergency exit" to leave the unwanted action without having to go through an extended process.
Help users recognize, diagnose, and recover from errors
Error messages should be expressed in plain language (no error codes), precisely indicate the problem, and constructively suggest a solution.
Minimize the user's memory load by making elements, actions, and options visible. The user should not have to remember information from one part of the interface to another. Information required to use the design (e.g. field labels or menu items) should be visible or easily retrievable when needed.
Flexibility and efficiency of use
Shortcuts that are hidden from novice users may speed up the interaction for the expert user such that the design can cater to both inexperienced and experienced users. Allow users to tailor frequent actions.
Aesthetic and minimalist design
Interfaces should not contain information that is irrelevant or rarely needed. Every extra unit of information in an interface competes and might even cannibalize the relevant units of information and diminish their visibility.
Help and documentation
It's best if the system doesn't need any additional explanation. However, it may be necessary to provide documentation to help users understand how to complete their tasks.
Help and documentation content should be easy to search and focused on the user's task. Keep it concise, and list concrete steps that need to be carried out.
What is the ideal outcome of a UX audit?
The key benefits of conducting a website or app UX audit include the following:
A new product perspective
A UX audit team can see the flaws you might not notice because you know your product too well.
Cost savings
A UX audit should provide a detailed report containing a UX improvement roadmap as well as suggestions regarding the value of the software. You then only prepare the necessary additions and features and then start the development phase. No wrong decisions taking your product in the wrong direction. No wasting time and money on costly programming work.
Profit increase
A UX audit improves the value proposition of your solution. Users will understand your product faster, which will result in a higher net promoter score, lower churn rate, and an increased number of referrals.
Conclusion
It is crucial to conduct regular design audits in order to determine how products align with user experience and business goals. If you are doing your first UX audit, it's important that the strategy behind it has clearly defined benchmarks so there will be objectives and KPI's for measuring success against them.