How Do Children and Families Use Smartphones?
Published on
Jul 24, 2013
Zact, a smart mobile service provider did a survey on 1,020 respondents in the U.S. looking at how parents are seeing mobile technology, in relation with their children.
Around 64% of families have between 3 and 6 devices in their household, with 21% of parents allowing their child around 3-4 hours daily.
According to a second survey from
eMarketer
, smartphone penetration is 3.2% among US children ages 0 to 11, with the lower end of the age range pulling down that rate. By comparison, among those ages 12 through 17, eMarketer estimates smartphone penetration will reach 44% this year.
When it comes to which are the biggest concerns parents have: 79% are concerned about not being sure who contacts their children and 75% about being able to browse too freely. Of all respondents, about 10% are not comfortable with giving a smartphone to a child, and the rest of the pack is pretty balanced, with proper ages for owning a smartphone fluctuating between 8 and 16.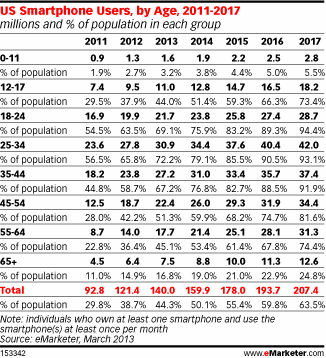 Experts recommend parents to be involved in their child's experience with smartphones and tablets, especially at a young age. It is recommended for parents to engage kids as they try new apps and if possible to keep mobile devices in family areas so that a child's app usage can be monitored.