Meet Lau, Our New Marketing Manager
Published on
Feb 12, 2019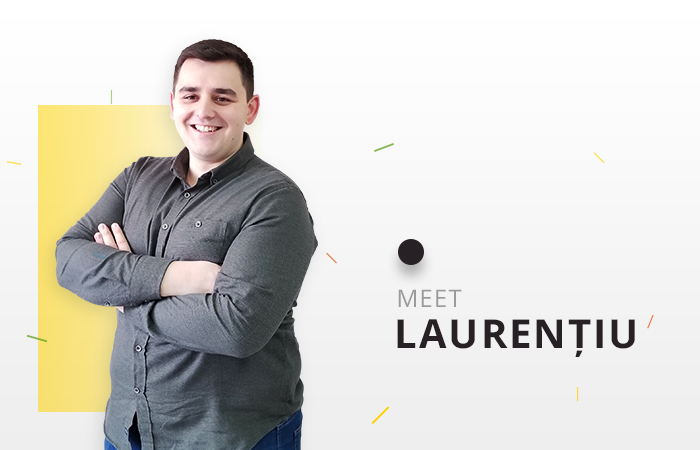 Laurențiu Culda joined Mobiversal in February this year as a Marketing Manager for our newest product: FieldVibe. He will be responsible for growing the product marketing- wise as we rely on his previous experience as a marketer.
As we always do with our newest colleagues, here is an interview with "Lau" to get to know him better!
A: Lau, welcome to Mobiversal. You are our newest colleague. Up until now, what is your first impression of the company? Was it as you expected?
L: Hi Alex. Thanks for having me. I like it! I was asked by a friend how do I feel being an employee. I said to him that I don't know yet, it doesn't feel to me like I am one :). Meaning that Mobiversal is not the classical company where the employees are just part of a machine. I feel welcomed and respected here. We are part of a team that has clear roles and objectives. I can say that, yes, it is how I expected it to be.
A: You will fill the position of Marketing Manager for FieldVibe. Briefly, tell us about your previous academic and professional experience before joining Mobiversal. What are some of the most important skills you have learned?
L: I have a Bachelor Degree in Economics from Griffiths School of Management, Emanuel University, and a Master's Degree in SME Management from the same institution. I come from a family of entrepreneurs and that blood runs through my veins also :). After graduating from University I was the co-founder of a startup called Eurojourney, that failed after about one year. Then I went to work for a startup called AvoApp and after that, discovering my passion for marketing, I joined a marketing agency called Brandup Media, founded by my university colleague and good friend, David Achim. At Brandup Media I worked as a social media specialist and account manager for more than 3 clients at once. All this time I helped my father with the marketing for our family business and created a brand for home delivered, locally produced fruits, called Zmura. Working in so many different industries, with so many different people, I developed the ability to adapt to and communicate to different markets. I also developed the ability to maintain a certain amount of control over different projects at the same time. Also, I think it is obvious that I am pretty risk tolerant (less now that I am married, but we still moved to Oradea especially for FieldVibe 🙂 ) and I like new challenges.
A: What are 5 qualities that you think are must-haves for new hires in terms of organizational culture fit?
L: I think the first thing would be respect for others; treating your neighbour as you would treat yourself. The second would be a desire for improvement and growth. For me, everything I do is an opportunity to do things faster and better, and in the end becoming a better person and a better professional. Next on the list would be a strong work ethic, perseverance and, of course, flexibility.
A: What inspires you to succeed every day?
L: I believe that I was given some gifts, that the opportunities that I had in life were not random, and I should put them to work for the benefit of others and the glory of God. Of course, coming back home to my beautiful wife, Amalia, and our newborn son after a productive day is the best feeling there is!
A: What do you think are the most important qualities for someone to excel in this role?
L: This is a hard question… As a marketer in today's world, you need a lot of qualities. So the ability to have multiple qualities would be the most important quality 🙂 All jokes aside, a good marketer should be able to understand better than anybody else the world he lives in (from political and social context to technology trends and major world issues and, of course, to understand his market better than his competitors). But I think there is a somehow lost quality among us, and that is p a t i e n c e. There is this mirage of instant feedback and immediate results but we often forget that the customer journey and the customer lifetime value might be longer than our one week, one month or trimestrial reporting time.
A: How do you feel about working for a completely new product like FieldVibe?
L:  To be honest, I am both nervous and excited! It is a new product and a new area of marketing for me, and at the same time, it is an immense opportunity for me to put my creativity and skills to good use.
A: In what ways do you think your previous experience as a marketer will enable you to succeed in this new role?
L: My experience as a young marketer is mainly in Social Media, but I was involved in a lot of different marketing campaigns, from digital to print. I think that having a taste of different marketing channels and a specialization in one of the most active and lucrative ones is an important asset for our team.
A: And finally, what are your expectations for this role during the first 30 days, 60 days, year?
L: For the first 30 days I want to make sure that I get to know the team better and get a clear sense of the market. After 60 days we should know which marketing channels are working for us in this phase and prepare the official launch. A year from today I hope we will have a strong and loyal community and, why not, some new colleagues. 😉  
A: Lau, we wish you the best in your new role and welcome again to the team!
L: Thank you, Alex! It's my pleasure to build FieldVibe together with the team!