Apps Are Replacing Time Spent On Web and TV
I've just had at look at the numbers released by Flurry for November and boy, how nice their graphs look. They measured the work of over 85,000 developers that created over 250,000 apps and they registered over a trillion events. Take a look at how the app economy has grown since May 2008.
Little by little the apps are eating from time consumed on web browsing and on TV. Think about it, the apps are here since just 4 years ago and they will soon be challenging the TV, a 60-year-old industry. Since last year there was a 35% increase in time spent inside mobile apps by U.S. consumers, a boost from 94 minutes to 127 minutes.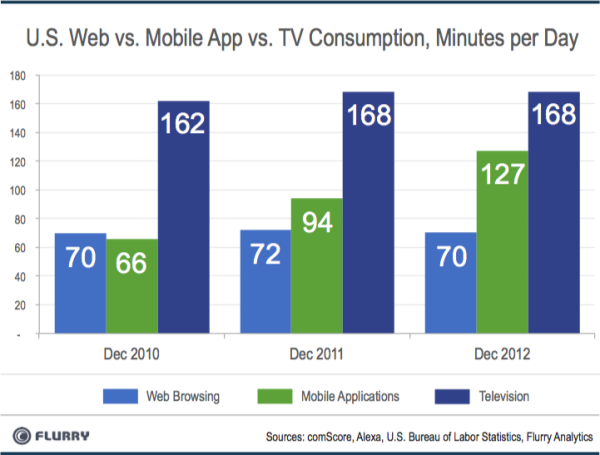 When looking at the top 3 categories people are spending most of their time, Games lead with 43%, followed by Social Networking 26% and Entertainment 10%. Flurry has also compared the time spent on mobile games vs. total time spent on games on any platform and the numbers are staggering, 76% out of total time, that's 55 minutes out of 72 minutes each day.
If you still had doubts to jump in the mobile bandwagon or not, now's the time to act.