Building products that sell themselves. Product-Led Growth
Published on
Jul 15, 2022
Though mobile apps are booming on both App Store and Google Play store, only 10% of these reach success and scalability. Creating a valuable and profitable app is not an easy task, and brands have explored the best approach for app growth, the best way to catch the audience's attention and retain them.
More and more companies, like Zoom, Slack, Pinterest, and more, are adopting product-led growth strategies as their "go-to growth strategy," as we are witnessing the rise of the end-user era. Most big tech companies realize that if they want to remain competitive and relevant, they must adapt and embrace the end user. Focusing on the customer's wants and needs and iterating that as they evolve. The product needs to answer the customers' question, "Will this product actually help me day-to-day?" That's where the product-let approach comes in.
What is product-let growth – PLG?
"Product led growth (PLG) is an end user-focused growth model that relies on the product itself as the primary driver of customer acquisition, conversion, and expansion." – Openview Partners, What is Product-Led Growth? In other words, "the product" is the key to driving engagement, conversions, and retention, while eliminating the need to fuel ineffective, expensive sales and marketing techniques.
This strategy can be the best approach for start-ups or companies that don't have deep pockets. Building a product that engages the users means focusing more on the product experience and eventually leading to the product marketing itself.
Most business owners need to understand that "Product is now your competitive advantage. Product is now your driver of customer loyalty," writes Amplitude VP of Product Justin Bauer.
How does a product-led approach help drive long-term app growth?
Focuses on product experience
Products have a higher chance of success when they're designed with customer experience in mind. App growth depends on building great experiences, and products own that experience. To start with, apps must be built intuitively and make it easy for users to navigate and solve their pain points. This includes removing all possible friction points that come under the ruse.
Positive user experience starts from onboarding built around specific user goals and not the features your app offers. The entire onboarding flow can be made friction-free with nudges and walkthroughs that help users avoid the choice overload when they have just started using your product.
Designing products with your users in mind look like constantly listening to them and understanding their feedback, getting your team aligned with it, and iterating. It's not as simple as it sounds, it takes a lot of trial and error and may lose some customers who don't convert, but the hard work is worth it. You'll know you've struck self-selling gold when your metrics are skyrocketing, and you haven't touched your marketing budget in months, and your customers love it.
Uses a data-led approach
Product-led growth is all about a customer-centric approach, and data is one of the most essential tools. The product-led strategy is all about creating experiences that give the user a reason to come back and stay longer. This can be done by leveraging data from their past behavior and how they interact with your app each day (usage patterns) – it's an analytics-heavy approach in which you are constantly watching what users do in app, so you don't have any surprises!
User path analysis aims to visualize the most common conversion journeys across your app to understand where users are starting out, what they're doing once there, and how often certain behaviors occur. Behavioral analytics study user behavior on a more granular level. By analyzing their actions within an interface that helps brands better tailor content or other aspects about themselves, such as pricing schemes to match preferences revealed through this data-driven approach.
A data-led approach will help you validate your hypotheses and ensure that the story you're telling and your product are rooted in reality.
To get meaningful insights from your product data, you should use user segmentation to identify the patterns among your "best" and "worst" customers. Ask the following questions: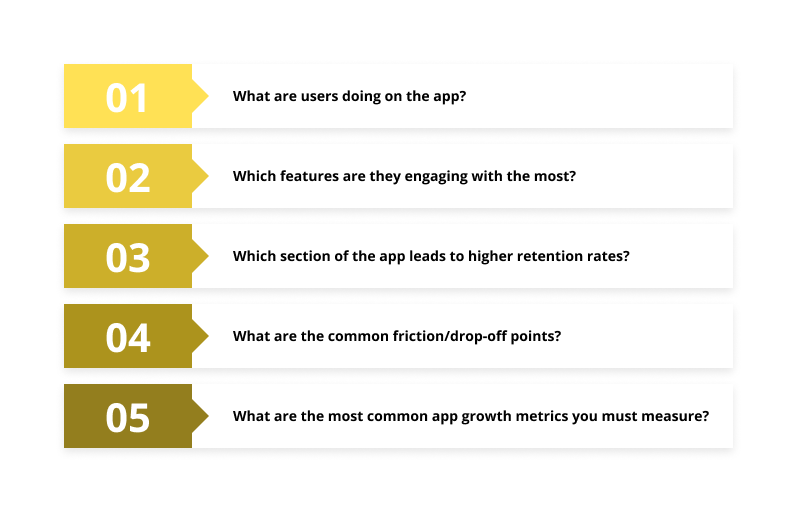 Low-cost acquisition and high retention channel
We can agree that the most successful apps are those that focus on their product rather than just exploiting users. This means giving people a great experience and then relying upon word-of-mouth advertising to get more business from them in the future!
The entire ethos behind this approach is based around putting forward an excellent quality service or product before monetizing too heavily – which can be costly if not done correctly, but by letting product experience lead the way, growth becomes sustainable over time because you are increasing the chances of your current users becoming the biggest advocates of your product!
Product usage serves as the primary driver of user acquisition, expansion, and retention.
Promotes virality
The beauty of product-led growth is that it can create experiences that get current users spreading the word about your app – making them viral in no time.
Think about the last app you joined, Slack, for example. Did you try Slack because someone suggested you do so? Or because a colleague invited you? The great changes are you going to answer with a yes. That's the power of product-led apps; they are contagious when done well.
You can make your product viral by making it encouraging of networks. This could look like introducing gamification, rewards, or competition, or adding chat and find-a-group features so users can connect with others. It's the sharing of the tool that makes it successful.
Key metrics for measuring product-led success
The Product-led growth metrics listed below are meant to enhance traditional success measures, such as LTV and NPS.
Product-led growth success stories
It's no wonder that Slack, one of the most well-designed and intuitive software companies out there, has achieved massive growth. Their product experience is second-to-none, making it easy for users right away and encouraging them to stay on board by offering premium features if they want even more goodness from this app! The approach taken? Simple – entice people with a freemium model while delivering a fantastic service in return; then upsell existing customers when necessary using the "inbuilt network effect."
Kelly Watkins, Slack's Head of Global Marketing, describes the secret sauce behind Slack's success. Since Slack started as an internal tool, "It really was built without an agenda or vanity. It was built to solve some very basic needs…[We thought] 'what's the minimum thing that we can produce to solve our needs as a distributed team working on a game?'"
Slack's experience exemplifies the foundation of a successful product. Start by solving for real user pain. Without that foundation, no amount of optimization will be sufficient to breathe life into your product.
Zoom is the leading video conferencing provider in America, with 39.8% of the market share and $2 billion in revenue as of 2021. Zoom is considered one of the pioneers of product-led growth. So, leveraging a product-led growth strategy the right way helped Zoom compete against Google, Microsoft, and Adobe. Surprisingly, they lacked a good marketing team in the first couple of years.
They doubled down on one of the strongest driving forces of product-led growth – letting users experience the product for free before nudging them to buy by offering the 40-minute free video conferencing model coupled with a rich experience.
Creators of this app took inspiration from angry birds to make it more engaging and fun! Most people would scratch their heads thinking, "How did one of today's most successful ed-tech companies get inspired by such a game?" but when you think about what they were doing, everything starts making sense. This unique product-led approach focuses on creating a seamless product experience that attracts more users. The entire flow of the user journey is made frictionless. The gamification encourages users to keep moving in the app, which keeps users engaged and retained for a long time.
Conclusion
To thrive in the cut-throat competition that exists within today's mobile app space, product/growth companies need to be agile and quick on their feet. Companies must be able to move with speed and agility to implement product-led strategies to achieve business goals.
Without the right tools, driving a successful product-led growth strategy may seem quite a task, and that's where Mobiversal, with its product teams, can help you. And we're more than happy to be your partners in your journey to achieving product-led growth! Let's chat!