How to write a business plan for a mobile app idea?
Published on
Aug 10, 2021
Category
Business Strategy
If you have a business idea for a new app but are unsure of how to create and write the business plan for it, then this article will be your guide. A business plan is an essential tool not only when starting up a business, but also if you want to make changes in the future or expand on your current business. It's really no wonder that many people find business plans just too confusing! So we'll break it down into simple steps and provide some samples so that it won't seem like such a daunting task.
It's already a well-known fact that businesses, be it established or startups, need to design mobile apps in order to reach a wider audience and to target more users. In order to develop your app, you need to thoroughly think of a business plan that covers the entire cost of app development, including planning, designing, marketing, and after-sales support.
The cornerstones of any successful project are the following: ideation, planning, and execution. In the ever-changing world of IT having a good idea is not enough, not paying attention to developing an in-depth business plan for your mobile app can cost you the success of it.
What is a business plan?
It can be used to review past performance, decide future steps, such as raising funds or altering business models, or allocating resources. The business plan may also include figures such as financial projections into the near-term future.
If you own a startup and are raising funding for it, you might consider having an impressive pitch deck and executive summary.
A pitch deck is a brief presentation that usually consists of a few power points slides that offer a visual representation of your mobile app business plan.
An executive summary is a short document, 1-3 pages, that summarizes your mobile app business app, in a very similar way to the pitch deck but using words more than visuals.
We all know that investors can be difficult to convince, but having these three, a business plan, a pitch deck, and an executive summary will provide concrete evidence that your app idea is sound and that you know what it takes for success in this industry.
Why you need a business plan for your mobile app
Knowing your competitors
The app market is continuously growing, more and more businesses and entrepreneurs are opting to get in the game before it gets saturated. Mobile apps are the reason why mobile phones have so much functionality and features nowadays.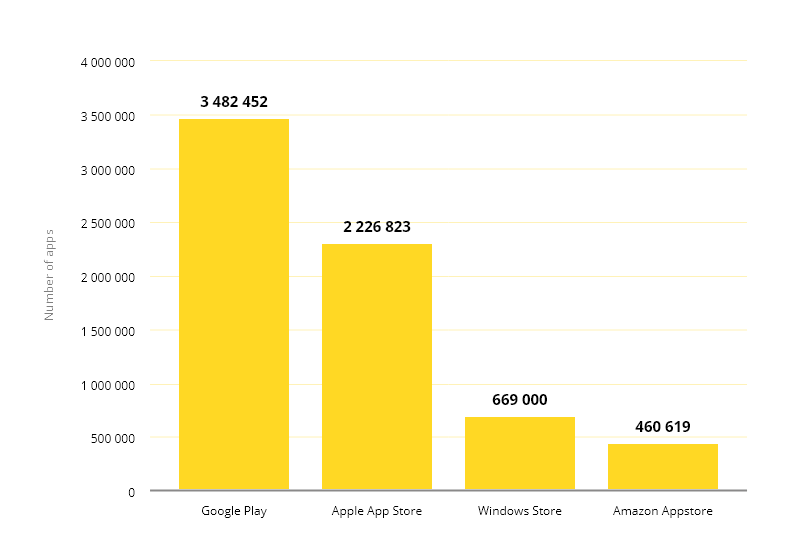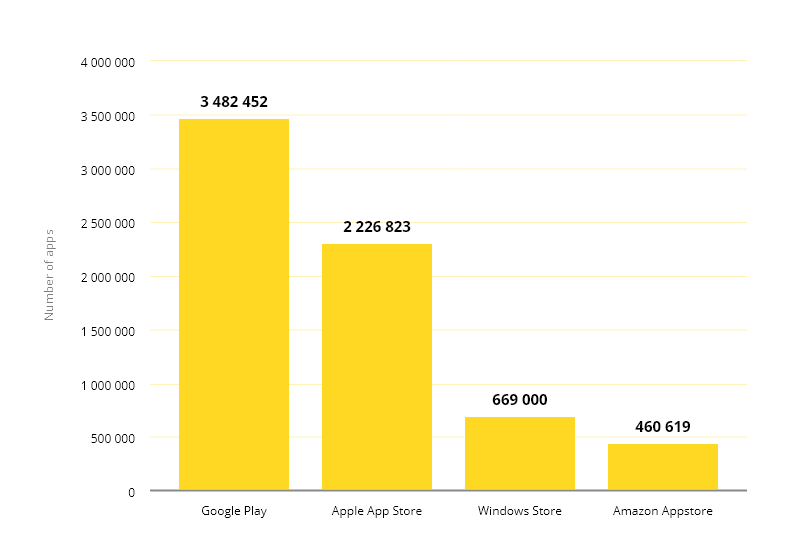 In the first half of 2021, there were around 3.48 million apps in Google play and 2.226 in the app store. The exact number of apps may fluctuate as Apple and Google regularly remove low-quality content from their app stores, the number of apps has been steadily increasing over the years.
As appealing as it sounds, creating a valuable and profitable app is not an easy task. The first step to a successful mobile app is creating a business plan for your application. Though writing a business plan doesn't guarantee success, it will be your companion on your entrepreneurial journey.
It helps reducing the financial risk
Without a doubt, starting a new business comes with financial risk. Most of the businesses will fail in the first few years, and the business plan is one of the first steps to reduce the financial risk.
The important thing to remember when starting a new business is that you need time and capital before even jumping in with both feet. Market research can help gauge whether or not your idea will be successful, but it may end up doing more harm than good if the market conditions are bad.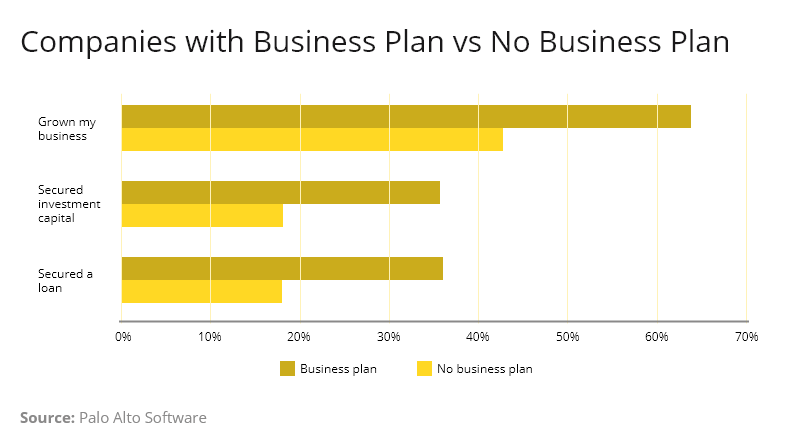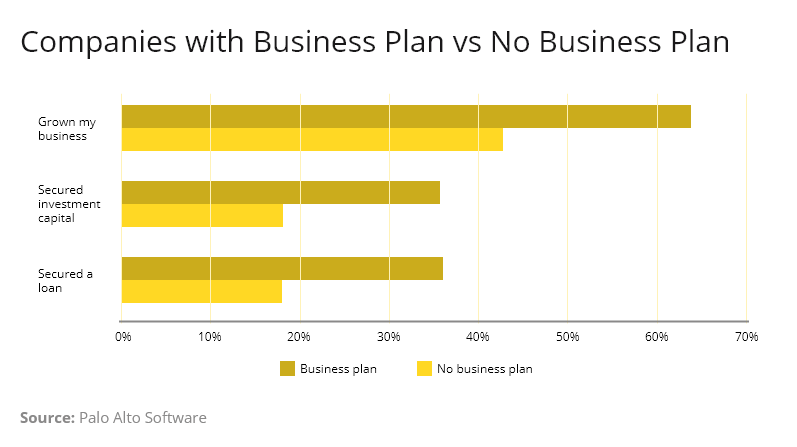 The first step for any aspiring entrepreneur looking to start their own company is knowing how much money they'll be investing upfront as well as what kind of return on investment (ROI) they're hoping for from the venture- which means taking into account all aspects like marketing and design costs while also considering things such as competition within the industry's ranks. Once this information has been collected, then researching current markets via analyzing recent trends foretells better results rather than going head first.
Will help you prepare properly
Challenges are part of the game. But taking a step back and looking at your blueprint will help you overcome them with ease because it'll remind you why we started this in the first place!
Writing a business plan for your mobile app will help you to gain more knowledge of the market. With this increased understanding, it is easier for your goals and priorities to be set which gives way towards creating accurate forecasts that are tailored specifically for your business needs. By giving yourself an opportunity to foresee any potential risks there may be ahead of time, as well as find a voice in the industry through sharing ideas or stories about what inspires you – writing a business plan can increase to better success!
It keeps your team aligned
It will help you, your team, and your investors, understand the problem you are trying to solve, competition, and how you plan to achieve the goals. In other words, it will align you and your team on the right path to achieve success.
Having a mobile app business plan provides a vision of critical tasks which helps you delegate them to the right person. Keep you and your team focused, moreover, it has a great impact on corporate executive satisfaction.
A study by McKinsey & Company which surveyed nearly 800 corporate executives across a range of industries confirms this conclusion. In it, McKinsey found that "formal strategic-planning processes play an important role in improving overall satisfaction with strategy development. That role can be seen in the responses of the 79 percent of managers who claimed that the formal planning process played a significant role in developing strategies and were satisfied with the approach of their companies, compared with only 21 percent of the respondents who felt that the process did not play a significant role. Looked at another way, 51% of the respondents whose companies had no formal process were dissatisfied with their approach to the development of strategy, against only 20% of those at companies with a formal process."
How to write a business plan for a mobile app
New and innovative business ideas are best kept organized through documentation. No matter what industry, an idea can't be fully grasped without being documented first-hand. Mobile app development is no different in this regard!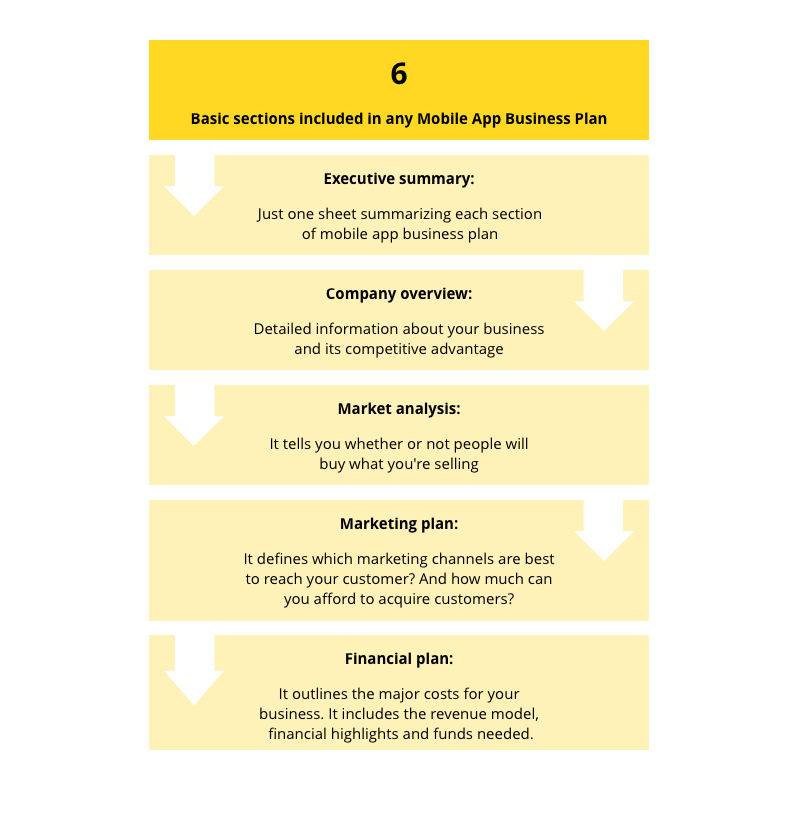 Though every business idea and plan is unique in its own way, a good business plan usually contains the following:
App overview
Unique selling proposition
Market analysis
Estimated marketing costs
Revenue projections
Marketing plan & launch strategy
Projected profit/loss statements
Break-even analysis
Cash flow projection
Keep it short and on point
Business plans are meant to be read by investors, and those in strategic positions, the reason why you should keep it short. No one likes reading long business plans. Most of us are short on time, so when you see a document that's about 100 pages long, it suddenly puts you off reading it.
Though your idea might need a detailed explanation to get your message across, depending on the purpose of it you should think about its length. As a general rule business plans that are used internally, are short and concise, and business plans that are meant to seek millions of fundings, are detailed and lengthy.
Stay realistic but creative
It's important to be realistic and honest with yourself while writing your business plan. So, don't spend hours trying to perfect an idea that may not even work out in the end! Instead of spending time thinking about it as a "baby," think more realistically like you're designing some kind of blueprint for something much bigger than just one person or company. Of course, there are still ways that you can incorporate creativity into this process; use color schemes creatively on any cover page design, for example, make sure all thoughts are easy-to-read by using simple fonts and bolding certain points so they stand out from anything else written down too – but remember: keep things factual first before adding flair!
Keep in mind that when writing a business plan, you need to use bullet points, images, and charts. Doing so will help bring your idea to life more easily for watchers or listeners of the presentation. Plus it'll keep them focused on reading or listening if they're having trouble understanding what's being said; no one wants their attention drawn away from something important!
Adapt your mobile business plan as your business grows
Make sure to always remember that your business plan is not a one-time document. It's critical to revisit it and make changes as necessary. This ensures that you're headed in the right direction, maximizing all opportunities for growth when it comes to analyzing what worked well or didn't work so great.
Your business plan should keep up with the changing times. You might need to update it for a new round of funding or because you're facing unexpected setbacks like COVID, so make sure your strategy is always alive!
The following is a detailed guide to writing a mobile app business plan and what to include in it. We also put together an editable and downloadable version of this comprehensive mobile app business plan.
Mobile app business plan template
Business plan cover
The front cover of your mobile app business plan, it's nothing to be disregarded as it's the first and most important thing your business investors or readers will interact with.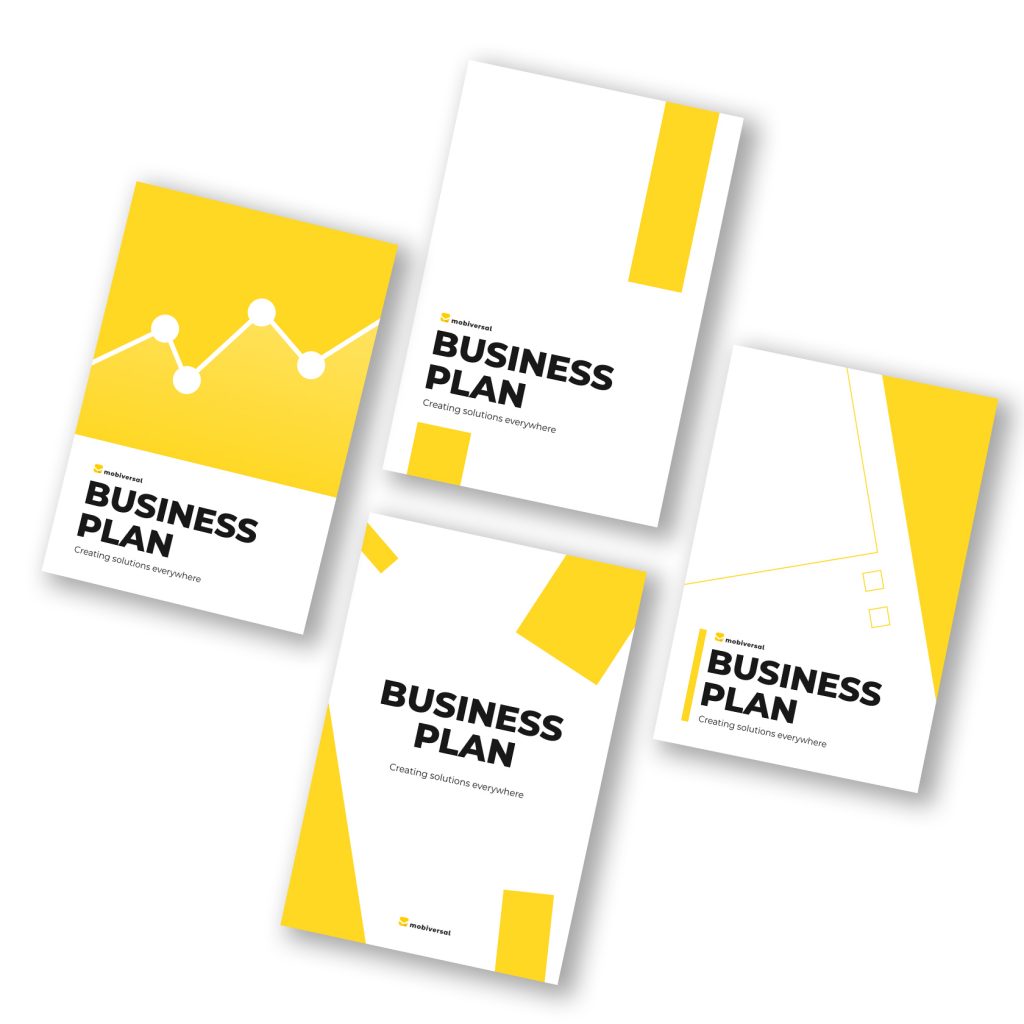 Usually, you can get an idea about the business idea just by looking at its mobile app business plan cover image. So do take time, and invest in what the front cover of it will look like. There are tools that can help you design it so that it looks professional.
Table of contents
Having a table of contents included in your business plan will provide a quick overview of what it covers, and helps the reader navigate across the document much easier. It goes without saying that this must be added at the beginning of your business plan, just after the cover page.
Executive summary
This is the first section of your business plan, though it's the part that gets written last as it's an introduction to the entire business plan presented.
A good executive summary aims to answer the following questions:
What problem do you want to solve?
What is your solution to the problem?
How will it change the market?
What goal are you trying to achieve?
Also, a well written executive summary covers the following:
A brief summary of the problem you will be solving
A short description of the goals and vision
An overview of the product and/or service your are going to offer
A short summary of the competition and your competitive advantage
Financial projections: revenue expenses, and profits
Funding requirements (if any)
Business description of your company
Think of this part of the business plan as an "About us" page, this section should be an attractive overview of your company to increase interest.
The company overview should cover the following:
Basic information about your company (company's structure, location, whether or not your team works remotely etc.)
Company's history (people like knowing how you ended up with the idea of funding your company, what did you start with, challenges along the way. Make it a catchy story as people like storytelling.)
Team (your mobile app startup business plan should include a brief description about your team, this will bring the company closer to the reader. Presenting the team can help the investor decide to get involved with your business, knowing that you have specialists working for the project, and what they do.)
Problem analysis and the solution
In other words, you've started the business because you have identified a UNIQUE PROBLEM that your potential customers are facing. This section is to explain what that problem is.
The easiest way to explain this problem is by answering the following questions:
Who faces the problem?
What are the effects of this problem?
Why is it important to solve this problem?
When you write your problem statement, just describe how bigger the problem is and why it should be solved. There might be multiple problems that can happen but always try to focus on the main one because solving a specific issue will win over being able to solve many different ones.
Keep the problem statement as simple as possible and where you can give some numbers too, some statistics on the severity of the problem.
Once you explain the problem, the next step is to define your best-proposed solution to the problem highlighted. We advise you to keep the solution's details as simple as possible and don't get into too many technical details for now.
An important aspect to bear in mind is that the length of the "solution" section will vary depending on the nature of your business. If what you offer is a product or a service, then clearly here's the section where you should write more about the product (design, features, etc.)
Questions your solution section should answer to:
Is the product/service in development or is available right away?
Time frame for delivering the product, if it is not readily available?
How is your product different from the ones existent on the market?
Market analysis
There are many factors involved in launching a successful app startup, the most important being understanding everything you can about your new industry. By digging into its past and present, you'll be able to make an impact on how it will grow moving forward!
You want to make sure you have a viable market before starting your business. Market research is the most critical and key factor that determines success for any company.
The main objective of the market analysis is to identify opportunities and risks associated with your product or service. It will also help you understand how much investment should go into marketing efforts, where those funds would be best spent, as well as what decisions are worth making when it comes to marketing strategy.
When looking at doing a marketing analysis for your mobile app business plan you should consider the following:
You must consider the market demand for your app, the serviceable available market, meaning the number of users you are able to reach out to, but also the segment of your first users. In other words, this is about how many potential customers there are for your product/service.
Does the market change? If so, how?
How did the market look years ago and how does it look now? What changed? How many businesses have broken the market, and how many have failed so far? Trends of the market and where it's heading, and what's your company's current position when it comes to it.
Customer persona
The only way to develop a successful app is by looking at it through your customers' eyes. This means that you need to understand the target audience and create an accurate portrait of the real person your app will serve. A customer persona is more than just details like age, occupation, education levels; this profile also includes things such as gender or hobbies so that developers will have a better idea of who they're creating for their product.
So many businesses fail because they haven't properly identified the customer persona, and I can't stress enough how critical this element is for any business to succeed.
A customer persona profile should contain the following elements:
Demographics: Age, Sex, Ethnicity, Income, Family, Occupation, etc.
Geographic: Location (Neighbourhood, Region, Urban/Rural, Online)
Psychographic: Lifestyle, Personality, etc
Interests: Hobbies, Activities, etc
Customer's needs
How your product/service is going to meet his needs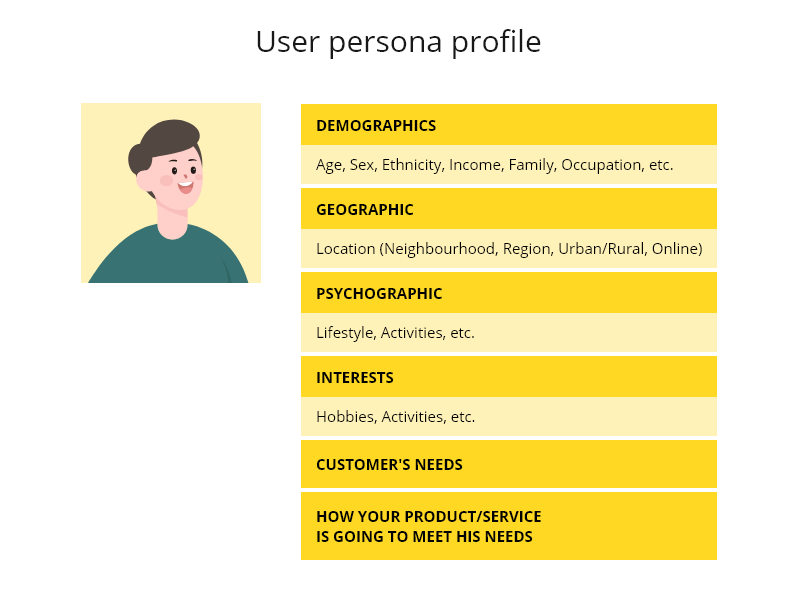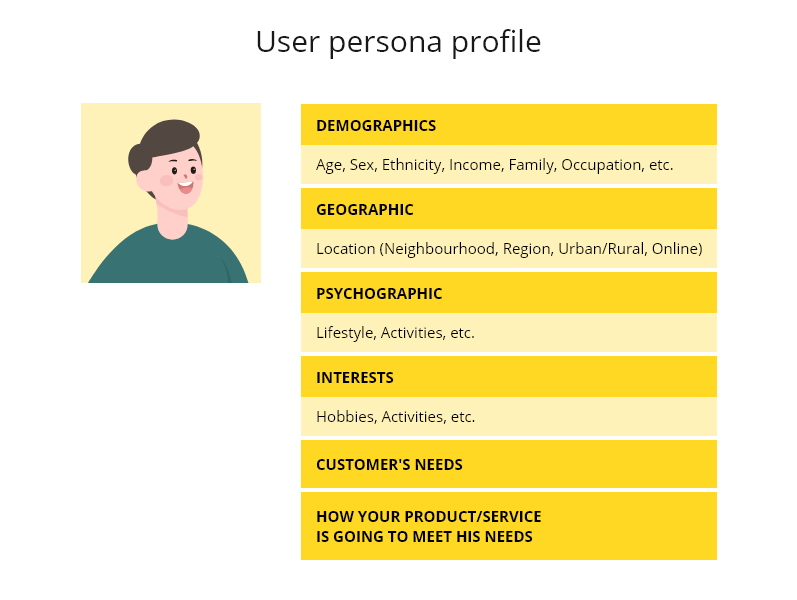 Competitive analysis
Competitive analysis is not to be confused with market research. This section is about finding your direct and indirect competitors, analyzing their strengths and weaknesses, services, pricing, online presence, marketing and sales strategies, etc.
Identifying your competitors can be made either with the use of specific tools, or agency or you can do your own research. However, competitors can be categorized into two classes, direct and indirect. Direct competitors are the ones that offer the same services/product/solution as you do. Indirect competitors are those that solve the same problem you are trying to tackle by offering a different solution to it.
The next step after identifying the competitors, you need to explain in your mobile app business plan why and how your service will be superior, and what is your advantage. You can easily do that by doing a SWOT analysis. Perhaps you are familiar with the acronym, which stands for: Strengths, Weaknesses, Opportunities, and Threats. Here's an example of what it looks like.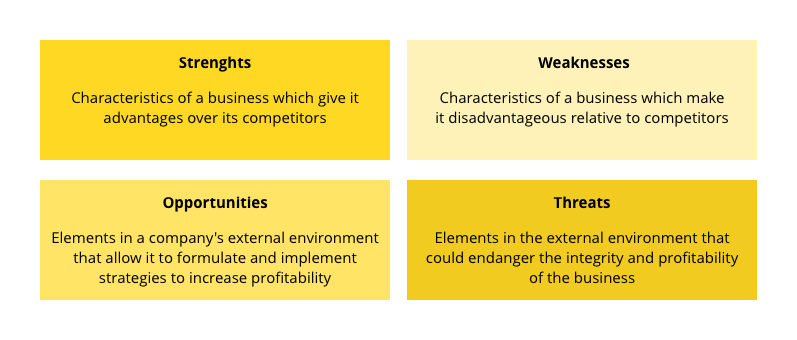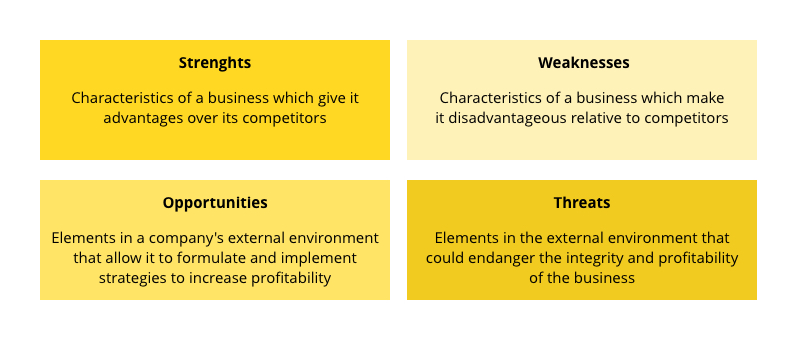 Marketing strategy
Now is the time to describe how your app will get to the potential users. Your marketing strategy plan should cover the following:
Identifying the channels you can use to reach and attract customers
Should you use social media, paid campaigns, landing pages, or google ads, provide the readers with information about what channels may be most effective. It goes without saying that optimizing your website and mobile app to improve SEO is a must. Consider using a quality website builder to avoid further website issues as much as possible.
How are you going to measure the success of your effort? The number of installs or conversion rates?
Considering participation in referral programs
Referral programs can become your growth fuel. Decide if you want to be selective or not on which companies you want to collaborate with and explain to the app business plan readers how it would help to grow and scale your business.
A brief description of your business pricing and how your product pricing is better than the competition. Also, discuss the free, low-cost, and premium pricing and how that will help develop your business while growing your user acquisition.
Financial plan and funding
Now it's time to talk about money. This is the most important part of your mobile app business plan. If you want to secure outside funding or bank loans, this is a mandatory part of your business plan. As a mobile app agency, working with lots of startups and businesses we cannot stress enough how important and helpful it is to have a financial forecast in order to achieve your goals and make your business successful.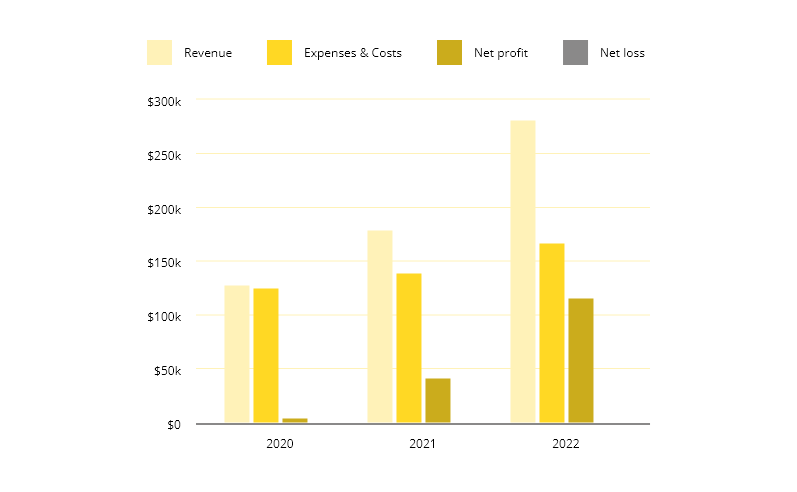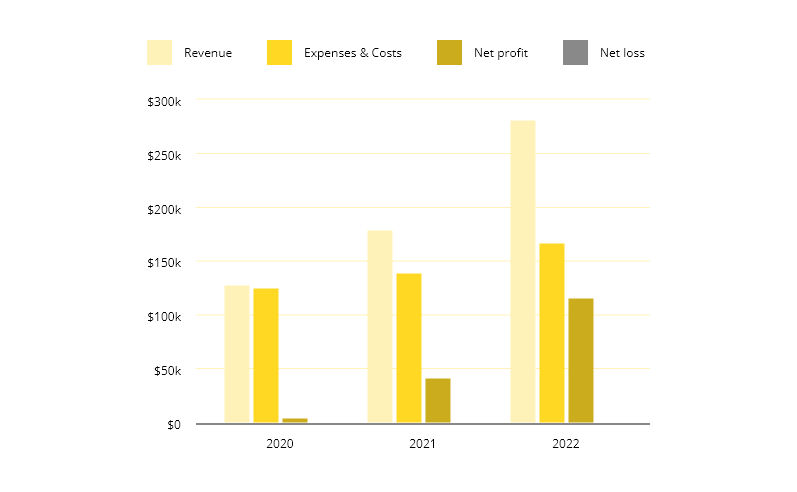 Ideally, your financial plan should talk about these:
Revenue model. You should explain clearly to the app business plan reader the different revenue streams of your business, especially in the early stages of your business. Equally important is to keep this document updated, once your business starts generating revenue.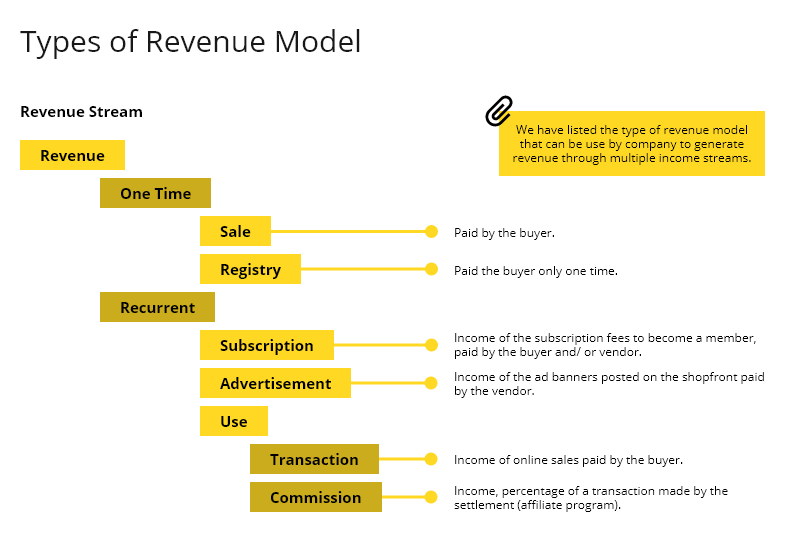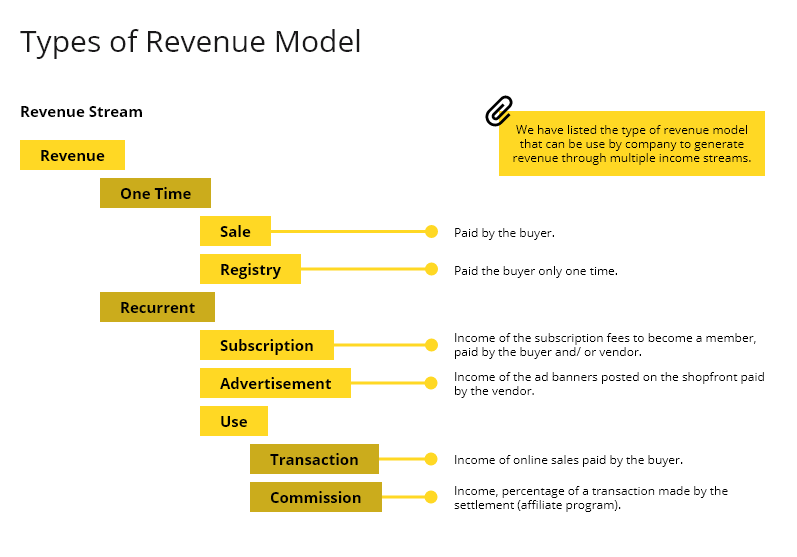 Financial highlights. This section refers to reports of cash flow, balance sheet, profit and loss, estimated revenue, operating expenses, etc.
On top of that, if you are applying for funds you might want to consider the following in the financial plan:
Before requesting funds from a potential investor, it's important to be prepared and ready with an outline of your current financial situation. This includes how much you've already invested in the project as well as any other sources for funding that are available to you or might soon become available at some point during this process. It is also good practice before reaching out about finances, which will undoubtedly come up when discussing additional investment opportunities-to share what type of funding would work best for your company and why?
Once you explain how much money you are looking for, it's time to explain what that money is going towards. You can use the funds to hire new talent and expand your operations; pay off existing debts or buy new equipment! Investors usually approve funding if they have a clear idea about where their yolk will go – so make sure we know exactly which type of investment would be most helpful in achieving those goals.
It's important to have an exit strategy in mind. One common exit strategy includes selling your company to a larger firm (acquisitions), selling or diluting your ownership, and initial public offering (IPO).


Back to you
So, to summarize this entire process, if you strive to create an excellent app business plan, bear in mind the following tips:
Keep it simple and clear
Be professional
Proofread it carefully again and again, and perhaps it won't hurt using a grammar checker that you can find online.
Once you write your business plan, you're one step closer to seeing your dream business come true and considering funding to make it happen.
If you are considering externalizing this part of the process, Mobiversal would be a great fit to help you out through their over 11 years of experience with mobile apps.