Welcome to Mobiversal, Alexandru Ion !
Published on
Dec 17, 2018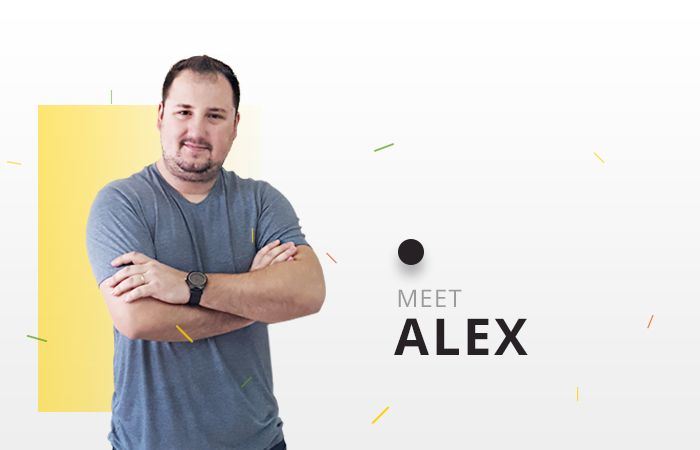 Alexandru Ion has recently joined the Mobiversal team working in the design department. We've prepared a short interview for you guys to get to know him better! Let's hear more from him.
A: Alexandru, tell us briefly something about yourself!
AI: Well hello there! My name is Alexandru Ion, I am a proud city member of Oradea with over ten years experience in the digital field (design & marketing). Not only this, but I also have six months experience as a full time loving husband. The professional life in the digital field is extremely dynamic, challenging and with new things to learn at every step.
A: What should we know about your academic and professional background up until now?
AI: I gained experience as a marketer by working five years in the marketing department of one of the biggest commercial retailer in Romania (2008-2013), and afterward I continued to practice within my own company which delivered digital services to those local businesses who wanted a greater online exposure. I shaped my skills as a designer even since I was in high school (literally) – I was drawing enthusiastically on my wooden desk and on my math notebooks. Then, in 2007 I discovered Photoshop. It was love at first sight. It came so easy to imagine myself doing this until I will be 100 years old. Besides Photoshop, with time, I became skilled in all the suite of apps developed by Adobe: Illustrator, InDesign, Lightroom, After Effects, Premiere Pro, XD.
A: How or where have you heard about Mobiversal?
AI: I had the pleasure to first hear about Mobiversal starting in 2013 at the first edition of Oradea Business Days, where one of the speakers was Mobiversal's CEO, Alin Mercheș. He spoke in a panel about time management and I was very interested in the subject. What followed next is that all digital events kept bringing Alin and I together, up until one day when he proposed a collaboration partnership and as you can see I accepted!
A: Tell us how does a regular day at Mobiversal looks like?
AI: A day within the Mobi team is very different from the one that just ended and still different from the one that comes next! What I want to stress out is that everything here seems very dynamic; projects are advancing, they develop and the way the team is getting involved is nothing short of remarkable. I have to admit, at first it was a little difficult to enter as a small wheel intro this well-rounded system because I have been a lonely lion for years. We have a popular saying in Romanian: I pass the ball and I am also the one to score with a header. I think that in the end I integrated very well and now I can bring to the table 101% of my experience in the projects that I manage together with the team.
A: Mobiversal prouds itself with its organizational culture. For you, what would it be five of the most important characteristics for an IT company's culture for a good working environment?
AI: It will always be difficult for an IT company to exceed their employee's expectations when we talk about the work environment in order to make them feel comfortable and efficient at the same time. What I think are the most valuable assets that Mobiversal has, is its team, the management system and the fine collaboration with its external partners.
A: And now for the last part of our interview, if you could tell us where do you see yourself in five years and some of your plans for the future?
AI: Professionally speaking it is difficult to say where do I see myself in the following years because of how dynamic my job is! This year, I think I passed a lot of steps from my initial plan. But the future looks bright and the ladder much easier to climb! I hope that in five years, the Alexandru from the future will be proud of the one he is today and his efforts. On a more personal note, I think things will evolve naturally and together with my beautiful wife will rejoice of one or two incredible little angels!
A: Thank you Alexandru for your honest responses and for being a part of Mobiversal!
AI: It was a pleasure sharing with you! Now back to work!