Messaging Applications as a Second Home Screen
Published on
Jun 27, 2016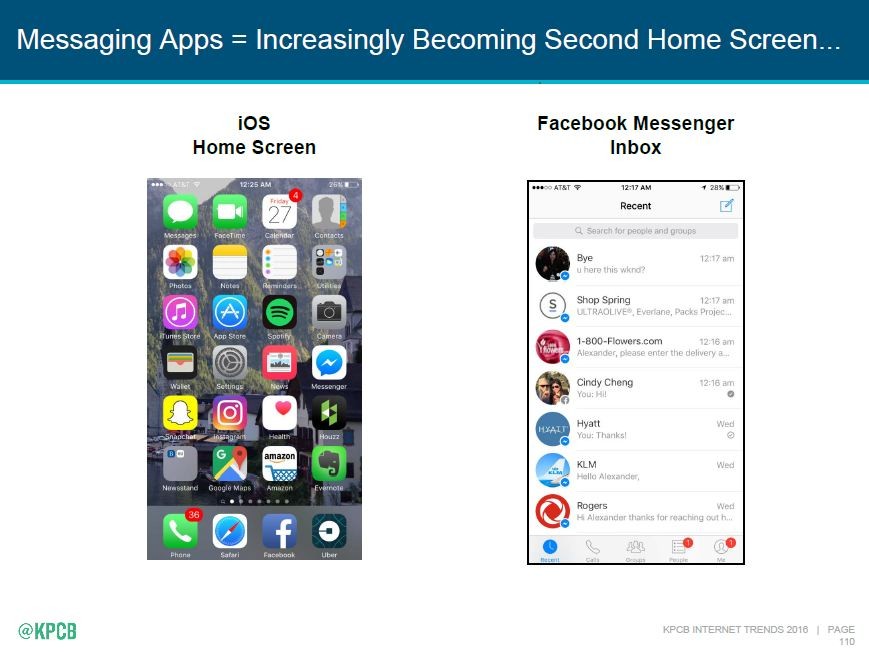 Whether we have an important appointment, celebrating birthdays, or discovering the best food — we all want to share these moments with friends and family the instant they happen. Most of the time, this means picking up our phones and sending a message.
With the rise of messaging apps, the way many of us use social media to share and interact is fundamentally changing. We are no longer part of the old generation of technology. As we progress through 2016, and beyond we'll start to notice most social activity is no longer going to happen in public. This represents a significant change in what "social media" is. As one-to-one messaging begins to dominate the social media world, it creates a whole host of new questions, challenges, and opportunities for individuals and businesses.
As apps continue to eat the world, one type of app seems to be more used and popular: messaging. Messaging is no longer the traditional SMS that we used for more than 20 years. Skype's success driving voice over IP (VoIP) and the launch of modern-day app stores sowed the seeds for mobile messaging boom, leading to today's consumption of messaging apps. However, many of today's messaging apps are much more than that; they have capitalized on their enormous base of users to become platforms themselves, expanding their functionality to include money transfers, municipal services, gaming, commerce, advertising and much more.
How popular are messaging apps?
Since 2014, Facebook have made huge strides in the messaging space, acquiring Whatsapp for $19bn and building Messenger up to 900 million users worldwide the messaging industry became a new social platform.
When you take a look at the data, you can see why Facebook are putting such an emphasis on messaging apps and dark social, as reported by The Economist:
A quarter of all downloaded apps are abandoned after a single use. Only instant messaging bucks the trend. Over 2.5 billion people have at least one messaging app installed. Within a couple of years, that will reach 3.6 billion, about half of humanity. The market's leading duo, Facebook Messenger and WhatsApp, which is also owned by Facebook, are nearing one billion monthly users each. Many teenagers now spend more time on smartphones sending instant messages than perusing social networks. WhatsApp users average nearly 200 minutes each week using the service.
Mobile messaging apps are growing ever more popular as they add social networking features and compete to meet the growing demand for free mobile calling and SMS texting services.
Top 4 most popular messaging apps in 2016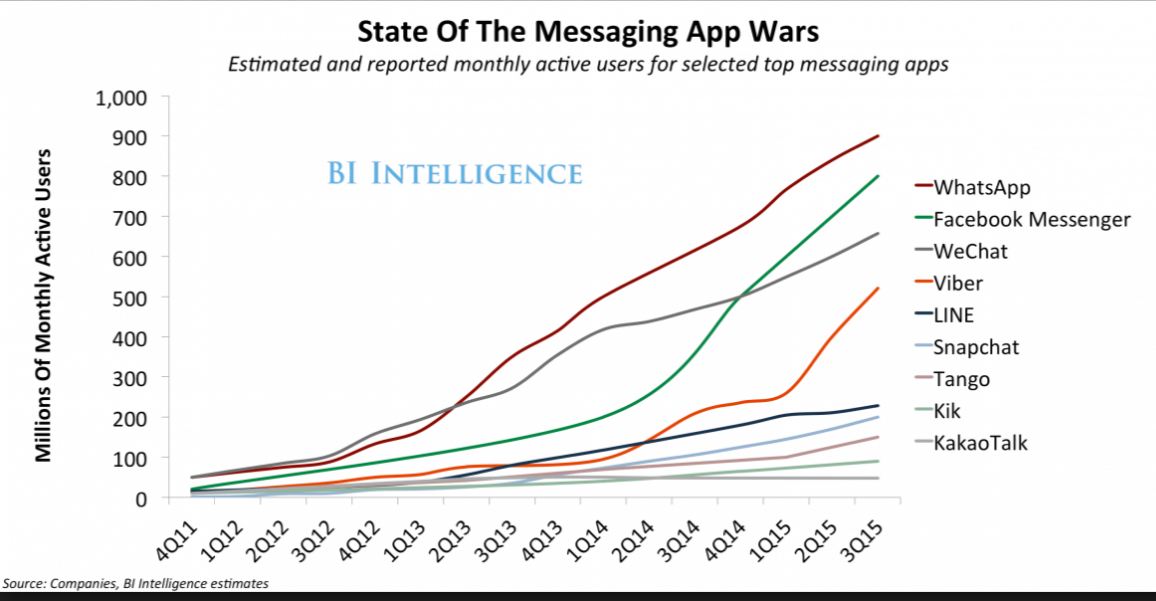 Whatsapp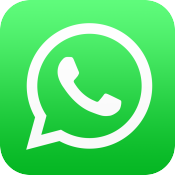 WhatsApp is a mobile text messaging app designed to let cell phone users send text messages without having to pay SMS fees to their carriers. The messages are sent via the Internet and therefore require the user to have a data plan on their phone, which is typical of these messaging apps. Messages can include video, audio and photos, not just text.
As of February 2016, WhatsApp had a user base of one billion, making it the most popular messaging application. WhatsApp Inc., based in Mountain View, California, United States, was acquired by Facebook Inc. on February 19, 2014, for approximately US$19.3 billion
Facebook Messenger
Facebook Messenger is an instant messaging service and software application which provides text and voice communication. Integrated with Facebook's web-based Chat feature and built on the open MQTT protocol, Messenger lets Facebook users chat with friends both on mobile and on the main website.
Facebook reported in April 2016 that Facebook Messenger has reached 900 million monthly active users.
Snapchat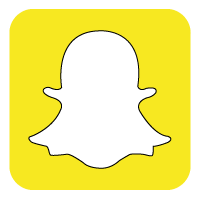 Snapchat differs from most mobile communication apps in that it specializes in sending messages with a particular feature–they disappear. That's right, messages sent with Snapchat self-destruct seconds after the recipient views them.
Snapchat released a new update on March 29, 2016, with a variety of new features. The release received negative feedback from many users because of the addition of "auto advancing stories," which takes control away from users who want to select the stories they would like to see, and instead feeds all video sequentially (rather than in an "on-demand" setup of previous versions). Number of snapchat users: 100 million daily active users.
Viber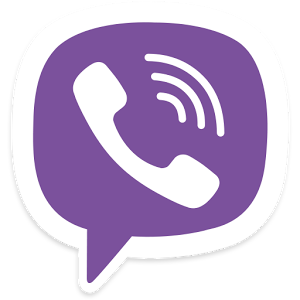 Viber is a popular free app that piggybacks on WiFi or the data plan a cell phone user has to make voice phone calls and send SMS messages that are not counted as part of their carrier's paid calling plan or text messaging plan. The company's tagline is "Connect. Freely."
So its main appeal is the ability to use WiFi or a paid mobile data plan on a smartphone to circumvent the limits of a paid voice-calling plan and/or paid SMS text messaging plan. The voice calls use VOIP, or voice over the Internet. Viber had over 100 million monthly active users and 280 million registered users
Text messaging is a key component of day-to-day friend interactions: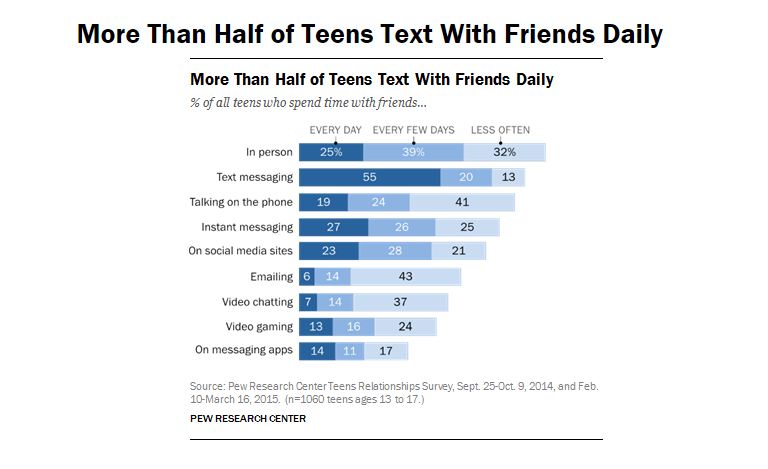 55% of teens spend time every day texting with friends. For many teens, texting is the dominant way that they communicate on a day-to-day basis with their friends.
Some 88% of teens text their friends at least occasionally, and fully 55% do so daily.
Instant messaging: 79% of all teens instant message their friends; 27% do so daily.
Social media: 72% of all teens spend time with friends via social media; 23% do so daily.
How messaging can make a change in business?
It's a familiar story to perhaps every knowledge worker suffering software fatigue and frustrated by the inefficient task of switching between different applications to manage information and collaborate with colleagues. Work is perhaps the one place where "there's an app for that" is viewed as burden rather than a bastion of efficiency.
Now imagine a single messaging interface where software automates many of these capabilities on your behalf, serving as virtual concierges to your digital life. If Slack's grand plans come to fruition, application makers will create messaging chatbots that will book travel, serve documents, explore sales leads, on-board employees and resolve technical challenges for corporate workers. These bots engage people in surprisingly real conversations approximating human dialogue.
"Imagine if [employees] can interact with those applications apps inside of Slack with a messaging interface that is as simple to use as having a conversation with their coworkers," April Underwood, Slack's head of product, tells CIO.com."
What is Slack?
Slack is a cloud-based team collaboration tool co-founded by Stewart Butterfield, Eric Costello, Cal Henderson, and Serguei Mourachov. Slack began as an internal tool used by their company, Tiny Speck, in the development of Glitch, a now defunct online game.

Public channels allow team members to communicate without the use of email or group SMS (texting). They are open to everyone in the chat provided they have first been invited to join the client. Private channels allow for private conversation between smaller sects of the overall group. These can be used to break up large teams into their own respective projects. Direct messages allow users to send private messages to a specific user rather than a group of people. Direct messages can include up to nine people (the originator plus eight people). Once started this direct message group can be converted to a private channel.
Messaging was also used by companies like Uber to create an awesome experience and improve workflow. You can summon a car in minutes and when it's outside you get a text from the car: "Your ride has arrived". SMS is the most ubiquitous and reliable mean of communication and in Uber's case, they worked with Twilio, a provider of a service (API) that lets developers make voice calls and send texts with software. "It's all about getting communications in the right context at the right time. In the case of Uber, when a car is out front you really want that message. That's the kind of innovation that we're seeing and what enterprises are tapping into. They're taking a legacy communications system and bringing it into contemporary software development. When you do that, you get terrific customer experiences out of it." said Doug Gardner, global head of carrier relations at Twilio, while talking about the immense benefit of messaging to companies like Uber during a panel session hosted by MEF at Mobile World Congress earlier this year.
Where do you think messaging is heading to? Do you see any other means of use that could revolutionize certain industries? Please let us know in comments.