How to build a Fitness app?
Published on
Jun 27, 2022
Nowadays, there are different applications available under the fitness category, and they are easily accessible for everyone. It's no wonder many entrepreneurs choose to start their venture by creating a fitness app. It's a great startup idea, especially for people who have expertise in this domain.
But to build a successful fitness app, we need to go to the basics. Before deciding on features and monetization, it is best to define the most common fitness app ideas available in the market and what user needs they target.
Fitness apps types
Fitness apps typically belong to the following categories:
Workout and exercise apps
Gym/Fitness Clubs apps
Diet and nutrition apps
Wellness apps
All-in-one apps
Let's see their particularities:
Workout and exercise apps
That's where you go to find workout guides, exercises, training plans, and videos with explanatory comments. A successful app in this category should focus on adapting to the user. As an example, it should be able to take into consideration the individual's goal to create an individual training plan along with monitoring the user's progress.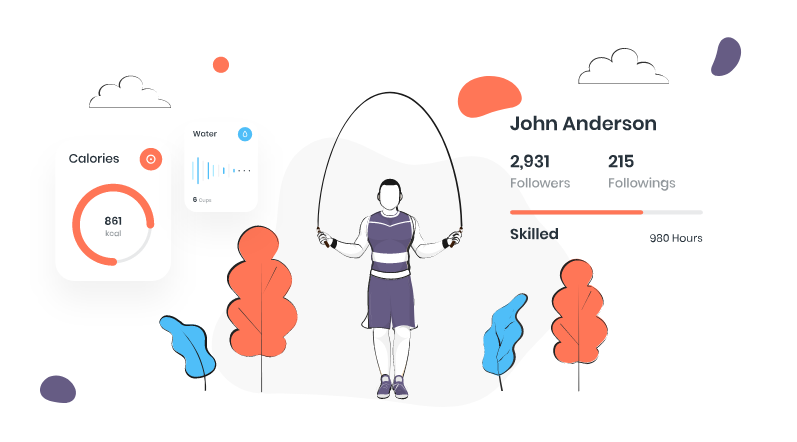 Gym/fitness clubs apps
Gyms and fitness clubs build this type of apps to achieve better interaction with their clients. Apps in this category should be able to:
track individual progress,
offer a calendar for appointments,
serve as a way to pay for monthly subscriptions,
provide useful articles and video instructions,
view live streams from training sessions or seminars.
Having access to the frequency and workout metrics of gym members, the business can craft a better upselling offer for each of them.
Diet and nutrition apps
Depending on the type of your diet and nutrition app, it can include different types of users, such as nutrition experts, regular users, vendors. These apps do not only help one in losing weight but also give them aid in improving their lifestyle, food habits, etc. A nutrition-related mobile app should also be tailored to its users' needs and contain a universal set of such essential tools as:
a diet chart
a calories counter,
a collection of video recipes,
a progress tracker,
tips on supplements and sports nutrition.
messenger (if the app implies communication with a nutrition specialist)
Wellness apps
When it comes to wellness and mindfulness, people often think of ways to cut back on their screen time. But what if you could actually use your phone to help teach you positive practices?
This category includes meditation, yoga, and spiritual practices. These apps usually post photos and videos with different techniques and exercises together with motivational content.
All-in-one apps
An all-in-one app usually combines the functionalities of different app categories at the same time. A celebrity athlete's app teaching correct exercise techniques combined with a calendar of a balanced diet and other tools can be an example of an all-in-one fitness app.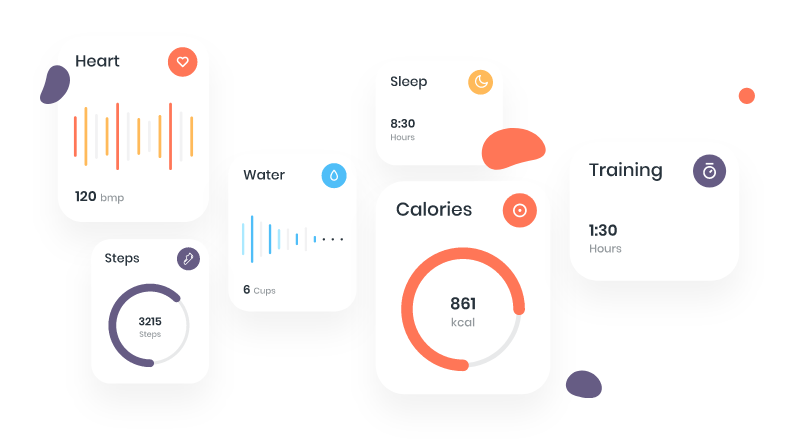 At the same time, monetization can become very flexible by adding several functions that can be enabled for a separate fee.
For example, a freemium model could allow access to basic features like counting steps or burned calories. In contrast, advanced features like a custom diet or a personalized training calendar will require a paid subscription.
An app covering more features is way more convenient for users, but at the same time, building and maintaining such complex apps is quite costly.
Must-have & nice-to-have features for fitness apps
There is a strong connection between the features a fitness app will include and its monetization model. All products should focus on resolving one major user need, but it's the fascinating features that make fitness apps more desirable.
1. Sign Up & log in
Before heading any deeper, having the possibility to create a personal account is a basic and must-have. Users should be able to sign up using their social media credentials or create a new account via email.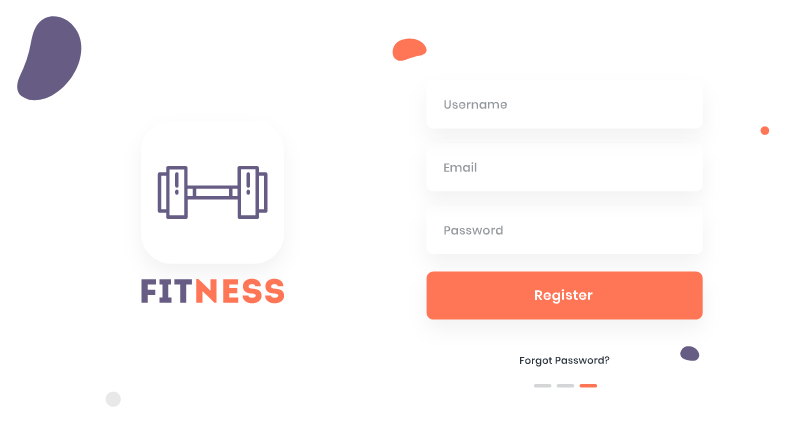 2. User personalization
The highest expectation of smartphone app users from their fitness apps is personalization. To offer a personalized experience to your users, it is important for an application to have the user's personal information like gender, age, weight, height, etc., for the creation of customized workout plans and nutrition plans, tracking progress, etc. In addition, the user dashboard should be simple, intuitive, and visually attractive.
Personalization is an integral part of any mobile app, especially a fitness app. It allows you to improve user experience and, at the same time, increase profit. If the user feels that the app addresses their personal needs and helps achieve their own fitness goals instead of everyone else's generic goals, they will keep returning to the app.
3. Tracking metrics
Sport is all about numbers. Kilometers, kilograms, repetitions, sets, calories, hours, minutes – everything is counted. This is a must-have feature that is highly recommended because the user can track their progress in measurable units and become motivated by the information itself. An application that highlights objectives for the users has a winning advantage as it pushes them to go further and further. The component also allows users to compare their actual performance with their goals which takes us to the next feature: Setting Goals.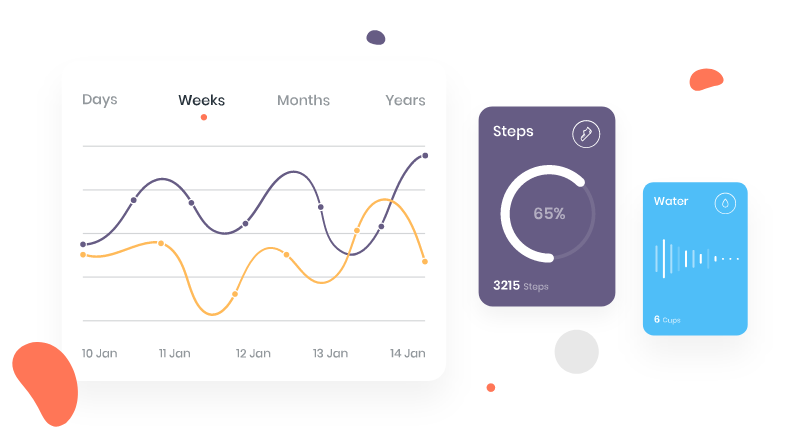 4. Setting goals
The purpose of most fitness apps is to help and encourage users to bring themselves and their bodies to measurable results. Having such goals written down inspires individuals to work toward achieving them. The users set the desired results themselves, which means that goal setting should be straightforward and clear. The app should also show the task performance statistics for certain periods of time, as explained in the next feature:.
5. Performance summaries by time periods
This function gives users an overview of their daily, weekly, or monthly activities. Its goal is to help evaluate the progress in a certain period of time and set long-term goals. Users can also opt-in to receive these reports via email.
6. Integration with wearable and non-wearable devices
The vast majority of users use multiple devices that help them track and improve their sports activities. That's why it's important to make sure your app provides a quick and easy synchronization with both a fitness tracker and mobile device. For example, Xiaomi's Mi Fit and Apple's Fitness+. The apps are integrated both with smartphones and wearable watches.
Additionally, it is possible to sync the data from other fitness apps like Strava and MyFitnessPal with the Apple Health app for iOS devices and Google Fit app for Android.
Besides, the user of a health and fitness app should have access to their profile, training programs, and other functionalities on their smartphone and on a laptop. This means that part of the data should be stored in cloud data storage. That takes us to the next feature:
7. Offline Capabilities.
Include features that can be used without wireless or data. That way, a user with a weak or nonexistent signal can still gain something from using your app at that time. Offline capabilities don't have to be extravagant but should keep the app useful even when users have a weak signal and then synchronize when they are back online.
8. Push notifications and reminders
Workout and routines are all about regularity and consistency. A few missed workout sessions or skipped meals in a diet plan can make a user miss his goal. That's why reminders are a crucial feature for a fitness app. Correct use of push notifications helps increase the engagement and the user's average time spent in the app. In fitness apps, push notifications can remind users to start a workout about the next meal and other important events. Users can also be encouraged to regularly exercise using inspirational quotes via push notifications.
Beware, setting up a notification system can be tricky as too many notifications might annoy users and force them to uninstall your app.
9. Social sharing
Integration with social media goes beyond signing up. In the age of social media, it is hard to imagine a fitness app without social integration. People love to communicate and show off their accomplishments, so they should be able to publish their fitness results on any social media news feed and enjoy networking with like-minded users.
10. Gamification
We tend to push ourselves more whenever there is a target to achieve, and a reward will always be better received than a duty. Using the concept of gamification, you can easily add a wow factor to the app, making it more user-friendly and engaging.
Playing games is always fun, but when competition is included, they become fantastic. You can achieve that by including different components like rewards, leaderboards, badges, and progress bars.
Cost of building a fitness app
How much does it cost to build a fitness app?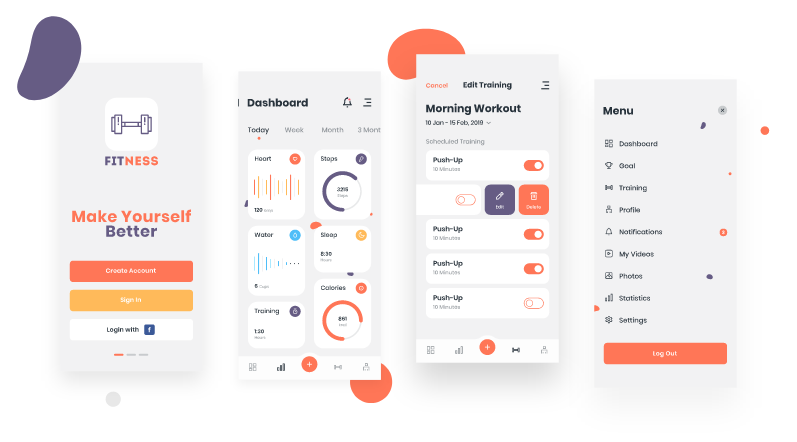 The cost of developing a fitness app depends on various factors such as:
discovery stage and business analysis
the number and complexity of features
platforms (iOS, Android, or both of them)
the country the development team is from
It is also convenient to base calculations on net work-time estimates. Here is an example of an approximate figure for each stage of the development:
Business analysis and specifications: up from 60 hours.
Design (UI and UX) – up from 80 hours
Development:

iOS – up from 150 hours
Android – up from 150 hours

Backend development – up from about 100 hours.
QA testing and project management – up from 60 hours
Most of the time, a proper estimation of the cost is possible after finishing the business analysis and specifications stage.
The best practice is to launch an MVP version (Minimum Valuable Product with basic features that satisfy the users' needs) of the fitness app and get user feedback before investing more money in the idea. After launching an MVP, you can gradually add advanced features to attract more users.
How to monetize fitness apps
Most of the time, the reason behind building a fitness app is to eventually generate profit from it. There are multiple ways to monetize a fitness app, but choosing a certain monetization model depends almost entirely on the functionality and target audience.
Subscription
Freemium model
In-app store
In-app advertising
Affiliate marketing
Subscription
The subscription monetization model never gets old. It is by far the most profitable of all the models in the long run. If your app and its features are reliable and good enough, users will choose to remain loyal. Loyal users won't mind paying a complete subscription or monthly subscription package to avail fitness and workout services through your app.
Freemium model
The app's basic functionality is free, but it is possible to get access to extra features through in-app purchases. It can be coaching services, ad-free experience, personalized training plans, etc. The minimum free features should give users a taste of what the app can do, and premium features should complete the experience and be worth their money.
One other way of applying a freemium model is to allow users to download the app and offer a free month trial, and afterward, users have to pay a monthly or yearly fee to access the app's key features.
In-app store
In addition to in-app purchases, you can also integrate an in-app store selling physical goods like sportswear, sports equipment, nutrition products, healthy food, drinks, etc.
In-app advertising
Showing ads to users is one of the most used monetization strategies. We have two options here, depending on the type of the app:
The first is to connect the ad networks and use those networks to broadcast ads. Some of the most popular ad formats include banners, native ads, video interstitials, playable ads, rewarded videos, or surveys. Ads can even complement your app services and improve the user experience. For instance, rewarded videos or surveys allow users to continue using the app for free, so they get used to them.
The second is to sign a contract directly with a certain advertiser, which can be a sports equipment manufacturer, and brand the application for it.
Affiliate marketing
While in the app, users can follow referral links that bring them to various related online stores. The app owner will receive a percentage of every sale or a certain amount based on the number of users he referred.
How to grow a fitness app
If you build it, they will come!
No, they won't. It's not enough just to build a fitness app. After the app is released, you must focus on making it known to the target audience through different channels.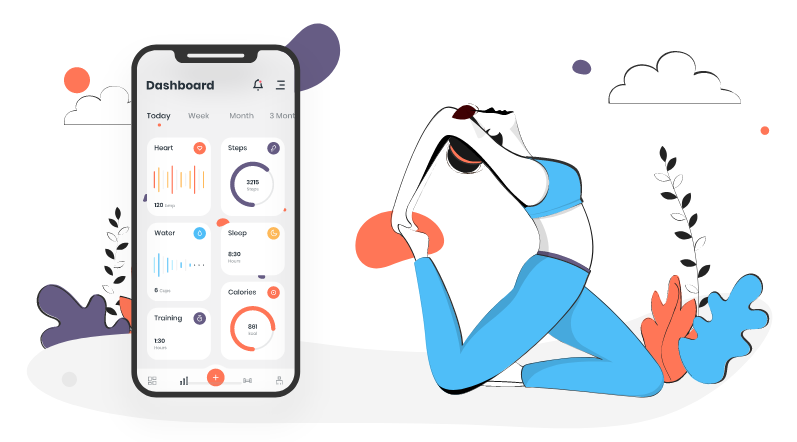 Influencer endorsement
People trust influencers and can instantly follow their recommendations. Cooperating with an influencer is not necessarily an expensive act. Find the right influencers in the fitness and health industry so they can promote your app on social media channels.
Paid advertising
After the app is launched, start rolling out advertising such as ads on social platforms. This involves paying a third-party ad network to display your ads on various media channels.
Website and content marketing
You will need an online presence for your app because people will want to know your app is the real deal and that you're truly invested in it as a business.
Content marketing refers to writing articles related to fitness and health on a company blog, with tips and tricks on how your fitness app can help the readers stay fit and healthy. In time it increases brand awareness, engagement rate and builds trust.
App Store optimization
App Store Optimization involves optimizing your App Store page to rank higher in search results and convert at a higher rate. Once your app is ranked high for the desired keywords, it will be more visible to its potential users.
Referral bonus
Offering app users a bonus or benefit when they promote your app online is a tested way to get them to spread the word and bring more users aboard.
Conclusion
At Mobiversal, we've been fortunate enough to work on multiple mobile app projects, including fitness and health apps. We know that the key to successful fitness app development is research and planning. If you carefully think through your market needs, hire the right team that's fully resourced for success (and let them know what their responsibilities are), then it's likely an exciting new trend in health tech will be created!
Here at Mobiversal, we have all the development and design resources you need to create a winning fitness app! Whether it be from scratch or join in at a later stage of your product, we are here for you! Contact us today for more information on creating that next fitness app.